Introducción: Justicia Transicional, procesos locales y nuevas subjetividades
(Transitional Justice, local processes and new subjectivities)
Keywords:
Justicia transicional, procesos de subjetivación, víctimas, verdad, justicia, reparación, procesos locales, transitional justice, subjectivation processes, victimas, truth, justice, reparation, local processes
Abstract
El texto introduce los trabajos presentados en el workshop, con título similar a este artículo, celebrado en septiembre de 2020 en el IISJ. El objetivo del encuentro fue tratar de problematizar la vida social de la Justicia Transicional, a partir de una mirada transdisciplinar que priorizase los procesos locales y permitiese dar cuenta de la proliferación de realidades sociales que tejen y arman los marcos normativos de la Verdad, Justicia, Reparación y Garantías de no repetición cuando aterrizan y se vertebran en los contextos concretos y bajo formas de subjetivación y sujeción singulares en cada caso.
The text introduces the papers presented at the workshop, with a title similar to this article, held in September 2020 at the IISL. The objective of the meeting was to try to problematize the social life of Transitional Justice, from a transdisciplinary perspective that prioritizes local processes and allows to account for the proliferation of social realities that weave and assemble the normative frameworks of Truth, Justice, Reparation and Guarantees of non-repetition when they land and are vertebrate in specific contexts and under forms of subjectivation and subjection unique in each case.
Available from: https://doi.org/10.35295/osls.iisl/0000-0000-0000-1321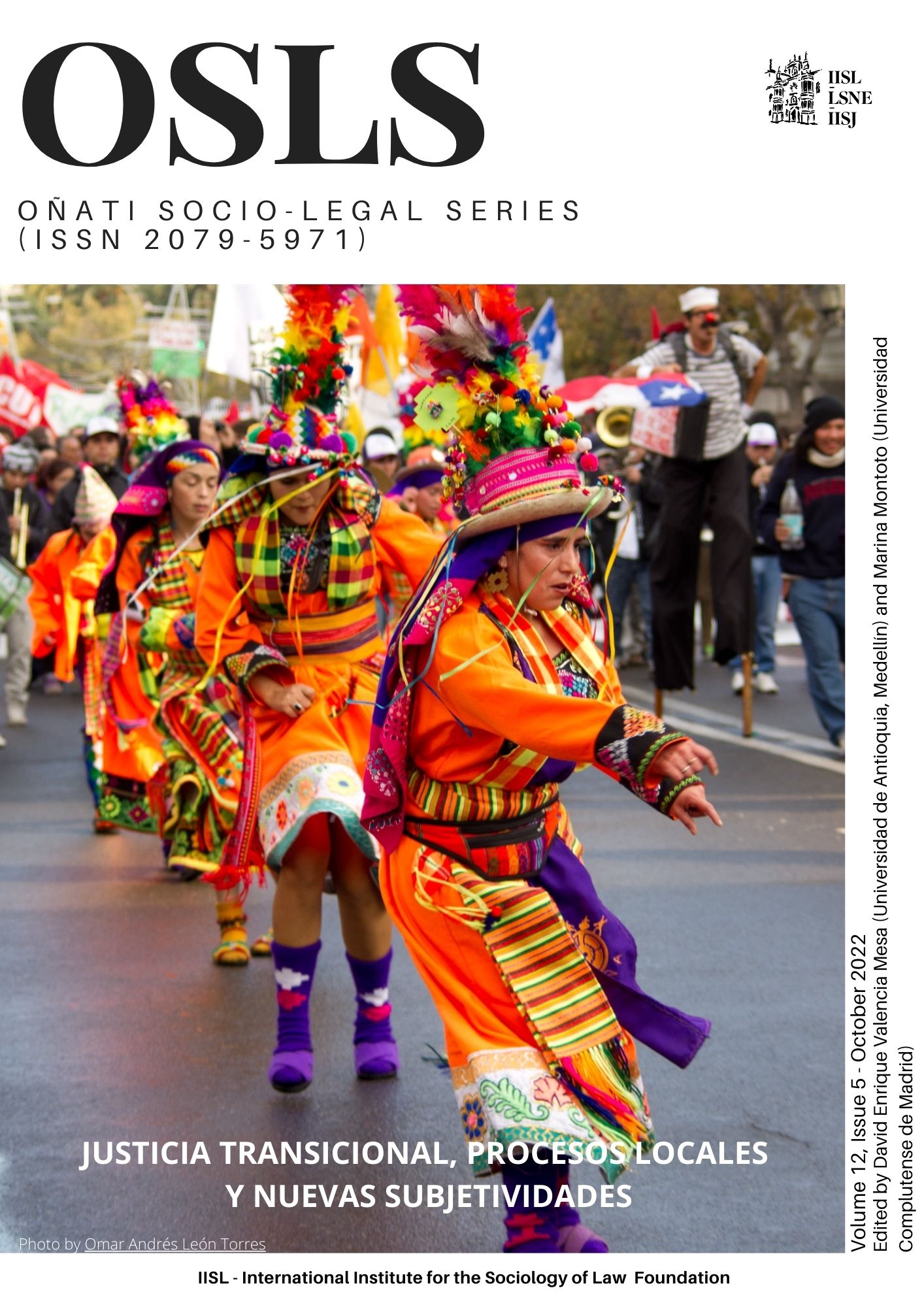 Downloads
How to Cite
Valencia Mesa, D. E. and Montoto Ugarte, M. (2022) "Introducción: Justicia Transicional, procesos locales y nuevas subjetividades: (Transitional Justice, local processes and new subjectivities)", Oñati Socio-Legal Series, 12(5), pp. 1023–1033. Available at: https://opo.iisj.net/index.php/osls/article/view/1613 (Accessed: 7 December 2023).
License
Copyright (c) 2022 David Enrique Valencia Mesa, Marina Montoto Ugarte
This work is licensed under a Creative Commons Attribution-NonCommercial-NoDerivatives 4.0 International License.
OSLS strictly respects intellectual property rights and it is our policy that the author retains copyright, and articles are made available under a Creative Commons licence. The Creative Commons Non-Commercial Attribution No-Derivatives licence is our default licence, further details available at https://creativecommons.org/licenses/by-nc-nd/4.0 If this is not acceptable to you, please contact us.
The non-exclusive permission you grant to us includes the rights to disseminate the bibliographic details of the article, including the abstract supplied by you, and to authorise others, including bibliographic databases, indexing and contents alerting services, to copy and communicate these details.
For information on how to share and store your own article at each stage of production from submission to final publication, please read our Self-Archiving and Sharing policy.
The Copyright Notice showing the author and co-authors, and the Creative Commons license will be displayed on the article, and you must agree to this as part of the submission process. Please ensure that all co-authors are properly attributed and that they understand and accept these terms.