El caleidoscopio disciplinario: Un análisis de la sanción de separación del grupo a través de la experiencia profesional
(The disciplinary kaleidoscope: An analysis of disciplinary segregation through professional experience)
Keywords:
Disciplinary isolation, youth prison, order and control maintenance, separation from the group, sanción de aislamiento, separación del grupo, centro de internamiento para menores infractores, mantenimiento del orden y del control
Abstract
Pese a que los centros de internamiento para menores infractores tienen una finalidad educativa, la disciplina y el orden también son una parte fundamental de su día a día. Es por ello por lo que el presente artículo estudia la opinión de la plantilla del centro sobre la sanción de separación del grupo, una de las principales herramientas disciplinarias. A través de nueve entrevistas semiestructuradas se analiza la ejecución de la sanción, los criterios que guían su imposición, las funciones que cumple y su contenido educativo. Los principales hallazgos de la investigación muestran que las características del centro y de su población legitiman, a ojos de los/as entrevistados/as, el recurso a la sanción. Las implicaciones del estudio sugieren que una reducción en el uso de la práctica no pondría en riesgo el orden y la seguridad del centro, y a cambio, se respetaría la filosofía educativa de los centros y el interés superior de menor.
Although juvenile prisons have an educational purpose, discipline and order are also a part of their day-to-day life. For that reason, this article studies the opinion and perceptions of the juvenile prison's staff on the disciplinary segregation, the biggest disciplinary tool. The article is based in nine semi-structured interviews about the execution of the sanction, the criteria that guide its imposition and its educational content. The main findings of the research show that the characteristics of the juvenile prison and its population legitimize, in the eyes of the interviewees, recourse to sanction. The implications of the study suggest that a reduction in the use of the practice would not jeopardize the order and security of the juvenile prison, and in return, its educational philosophy would be respected.
Available from: https://doi.org/10.35295/osls.iisl/0000-0000-0000-1251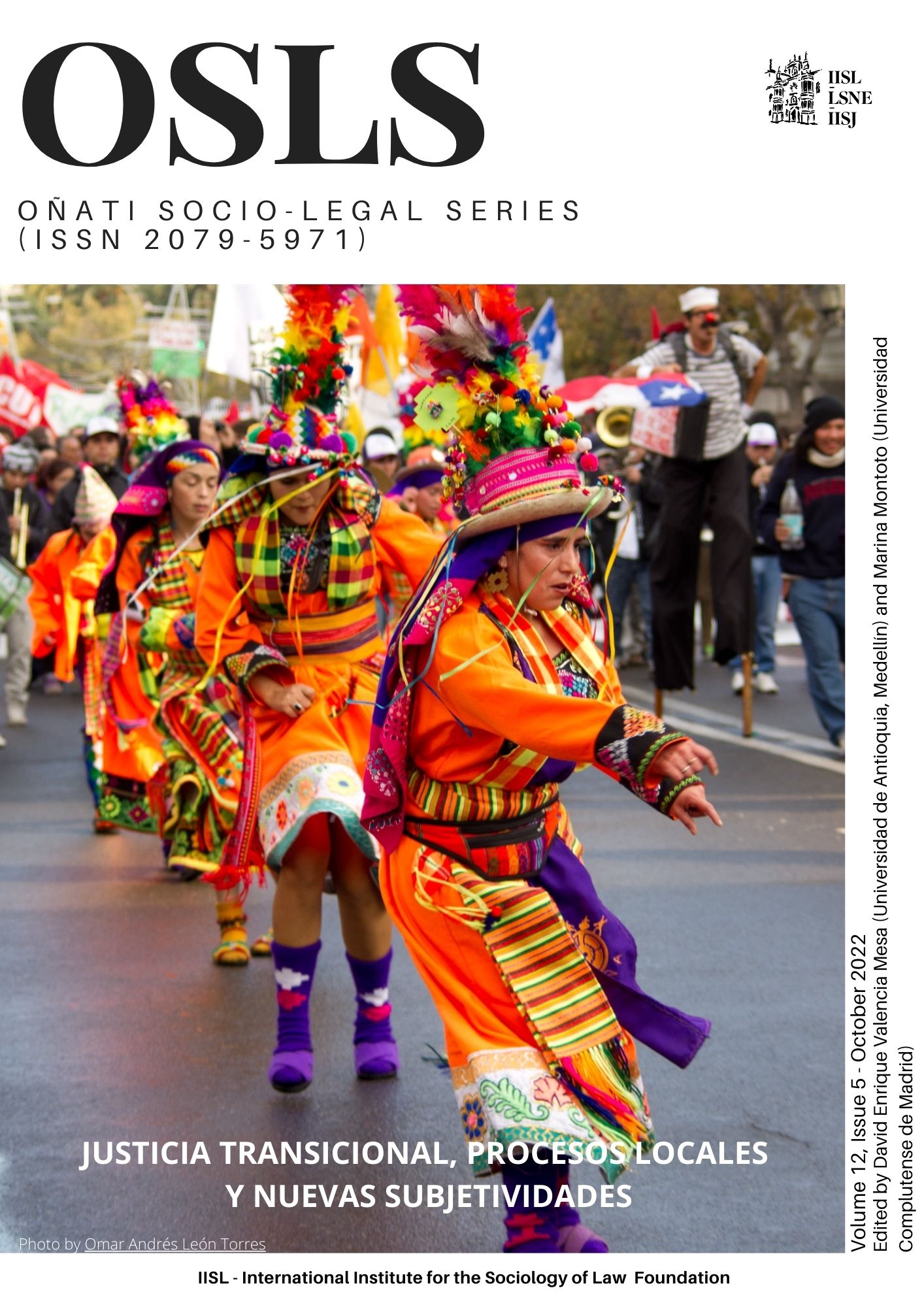 Published
27-01-2022 — Updated on 01-10-2022
How to Cite
Ruiz Cabello, Úrsula (2022) "El caleidoscopio disciplinario: Un análisis de la sanción de separación del grupo a través de la experiencia profesional: (The disciplinary kaleidoscope: An analysis of disciplinary segregation through professional experience)", Oñati Socio-Legal Series, 12(5), pp. 1287–1322. Available at: https://opo.iisj.net/index.php/osls/article/view/1424 (Accessed: 30 November 2022).
Section
Individual Articles
License
Copyright (c) 2022 Úrsula Ruiz Cabello
This work is licensed under a Creative Commons Attribution-NonCommercial-NoDerivatives 4.0 International License.
OSLS strictly respects intellectual property rights and it is our policy that the author retains copyright, and articles are made available under a Creative Commons licence. The Creative Commons Non-Commercial Attribution No-Derivatives licence is our default licence, further details available at https://creativecommons.org/licenses/by-nc-nd/4.0 If this is not acceptable to you, please contact us.
The non-exclusive permission you grant to us includes the rights to disseminate the bibliographic details of the article, including the abstract supplied by you, and to authorise others, including bibliographic databases, indexing and contents alerting services, to copy and communicate these details.
For information on how to share and store your own article at each stage of production from submission to final publication, please read our Self-Archiving and Sharing policy.
The Copyright Notice showing the author and co-authors, and the Creative Commons license will be displayed on the article, and you must agree to this as part of the submission process. Please ensure that all co-authors are properly attributed and that they understand and accept these terms.