O Estado perante a vulnerabilidade
(State and vulnerability)
Keywords:
vulnerabilidade, proteção estadual, igualdade e não-discriminação, direitos fundamentais, vulnerability, State protection, equality and non-discrimination, fundamental rights
Abstract
Os sujeitos vulneráveis (indivíduos e grupos), dos requerentes de asilo aos membros de minorias culturais e sociais, portadores de deficiência, idosos e mulheres, têm simultaneamente necessidades comuns e específicas de reconhecimento e proteção. Neste texto discute-se a atitude do Estado, constitucional e de Direito, perante a vulnerabilidade de indivíduos e grupos no contexto de uma teoria da justiça que sustenta um Estado comprometido com os direitos humanos e fundamentais e com a dignidade da pessoa humana, por um lado, e "responsivo" perante a vulnerabilidade, por outro. Tal exige um entendimento complexo da igualdade, exigindo simultaneamente a adoção de normas de proteção e de políticas iguais e diferenciadas. Exige igualmente que, a par da discussão sobre as possibilidades de proteção, se abordem os limites a essa proteção, designadamente aqueles que resultam da proteção jusfundamental da autonomia e da dignidade da pessoa humana.
Vulnerable subjects (individuals and groups), from asylum seekers to members of cultural and social minorities, the disabled, the elderly and women, have common but also specific needs for recognition and protection. This paper aims to discuss the constitutional State's attitude towards the vulnerability of individuals and groups in the context of a theory of justice that supports a State committed to human and fundamental rights and to human dignity, on the one hand, and "responsive" to vulnerability, on the other. This requires a complex understanding of equality, encompassing both equal and different protection norms, policies, and practices. However, in addition to the discussion on the possibilities of protection, the limits to this protection must also be addressed, namely those resulting from the protection of autonomy and human dignity.
Available from: https://doi.org/10.35295/osls.iisl/0000-0000-0000-1240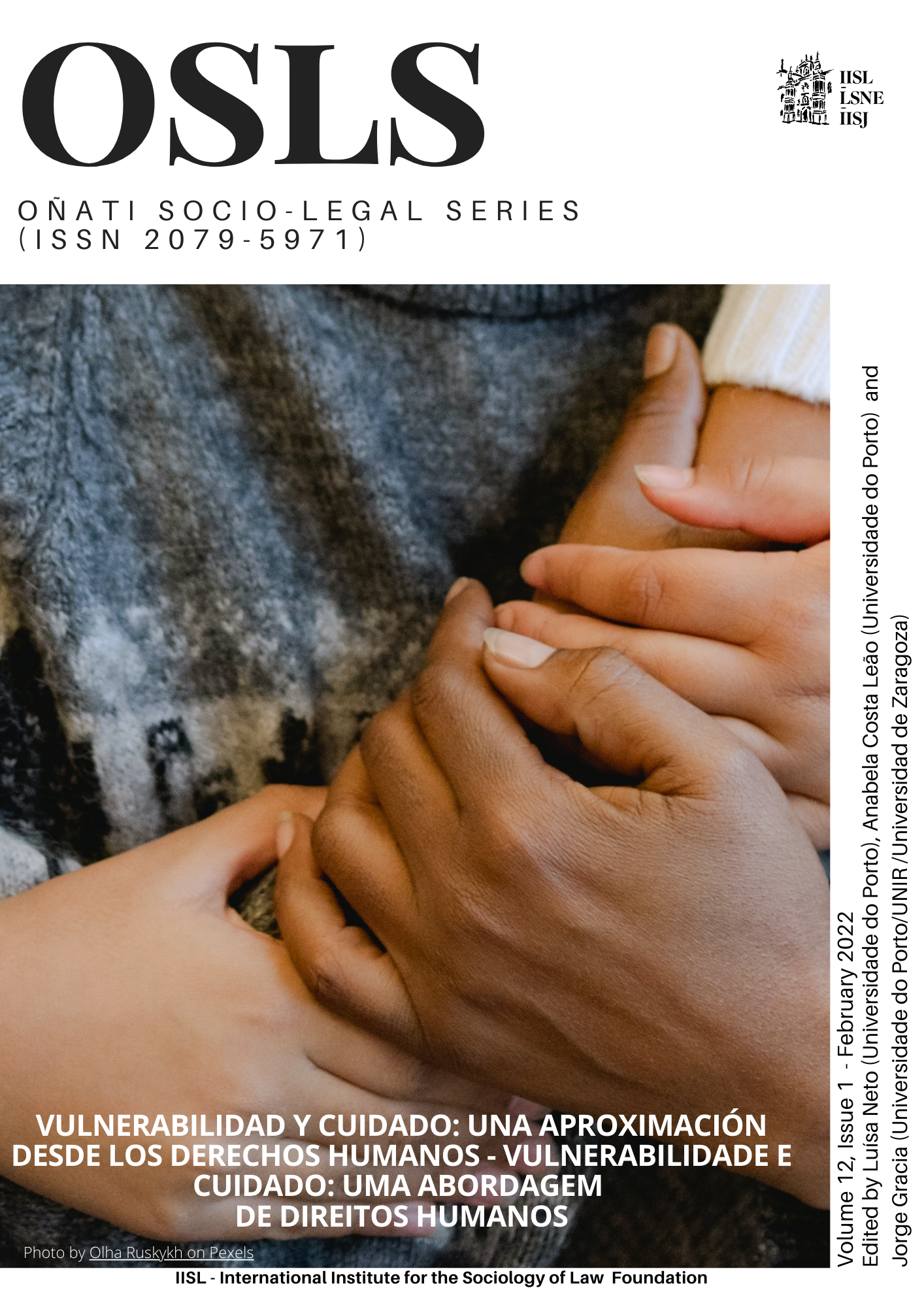 Downloads
Published
11-01-2021 — Updated on 01-02-2022
How to Cite
Leão, A. C. (2022) "O Estado perante a vulnerabilidade: (State and vulnerability)", Oñati Socio-Legal Series, 12(1), pp. 86–107. Available at: https://opo.iisj.net/index.php/osls/article/view/1326 (Accessed: 7 December 2023).
License
Copyright (c) 2021 Anabela Costa Leão
This work is licensed under a Creative Commons Attribution-NonCommercial-NoDerivatives 4.0 International License.
OSLS strictly respects intellectual property rights and it is our policy that the author retains copyright, and articles are made available under a Creative Commons licence. The Creative Commons Non-Commercial Attribution No-Derivatives licence is our default licence, further details available at https://creativecommons.org/licenses/by-nc-nd/4.0 If this is not acceptable to you, please contact us.
The non-exclusive permission you grant to us includes the rights to disseminate the bibliographic details of the article, including the abstract supplied by you, and to authorise others, including bibliographic databases, indexing and contents alerting services, to copy and communicate these details.
For information on how to share and store your own article at each stage of production from submission to final publication, please read our Self-Archiving and Sharing policy.
The Copyright Notice showing the author and co-authors, and the Creative Commons license will be displayed on the article, and you must agree to this as part of the submission process. Please ensure that all co-authors are properly attributed and that they understand and accept these terms.