"What goes around comes around?" A promoção da solidariedade interindividual através do direito das sucessões
(What goes around comes around? Enhancing inter individual solidarity through Inheritance Law)
Keywords:
Dever de Assistência, Família, Herança, Legado, Incapacidade Sucessória, Duty to take care, Family, Inheritance, Legacy, Capacity to succeed
Abstract
O aumento da esperança de vida potencia o aparecimento de vulnerabilidades várias. Na sociedade atual que se caracteriza por uma feição acentuadamente individualista, constata-se uma fragilização das soluções que a solidariedade interindividual que o círculo de pessoas mais próximas, nomeadamente daquelas que integram o agrupamento familiar, tradicionalmente, proporcionava à pessoa vulnerável. Neste trabalho, refletiremos sobre os instrumentos que o direito das sucessões pode oferecer no sentido de promover à solidariedade interindividual.

The increase in life expectancy intensifies the appearance of an arrow of vulnerabilities. Nowadays, society is noticeably individualistic. As a consequence it is undeniable that there is a weakening of the solutions that inter-individual solidarity offered by the circle of the closest people, namely those who are linked by family ties, traditionally provided to the vulnerable person. In this paper, we will reflect on the instruments that succession law is able to offer in order to promote inter-individual solidarity.
Available from: https://doi.org/10.35295/osls.iisl/0000-0000-0000-1253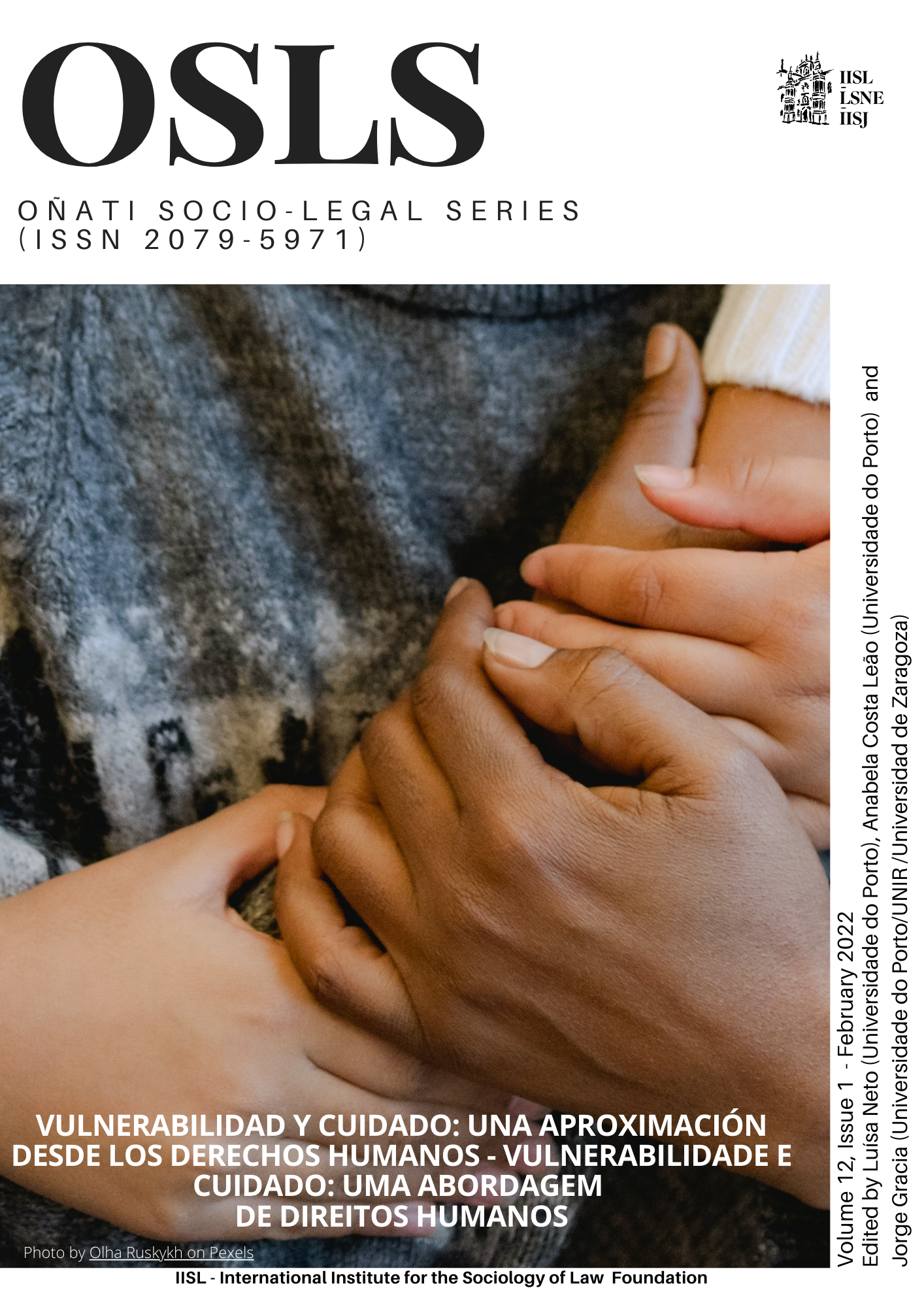 Downloads
How to Cite
Pedro, R. (2022) "'What goes around comes around?' A promoção da solidariedade interindividual através do direito das sucessões: (What goes around comes around? Enhancing inter individual solidarity through Inheritance Law)", Oñati Socio-Legal Series, 12(1), pp. 61–85. Available at: https://opo.iisj.net/index.php/osls/article/view/1325 (Accessed: 7 December 2023).
License
Copyright (c) 2022 Rute Pedro
This work is licensed under a Creative Commons Attribution-NonCommercial-NoDerivatives 4.0 International License.
OSLS strictly respects intellectual property rights and it is our policy that the author retains copyright, and articles are made available under a Creative Commons licence. The Creative Commons Non-Commercial Attribution No-Derivatives licence is our default licence, further details available at https://creativecommons.org/licenses/by-nc-nd/4.0 If this is not acceptable to you, please contact us.
The non-exclusive permission you grant to us includes the rights to disseminate the bibliographic details of the article, including the abstract supplied by you, and to authorise others, including bibliographic databases, indexing and contents alerting services, to copy and communicate these details.
For information on how to share and store your own article at each stage of production from submission to final publication, please read our Self-Archiving and Sharing policy.
The Copyright Notice showing the author and co-authors, and the Creative Commons license will be displayed on the article, and you must agree to this as part of the submission process. Please ensure that all co-authors are properly attributed and that they understand and accept these terms.