Rendimiento Judicial y Experiencias del Trabajo Judicial: Hallazgos de la Investigación Socio-jurídica
Keywords:
Evaluación del rendimiento judicial, Trabajo judicial, Magistratura australiana, Jueces y magistrados.
Abstract
Los procesos y programas de evaluación del rendimiento judicial tienden a implicar un modelo normativo abstracto del juez competente. La atención se centra en el funcionario judicial individual, identificando cómo deben realizar su labor los jueces y determinando cualquier desviación respecto al modelo. Sin embargo, a la hora de juzgar, existe una gran diversidad que los modelos abstractos de evaluación del rendimiento judicial no pueden anticipar. Es importante destacar que el desempeño judicial se produce en un contexto – el marco práctico y natural en el que se desarrolla cada día la labor judicial. Esto conlleva falta de tiempo, patrones de carga de trabajo y dependencia de actividades desempeñadas por otros, factores sobre los que el funcionario judicial puede tener poco control, pero que, a su vez, puede afectar a su comportamiento. A menudo, se entiende por desempeño judicial únicamente el trabajo desarrollado en la sala. El trabajo judicial también se produce fuera de la sala y fuera de las horas regulares del tribunal, por lo que puede ser menos visible para la evaluación del rendimiento judicial. Aunque existe una gran variedad de experiencias judiciales a la hora de juzgar, la evaluación del rendimiento judicial sólo incluye en contadas ocasiones las percepciones o las reflexiones sobre su trabajo de los propios jueces. Las ciencias sociales y la investigación socio-jurídica, incluyendo datos empíricos originales de Australia, investigan el hecho de juzgar en diversos contextos y explora las experiencias laborales de los funcionarios judiciales. Esta investigación empírica puede contribuir a ampliar la comprensión del rendimiento y evaluación judicial.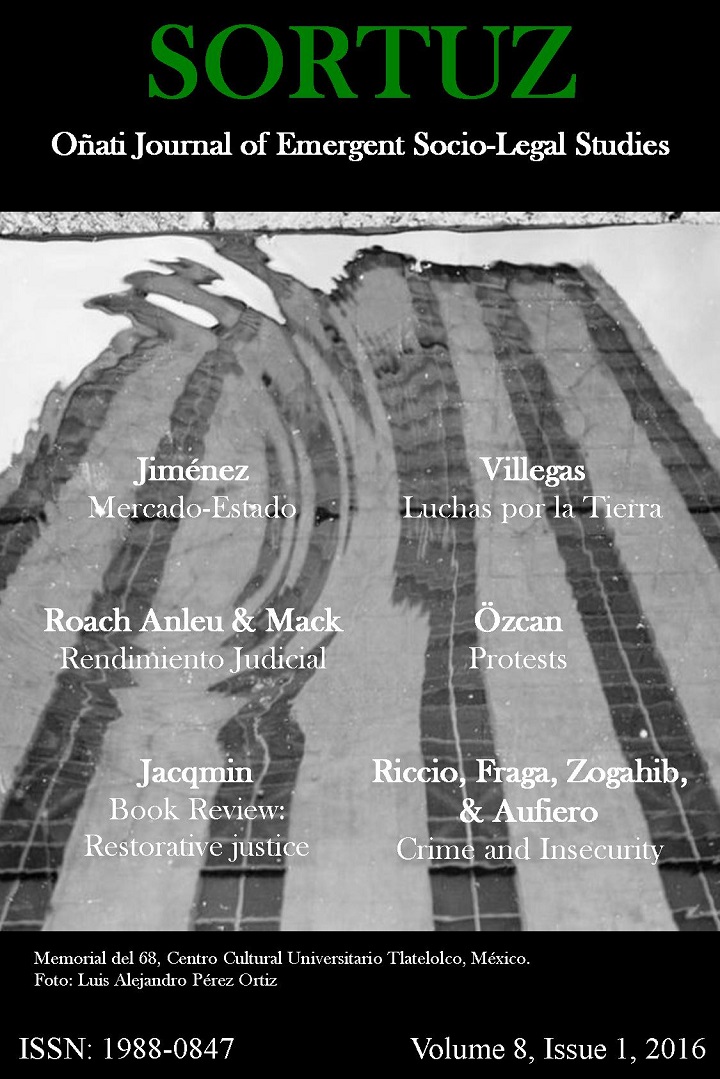 Downloads
License
Sortuz: Oñati Journal of Emergent Socio-Legal Studies provides immediate open access to all its content on the principle that making research freely available to the public supports a greater global exchange of knowledge.
All articles are published under a Creative Commons Attribution 4.0 International License.
Copyright and publishing rights are held by the authors of the articles. We do, however, kindly ask for later publications to indicate Sortuz as the original source.