Notes on femicide/feminicidio and the limits of justice
Keywords:
Critical Legal Studies, Gender-Based Violence, Women's Movement, International Law and Human Rights System, Discourse of Rights, estudios jurídicos críticos, violencia de género, movimiento de las mujeres, femicidio/feminicidio, femicide/feminicide, derecho internacional y sistema de derechos humanos, discurso de derechos
Abstract
This paper is part of a longer research project that works towards a critical reading of the role of law in reinscribing and even producing structural and institutional violence. For introducing such a complex multi-sited topic, the present article focuses on the socio-juridical approach to violence against women by unpacking (i) the terminology of "femicide" and "feminicidio"; (ii) the main instruments and decisions from the international human rights system; (iii) the implementation of the international discourses and documents. In a materialistic framework, we examine the Brazilian context, especially regarding the institutional answers on: public information, statistics, police stations, and shelters to women and children experiencing violence. Through this itinerary, the analysis moves from the legal discourse towards questioning what lies at the limits of justice praxis within the framework of femicide.
Este artículo forma parte de un proyecto de investigación más largo que trabaja en pos de una lectura crítica del papel del derecho en la reinscripción e incluso la producción de la violencia estructural e institucional. Para introducir un tema tan complejo y multisituado, el presente artículo se centra en el enfoque socio-jurídico de la violencia contra las mujeres, desentrañando (i) la terminología de "femicidio" y "feminicidio"; (ii) los principales instrumentos y decisiones del sistema internacional de derechos humanos; (iii) la aplicación de los discursos y documentos internacionales. En un marco materialista, examinamos el contexto brasileño, especialmente en lo que se refiere a las respuestas institucionales sobre información pública, estadísticas, comisarías y lugares de acogida para mujeres y niños que sufren violencia. A través de este itinerario, el análisis se desplaza desde el discurso jurídico hacia el cuestionamiento de los límites de la praxis de la justicia en el marco del feminicidio.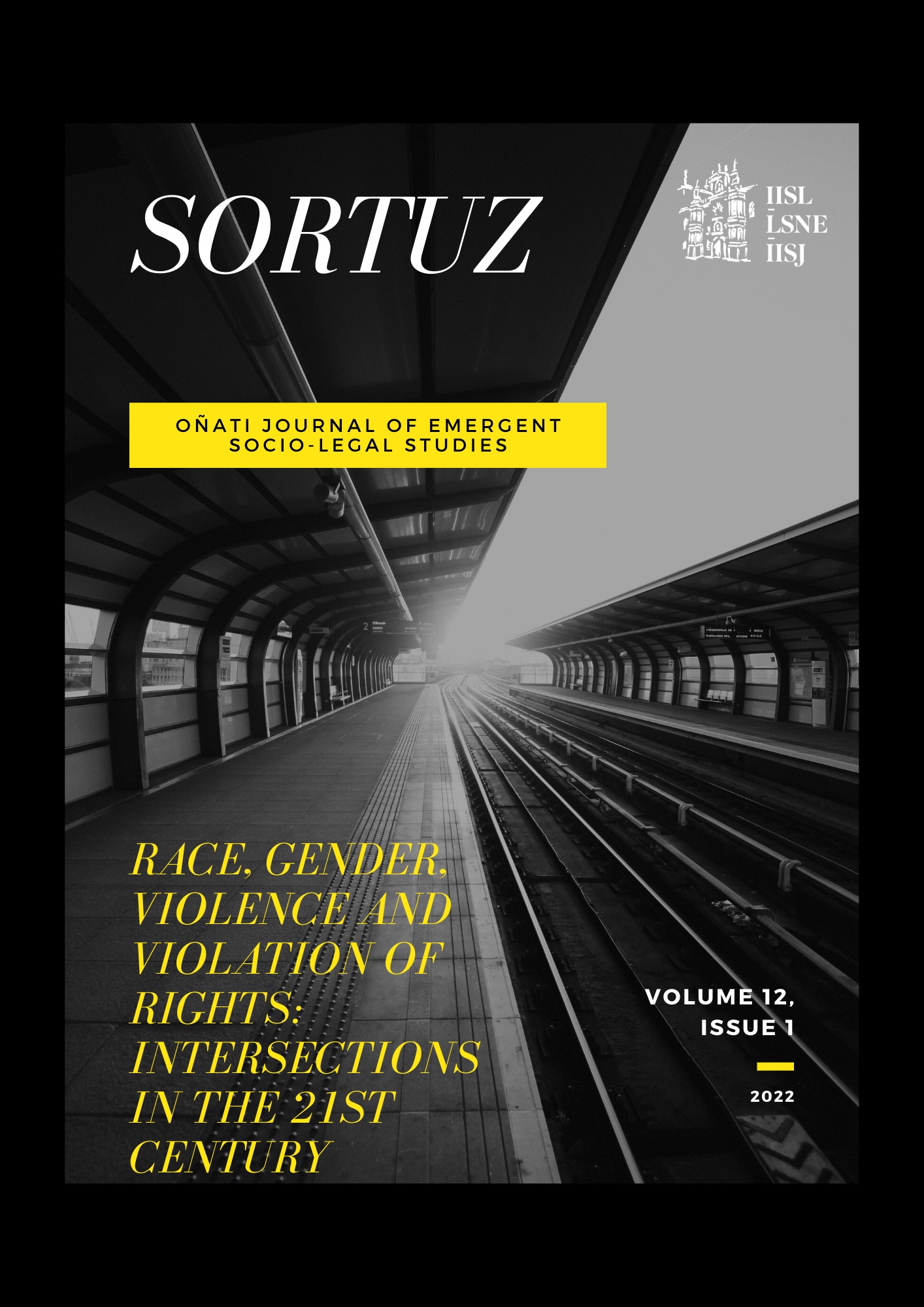 Downloads
License
Copyright (c) 2022 Juliana M. Streva
This work is licensed under a Creative Commons Attribution 4.0 International License.
Sortuz: Oñati Journal of Emergent Socio-Legal Studies provides immediate open access to all its content on the principle that making research freely available to the public supports a greater global exchange of knowledge.
All articles are published under a Creative Commons Attribution 4.0 International License.
Copyright and publishing rights are held by the authors of the articles. We do, however, kindly ask for later publications to indicate Sortuz as the original source.