O raio-X das declarações de direitos autorais de periódicos científicos brasileiros na Directory of Open Access Journals
(The X-Ray of the declarations of authorship in the Brazilian scientific journals in the Directory of Open Access Journals)
Keywords:
Pesquisa empírica em direito, Open access, DOAJ, direitos autorais, empirical legal research, author's rights
Abstract
Este artigo apresenta uma análise da dinâmica dos direitos autorais no cenário das publicações científicas de acesso aberto no Brasil. Por meio da metodologia da Teoria Fundamentada nos Dados, construiu-se uma proposição teórica que engloba elementos extraídos de 102 declarações de direitos autorais de revistas científicas brasileiras, as quais demandam cobranças de taxas de processamento e estão indexadas na base de dados Directory of Open Access Journals (DOAJ). As declarações de direitos autorais de periódicos científicos são construções textuais que possuem o objetivo de definir, parcialmente, as políticas editoriais para a publicação. Uma vez categorizados os dados extraídos daquelas declarações, a proposição teórica revela o uso hermético do conteúdo linguístico e o uso impreciso de termos jurídicos, o que pode indicar que o acesso aberto parece ter sido relativamente negligenciado nesta amostra analisada.
This article presents a dynamic analysis of author's rights as far as scientific journals of open access in Brazil are concerned. Using the grounded theory as a methodological tool, the idea was to construct a theoretical proposition that encompasses elements extracted from 102 declarations of authorship issued by Brazilian scientific journals that demand article processing charges as well as are indexed in the database known as Directory of Open Access Journals (DOAJ). The declarations of authorship required by scientific journal are textual constructions which have the objective to define, partially, the editorial policies for publication. After categorizing the data extracted from those declarations, the theoretical proposition reveals the hermetic use of the linguistic content and the imprecise use of the juridical terms, which may indicate that open access may have been neglected in this analyzed sample.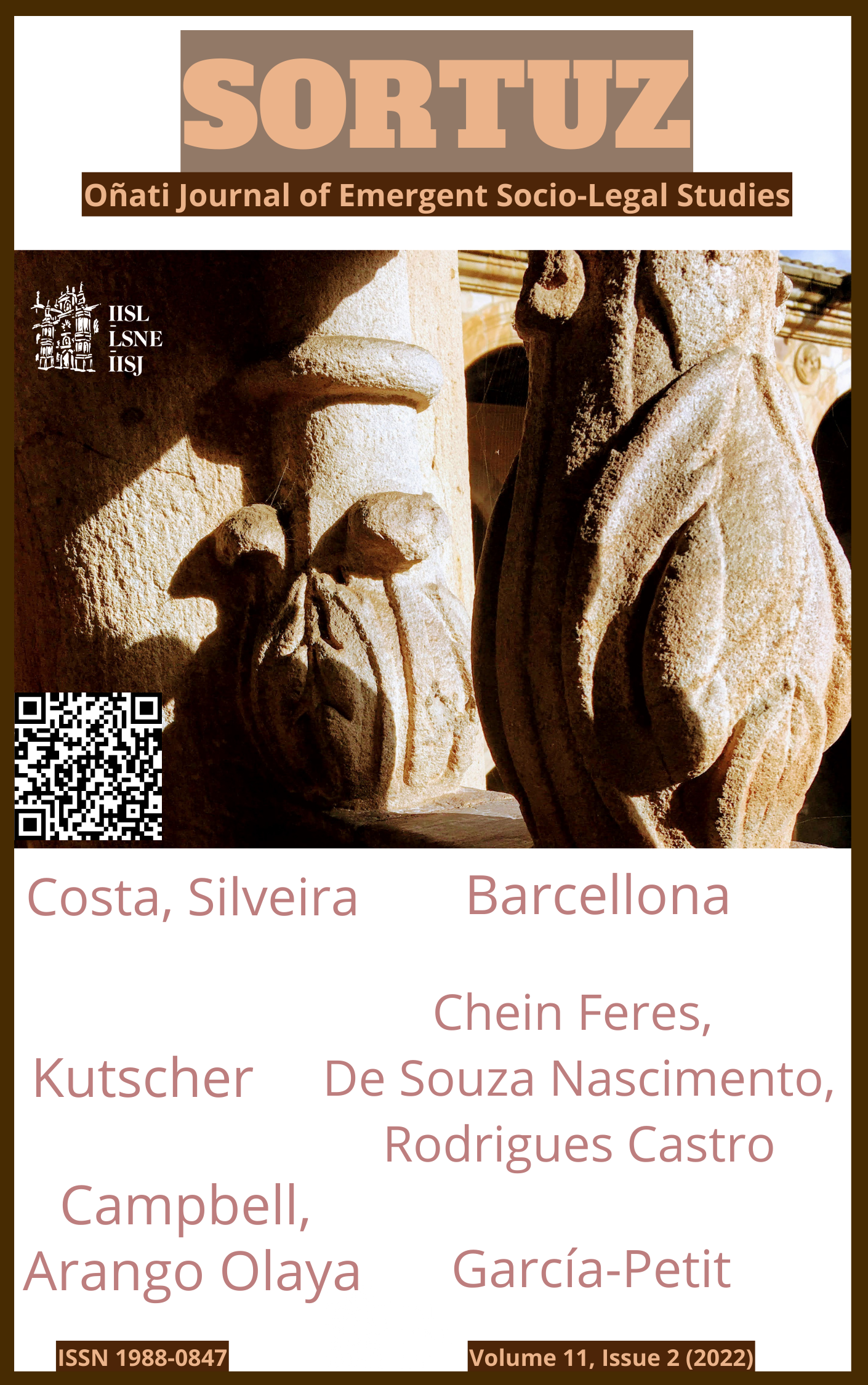 Downloads
License
Copyright (c) 2021 Marcos Vinício Chein Feres, Gabriel de Souza Nascimento, Nícollas Rodrigues Castro
This work is licensed under a Creative Commons Attribution 4.0 International License.
Sortuz: Oñati Journal of Emergent Socio-Legal Studies provides immediate open access to all its content on the principle that making research freely available to the public supports a greater global exchange of knowledge.
All articles are published under a Creative Commons Attribution 4.0 International License.
Copyright and publishing rights are held by the authors of the articles. We do, however, kindly ask for later publications to indicate Sortuz as the original source.