Norm, normal and disruption: Introductory notes
Keywords:
Disruption, normal, pathological, normalization, legal norms, perturbación, patológico, normalización, normas jurídicas
Abstract
The eleven papers in this special issue analyze how different sources of disruption collide with normality, the consequences on individual, social and institutional life, and efforts to re-establish the old or to create a new normal. They arose from a series of online seminars in September and October 2020 investigating normality, disruption and normalization in the wake of the current environmental, technological, epidemiological and socio-economic shocks. Disruption is a window into the underlying fabric of social arrangements. It allows us to investigate the concept of normality and its implications, the tensions and conflicts between economic, social, legal and technological means used to re-establish normality. Technologies of normalization may paradoxically cause further disruptions. Human dignity is a landmark value in these inquiries. The introduction and the papers suggest possible measures to anticipate disruptions and consequent harms. They alert us to the risks to human dignity arising from disruption and from attempts to reimpose forms of normality.
Los once artículos de este número especial analizan la forma en que diferentes fuentes de perturbación colisionan con la normalidad, las consecuencias en la vida individual, social e institucional, y los esfuerzos para restablecer lo anterior o crear una nueva normalidad. Surgen de una serie de seminarios online de septiembre y octubre de 2020 que investigaban la normalidad, la perturbación y la normalización en la estela de los shocks medioambientales, tecnológicos, epidemiológicos y socioeconómicos de la actualidad. La perturbación es una ventana al tejido subyacente de los acuerdos sociales. Nos permite investigar el concepto de normalidad y sus implicaciones, las tensiones y los conflictos entre los medios económicos, sociales, jurídicos y tecnológicos empleados para restablecer la normalidad. Paradójicamente, las tecnologías de la normalización pueden causar más trastornos. La dignidad humana es un valor referente en estas investigaciones. La introducción y los artículos sugieren medidas posibles para anticiparnos a las perturbaciones y consiguientes daños, y nos alertan de los riesgos para la dignidad humana provenientes de la perturbación y de intentos de reimponer tipos de normalidad.
Available from: https://doi.org/10.35295/osls.iisl/0000-0000-0000-1308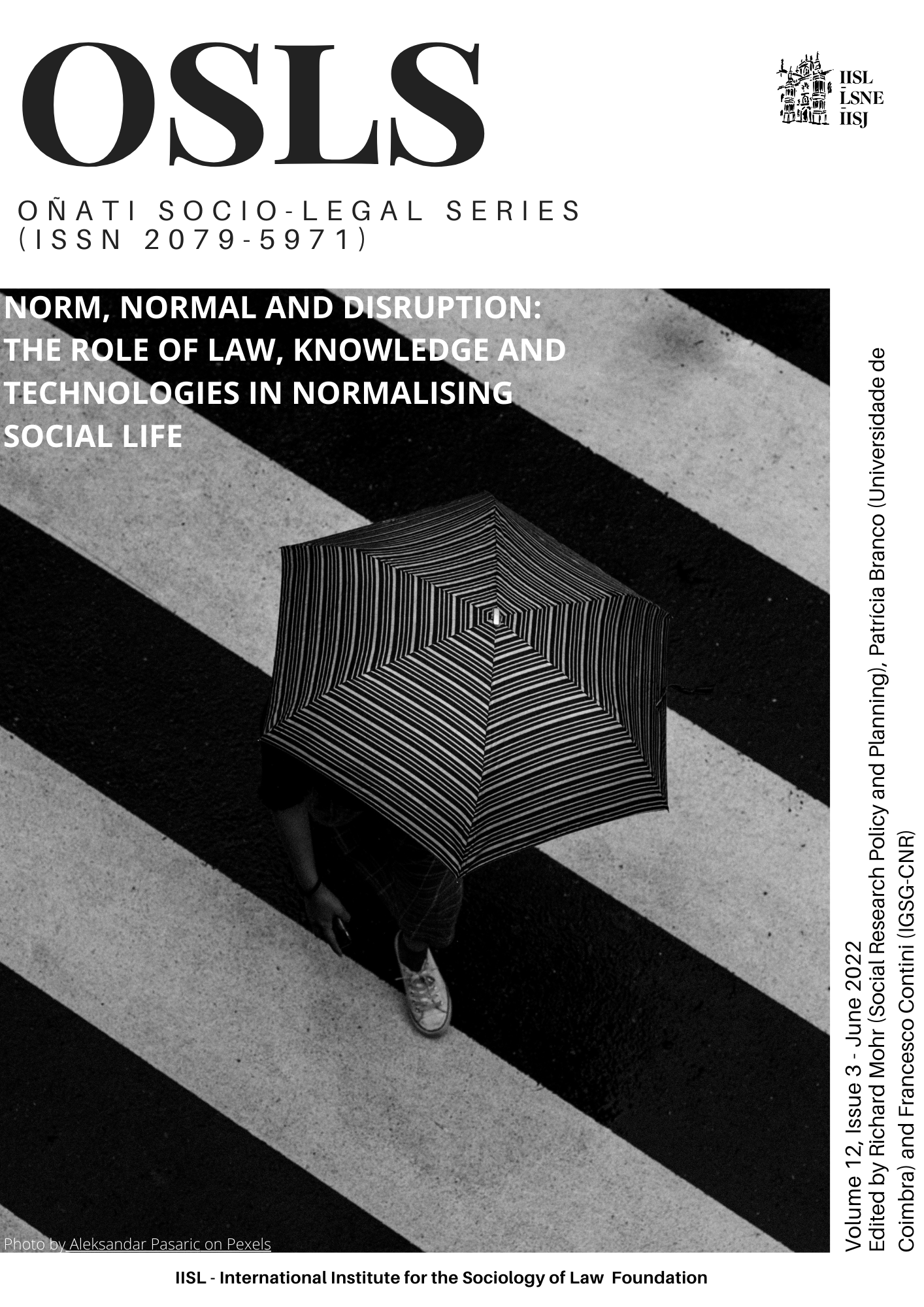 Downloads
How to Cite
Mohr, R., Contini, F. and Branco, P. (2022) "Norm, normal and disruption: Introductory notes", Oñati Socio-Legal Series, 12(3), pp. 414–423. Available at: https://opo.iisj.net/index.php/osls/article/view/1582 (Accessed: 26 June 2022).
License
Copyright (c) 2022 Richard Mohr, Patrícia Branco, Francesco Contini
This work is licensed under a Creative Commons Attribution-NonCommercial-NoDerivatives 4.0 International License.
OSLS strictly respects intellectual property rights and it is our policy that the author retains copyright, and articles are made available under a Creative Commons licence. The Creative Commons Non-Commercial Attribution No-Derivatives licence is our default licence, further details available at https://creativecommons.org/licenses/by-nc-nd/4.0 If this is not acceptable to you, please contact us.
The non-exclusive permission you grant to us includes the rights to disseminate the bibliographic details of the article, including the abstract supplied by you, and to authorise others, including bibliographic databases, indexing and contents alerting services, to copy and communicate these details.
For information on how to share and store your own article at each stage of production from submission to final publication, please read our Self-Archiving and Sharing policy.
The Copyright Notice showing the author and co-authors, and the Creative Commons license will be displayed on the article, and you must agree to this as part of the submission process. Please ensure that all co-authors are properly attributed and that they understand and accept these terms.