Digital transformation, social ranking, and the future of statehood in the time of the "Great Reset"
Keywords:
algorithmic governance, digital profile, social credit system, social control, surveillance state, Gobernanza algorítmica, perfil digital, sistema de crédito social, control social, estado de vigilancia
Abstract
Digital technologies used to identify, profile, and supervise are often hailed as the serendipitous results of inevitable progress, while the long-term consequences of their application remain beyond the attention of lawyers and politicians. This article tries to close this gap by exploring and discussing probable effects of the application of such technologies for the present model of statehood and legal order. It examines the hypothesis that the ubiquitous digitalisation of governance and the increasing attention to individuals' reputation in the provision of public services are related to the attempt of contemporary corporate elites to perpetuate their power and resolve the problem of building a new, post-capitalist social order. The article argues that the expansion of social control through digital technologies can lead to a gradual loss of constitutional subjectivity and political power by people.
Las tecnologías digitales utilizadas para identificar, perfilar y supervisar son aclamadas a menudo como el resultado fortuito de un progreso inevitable, mientras que las consecuencias a largo plazo de su aplicación quedan fuera de la atención de juristas y políticos. Este artículo intenta cerrar esa brecha explorando y debatiendo los efectos probables de la aplicación de tales tecnologías para el modelo actual de estado y orden legal. Examina la hipótesis de que la digitalización ubicua de la gobernanza y la creciente atención a la reputación de las personas en la prestación de servicios públicos están relacionadas con el intento de las élites corporativas contemporáneas de perpetuar su poder y resolver el problema de la construcción de un nuevo orden social poscapitalista. El artículo sostiene que la expansión del control social a través de las tecnologías digitales puede conducir a una pérdida gradual de subjetividad constitucional y poder político por parte de las personas.
Available from: https://doi.org/10.35295/osls.iisl/0000-0000-0000-1370
Metrics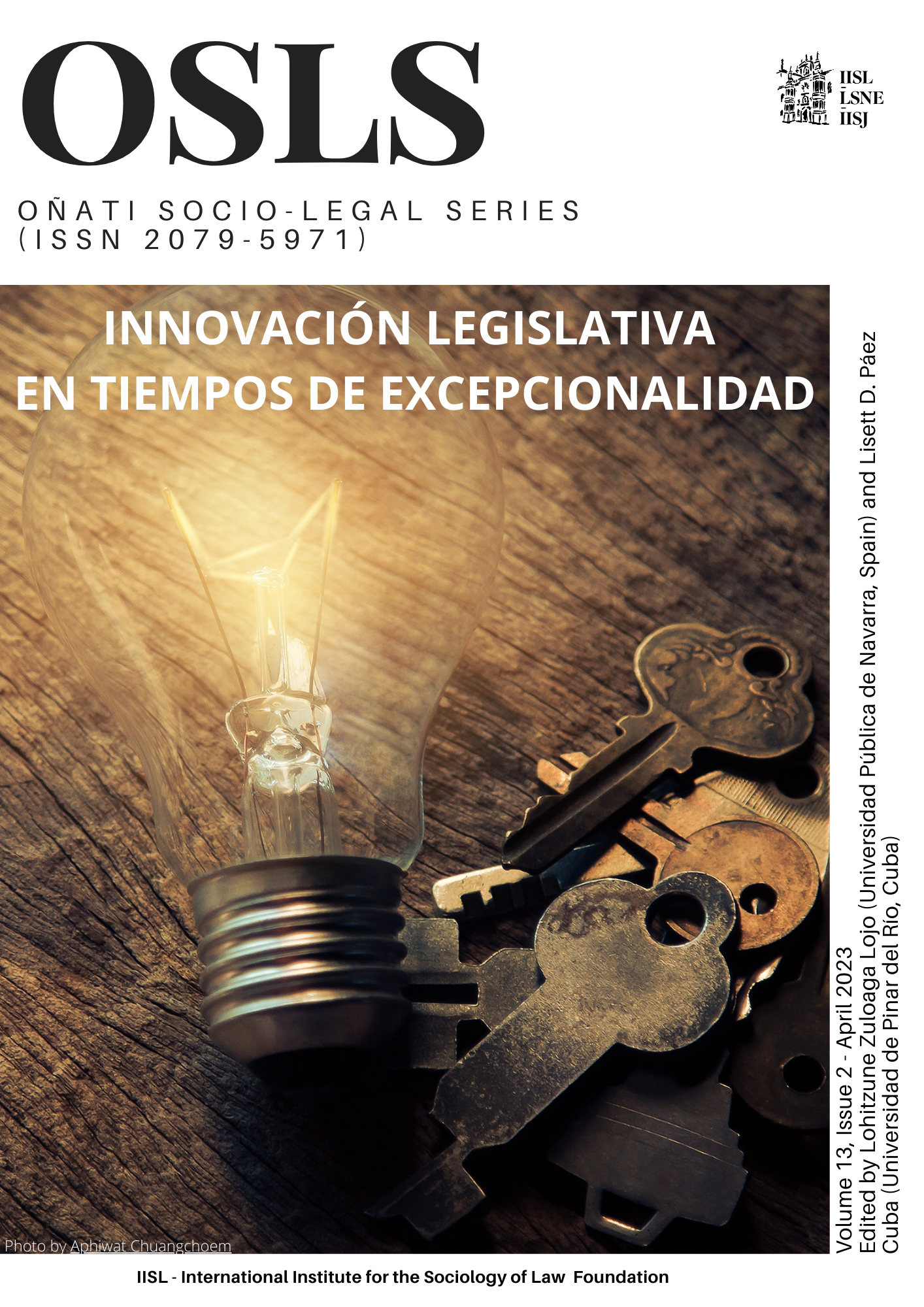 Downloads
Published
20-12-2022 — Updated on 01-04-2023
How to Cite
Rouvinsky, R. (2023) "Digital transformation, social ranking, and the future of statehood in the time of the 'Great Reset'", Oñati Socio-Legal Series, 13(2), pp. 436–463. doi: 10.35295/osls.iisl/0000-0000-0000-1370.
Section
Individual Articles
License
Copyright (c) 2022 Roman Rouvinsky
This work is licensed under a Creative Commons Attribution-NonCommercial-NoDerivatives 4.0 International License.
OSLS strictly respects intellectual property rights and it is our policy that the author retains copyright, and articles are made available under a Creative Commons licence. The Creative Commons Non-Commercial Attribution No-Derivatives licence is our default licence, further details available at https://creativecommons.org/licenses/by-nc-nd/4.0 If this is not acceptable to you, please contact us.
The non-exclusive permission you grant to us includes the rights to disseminate the bibliographic details of the article, including the abstract supplied by you, and to authorise others, including bibliographic databases, indexing and contents alerting services, to copy and communicate these details.
For information on how to share and store your own article at each stage of production from submission to final publication, please read our Self-Archiving and Sharing policy.
The Copyright Notice showing the author and co-authors, and the Creative Commons license will be displayed on the article, and you must agree to this as part of the submission process. Please ensure that all co-authors are properly attributed and that they understand and accept these terms.