Entre víctimas y ciudadanos: identidades en transición y nuevos procesos de subjetivación y sujeción en los casos de Colombia y España
(Between victims and citizens: identities in transition and new processes of subjectivation and subjection in the cases of Colombia and Spain)
Keywords:
Víctimas, ciudadanía, Colombia, España, subjetivación, victims, citizenship, Spain, subjectivation
Abstract
Este texto trata de reflexionar sobre los procesos de subjetivación y sujeción alrededor de la categoría de víctima y de ciudadanía en dos contextos muy diferentes, como son España y Colombia, a partir de la puesta en diálogo de dos viñetas etnográficas. A partir de dichas viñetas y del diálogo comparativo que generan, se plantea superar la dicotomía binaria ciudadano Vs víctima y los imaginarios hegemónicos que les suelen ser otorgados desde la literatura jurídica, filosófica y social a cada uno, para describir la densidad y la ambivalencia social que se dan en los procesos locales en donde se muestra que se dan ires y venires entre ambas categorías de los que conviene dar cuenta.
This text tries to reflect on the processes of subjectivation and subjection around the category of victim and citizenship in two very different contexts, such as Spain and Colombia, based on the dialogue between two ethnographic vignettes. Based on the two vignettes and the comparative dialogue that they generate, it is proposed to overcome the binary dichotomy "citizen vs victim" and the hegemonic imaginaries that are usually granted from the legal, philosophical and social literature to each one, to describe the density and ambivalence social that occur in local processes where it is shown that there are going and coming between both categories that should be accounted for.
Available from: https://doi.org/10.35295/osls.iisl/0000-0000-0000-1328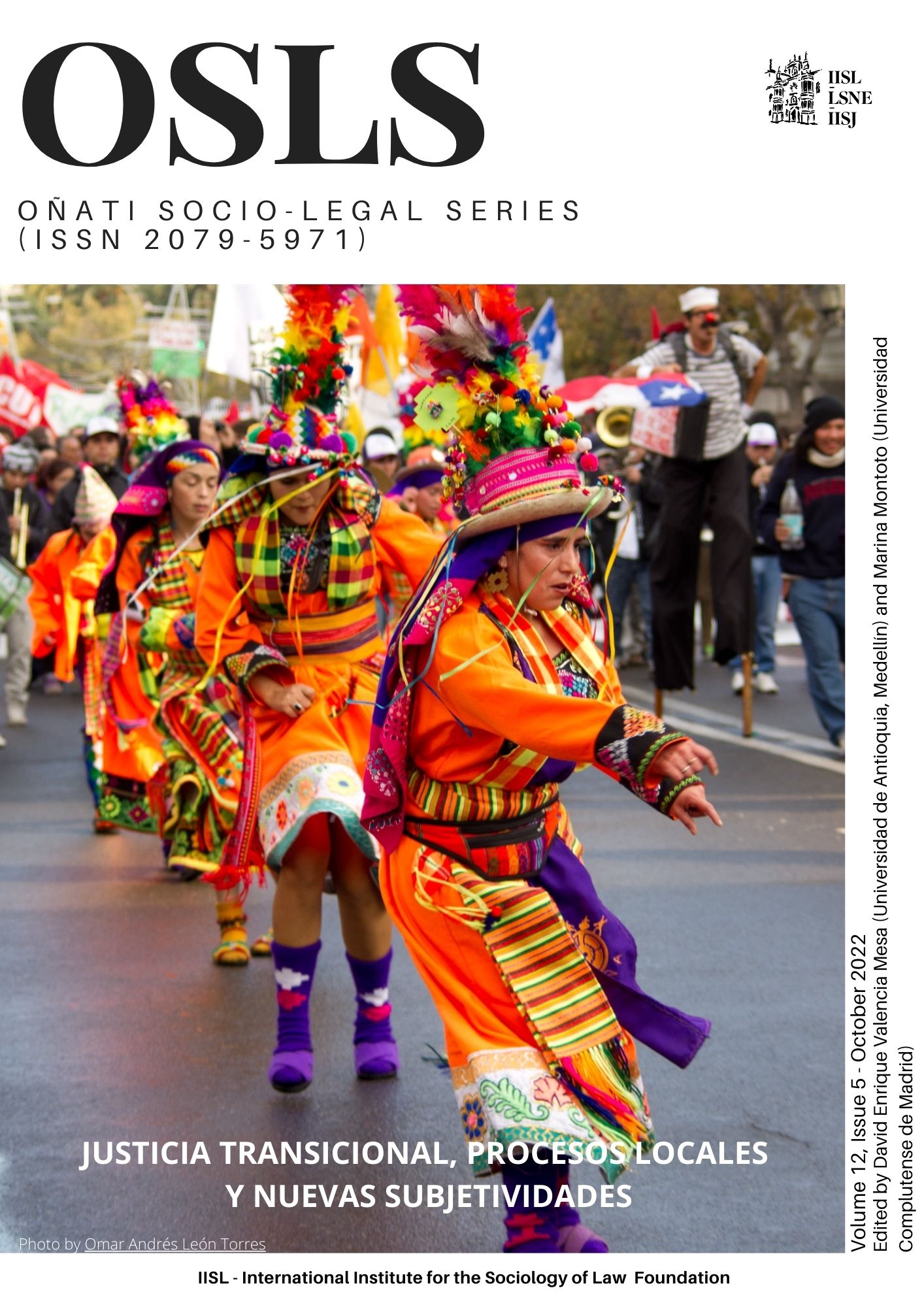 How to Cite
Montoto Ugarte, M. and Valencia Mesa, D. E. (2022) "Entre víctimas y ciudadanos: identidades en transición y nuevos procesos de subjetivación y sujeción en los casos de Colombia y España: (Between victims and citizens: identities in transition and new processes of subjectivation and subjection in the cases of Colombia and Spain)", Oñati Socio-Legal Series, 12(5), pp. 1178–1201. Available at: https://opo.iisj.net/index.php/osls/article/view/1505 (Accessed: 1 October 2023).
Section
Thematic Articles
License
Copyright (c) 2022 Marina Montoto Ugarte, David Enrique Valencia Mesa
This work is licensed under a Creative Commons Attribution-NonCommercial-NoDerivatives 4.0 International License.
OSLS strictly respects intellectual property rights and it is our policy that the author retains copyright, and articles are made available under a Creative Commons licence. The Creative Commons Non-Commercial Attribution No-Derivatives licence is our default licence, further details available at https://creativecommons.org/licenses/by-nc-nd/4.0 If this is not acceptable to you, please contact us.
The non-exclusive permission you grant to us includes the rights to disseminate the bibliographic details of the article, including the abstract supplied by you, and to authorise others, including bibliographic databases, indexing and contents alerting services, to copy and communicate these details.
For information on how to share and store your own article at each stage of production from submission to final publication, please read our Self-Archiving and Sharing policy.
The Copyright Notice showing the author and co-authors, and the Creative Commons license will be displayed on the article, and you must agree to this as part of the submission process. Please ensure that all co-authors are properly attributed and that they understand and accept these terms.