The legal imaginary of "indigeneity": Creating knowledge, subjects, and law
Keywords:
Indigeneity, indigenous peoples, Ministry of Culture, legal imaginary, interpretative anthropology, anthropology of law, cultural analysis of law, indigeneidad, pueblos indígenas, Ministerio de Cultura, imaginario legal, antropología interpretativa, antropología jurídica, análisis cultural del derecho
Abstract
This article analyzes how the most important Peruvian legal-political institution with jurisdiction over indigenous issues, the Ministry of Culture, has constructed "indigeneity" since its creation in 2010 and until 2020. To achieve this aim, the article uses the cultural analysis of law as its main theoretical-methodological approach, which proposes the study of contextualized spatio-temporal subjects. These subjects are created by legal categories and narratives found in the Ministry's legal documents and materials. The inductive and interpretative analysis of these documents and materials show that the Ministry of Culture constructs four types of "indigeneity": i) generic, "indigenous peoples", ii) natural, indigenous peoples in isolation or initial contact, iii) organized, community indigenous peoples, and iv) citizen, urban indigenous individuals. These findings demonstrate that the Peruvian Ministry of Culture has constructed different types of "indigeneity" and that this diverse and often discordant types of "indigeneity" create a complex relationship between the indigenous peoples and the state.
Este artículo analiza cómo la institución jurídico-política peruana más importante con competencia en materia indígena, el Ministerio de Cultura, ha construido "indigeneidad" desde su creación en el 2010 y hasta el 2020. Para lograr este objetivo, se utiliza el análisis cultural del derecho como el principal enfoque teórico-metodológico, el cual propone el estudio de sujetos espaciotemporales contextualizados. Estos sujetos son creados a través de categorías legales y narrativas encontradas en los documentos legales y materiales del Ministerio. El análisis inductivo e interpretativo de estos documentos y materiales muestra que el Minsiterio de Cultura construye cuatro tipos de "indigeneidad": i) genérica, "pueblos indígenas", ii) natural, pueblos indígenas en aislamiento o contacto inicial, iii) organizada, pueblos indígenas de comunidades, y iv) ciudadanos, indígenas urbanos. Estos hallazgos muestran que el Ministerio de Cultura ha construido diferentes tipos de indigeneidad y que estos diversos y, con frecuencia, discordantes tipos de "indigeneidad" crean una realación compleja entre los pueblos indígenas y el Estado.
Available from: https://doi.org/10.35295/osls.iisl/0000-0000-0000-1315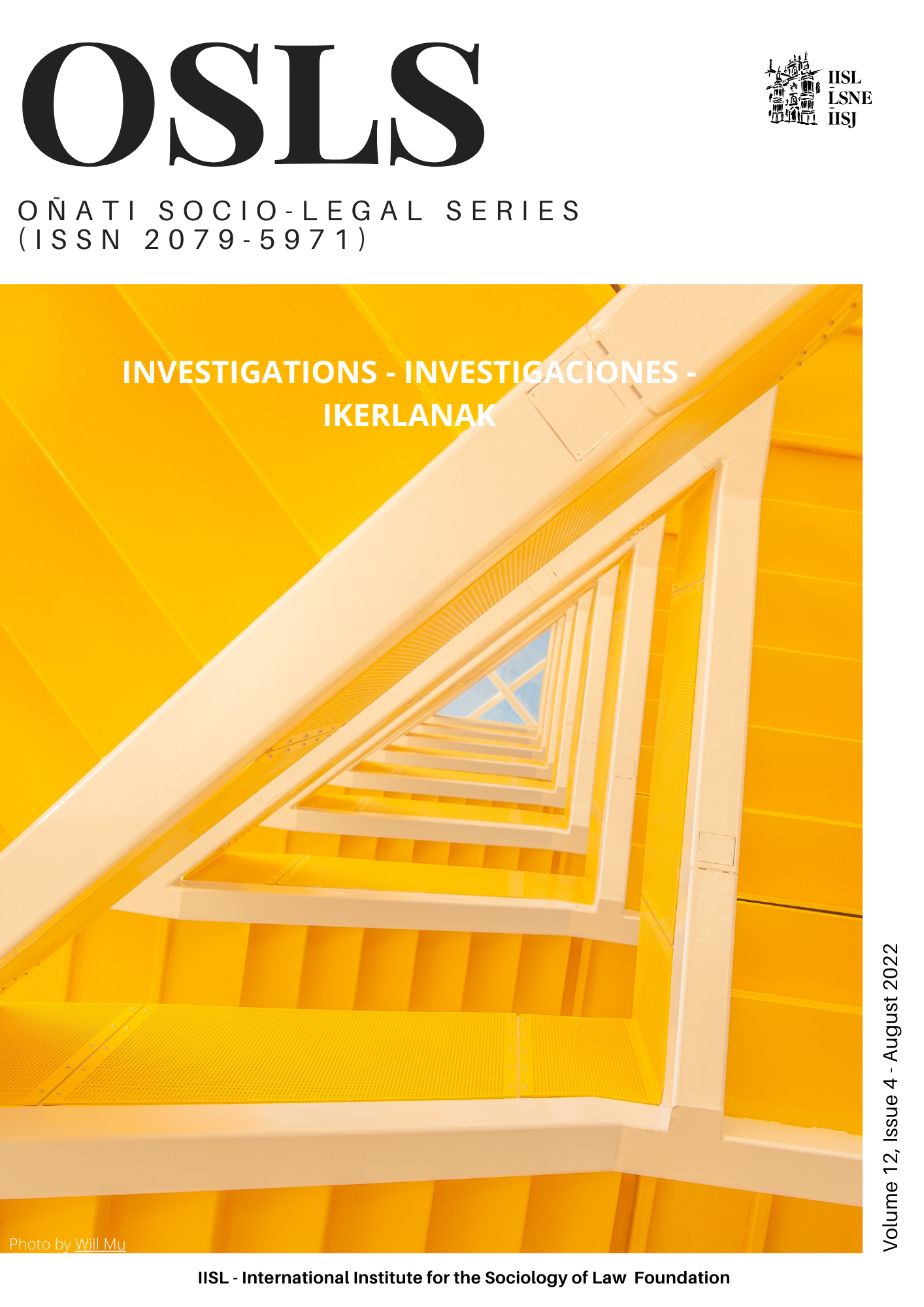 How to Cite
León Angulo, E. (2022) "The legal imaginary of "indigeneity": Creating knowledge, subjects, and law", Oñati Socio-Legal Series, 12(4), pp. 945–980. Available at: https://opo.iisj.net/index.php/osls/article/view/1497 (Accessed: 19 August 2022).
Section
Individual Articles
License
Copyright (c) 2022 Erika León Angulo
This work is licensed under a Creative Commons Attribution-NonCommercial-NoDerivatives 4.0 International License.
OSLS strictly respects intellectual property rights and it is our policy that the author retains copyright, and articles are made available under a Creative Commons licence. The Creative Commons Non-Commercial Attribution No-Derivatives licence is our default licence, further details available at https://creativecommons.org/licenses/by-nc-nd/4.0 If this is not acceptable to you, please contact us.
The non-exclusive permission you grant to us includes the rights to disseminate the bibliographic details of the article, including the abstract supplied by you, and to authorise others, including bibliographic databases, indexing and contents alerting services, to copy and communicate these details.
For information on how to share and store your own article at each stage of production from submission to final publication, please read our Self-Archiving and Sharing policy.
The Copyright Notice showing the author and co-authors, and the Creative Commons license will be displayed on the article, and you must agree to this as part of the submission process. Please ensure that all co-authors are properly attributed and that they understand and accept these terms.