La aplicación de medidas coercitivas unilaterales en contextos excepcionales: el caso del bloqueo económico, financiero y comercial hacia Cuba
(Application of unilateral coercive measures in exceptional contexts: The case of the economic, financial and commercial blockade against Cuba)
Keywords:
bloqueo, ley helms-burton, Título III, medida coercitiva unilateral, derecho internacional, blockade, helms-burton act, Title III, unilateral coercive measure, international law
Abstract
El cerco económico impuesto por el gobierno estadounidense al Estado cubano ha propiciado circunstancias de permanente excepcionalidad frente a la comunidad internacional. La política de Guerra Fría respaldada en la Ley Helms-Burton desde 1996, comenzó en 2019 una nueva etapa de acciones acrecentadas con la activación del Título III de dicha ley, para impedir la inversión extranjera en Cuba y favorecer un cambio de régimen. Este artículo pretende argumentar el impacto del bloqueo como medida coercitiva unilateral en un contexto sociopolítico irregular que se ha extendido por más de seis décadas en el caso cubano. Se analiza la nacionalización de 1959 como acto de soberanía estatal, el carácter ilegítimo y extraterritorial del bloqueo en tanto viola el Derecho Internacional Público y constituye un acto irracional de guerra económica, así como una arbitraria sanción política que perjudica los más elementales derechos humanos.
The economic siege imposed by the U.S. government on the Cuban State has placed circumstances of permanent exceptionality in front of the international community. The cold war policy supported by the Helms-Burton Act of 1996, estarted in 2019 a new stage of actions began with the activation of Title III of that law, to prevent foreign investment in Cuba and to favor a regime change. This article aims to argue the impact of the blockade as a unilateral coercive measure in an irregular socio-political context that has extended for more than six decades in the Cuban case. It analyzes the nationalization of 1959 as an act of state sovereignty, the illegitimate and extraterritorial nature of the blockade insofar as it violates International Public Law and constitutes an irrational act of economic war, as well as an arbitrary political sanction that harms the most elementary human rights.
Available from: https://doi.org/10.35295/osls.iisl/0000-0000-0000-1341
Metrics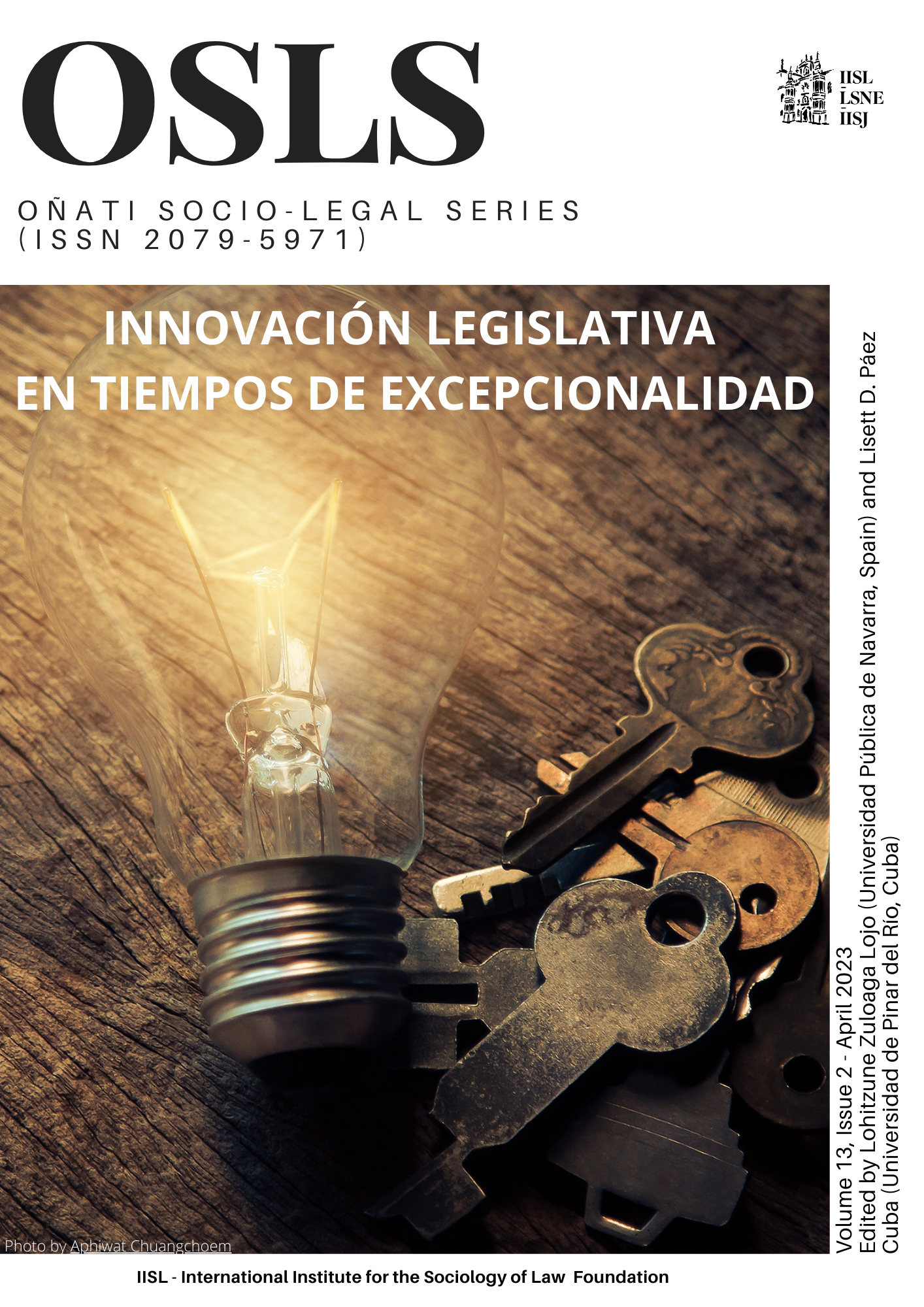 Downloads
Published
09-12-2022 — Updated on 01-04-2023
How to Cite
Silva González, J. L. and Páez Cuba, L. D. (2023) "La aplicación de medidas coercitivas unilaterales en contextos excepcionales: el caso del bloqueo económico, financiero y comercial hacia Cuba: (Application of unilateral coercive measures in exceptional contexts: The case of the economic, financial and commercial blockade against Cuba)", Oñati Socio-Legal Series, 13(2), pp. 381–405. doi: 10.35295/osls.iisl/0000-0000-0000-1341.
Section
2ª parte - Contexto latinoamericano
License
Copyright (c) 2022 Jorge Luis Silva González, Lisett Daymaris Páez Cuba
This work is licensed under a Creative Commons Attribution-NonCommercial-NoDerivatives 4.0 International License.
OSLS strictly respects intellectual property rights and it is our policy that the author retains copyright, and articles are made available under a Creative Commons licence. The Creative Commons Non-Commercial Attribution No-Derivatives licence is our default licence, further details available at https://creativecommons.org/licenses/by-nc-nd/4.0 If this is not acceptable to you, please contact us.
The non-exclusive permission you grant to us includes the rights to disseminate the bibliographic details of the article, including the abstract supplied by you, and to authorise others, including bibliographic databases, indexing and contents alerting services, to copy and communicate these details.
For information on how to share and store your own article at each stage of production from submission to final publication, please read our Self-Archiving and Sharing policy.
The Copyright Notice showing the author and co-authors, and the Creative Commons license will be displayed on the article, and you must agree to this as part of the submission process. Please ensure that all co-authors are properly attributed and that they understand and accept these terms.