Caste, race, and slavery: On comparisons between race in the United States and caste in India, and to forgotten assumptions behind the legal categories
Keywords:
caste, race, slavery, comparative science of cultures, Anglo-Hindu law, Enlightenment evolutionary thought, casta, raza, esclavitud, ciencia comparativa de las culturas, derecho angloíndio, pensamiento evolutivo de la Ilustración
Abstract
While diving into the background ideas about caste and race as legal categories, a researcher will discover an important disagreement between scholars: For some, caste is certainly connected with race, whereas for others, caste and race are separate concepts which refer to distinct realities. The aim of this article is twofold: To consider the validity of several characteristics which are ascribed by many authors as common to caste and race, and to analyse background assumptions that enabled the comparison between caste and race as such. The important question, connected with both these aims is about the emergence of the idea that the ancient "Hindu nation" was divided into two peoples, and castes as a system are reflecting the original division in modern India. We will closely examine comparisons made between the advent of Aryans in India and slavery in the United States and Africa. Finally, we will reconsider the European ideas of human evolution and equality of men, which served as a contrasting board for explanations of caste as a form of slavery.
Al sumergirse en las ideas de fondo sobre la casta y la raza como categorías jurídicas, el investigador descubrirá un importante desacuerdo entre los estudiosos: Para algunos, la casta está ciertamente relacionada con la raza, mientras que, para otros, casta y raza son conceptos separados que se refieren a realidades distintas. El objetivo de este artículo es doble: considerar la validez de varias características que muchos autores atribuyen como comunes a la casta y a la raza, y analizar los supuestos de fondo que permitieron la comparación entre casta y raza como tales. La cuestión importante, relacionada con estos dos objetivos, es el surgimiento de la idea de que la antigua "nación hindú" estaba dividida en dos pueblos, y que las castas como sistema reflejan la división original en la India moderna. Examinaremos de cerca las comparaciones que se hacen entre la llegada de los arios a la India y la esclavitud en Estados Unidos y África. Por último, reconsideraremos las ideas europeas sobre la evolución humana y la igualdad de los hombres, que sirvieron de tablero de contraste para las explicaciones de las castas como forma de esclavitud.
Available from: https://doi.org/10.35295/osls.iisl/0000-0000-0000-1330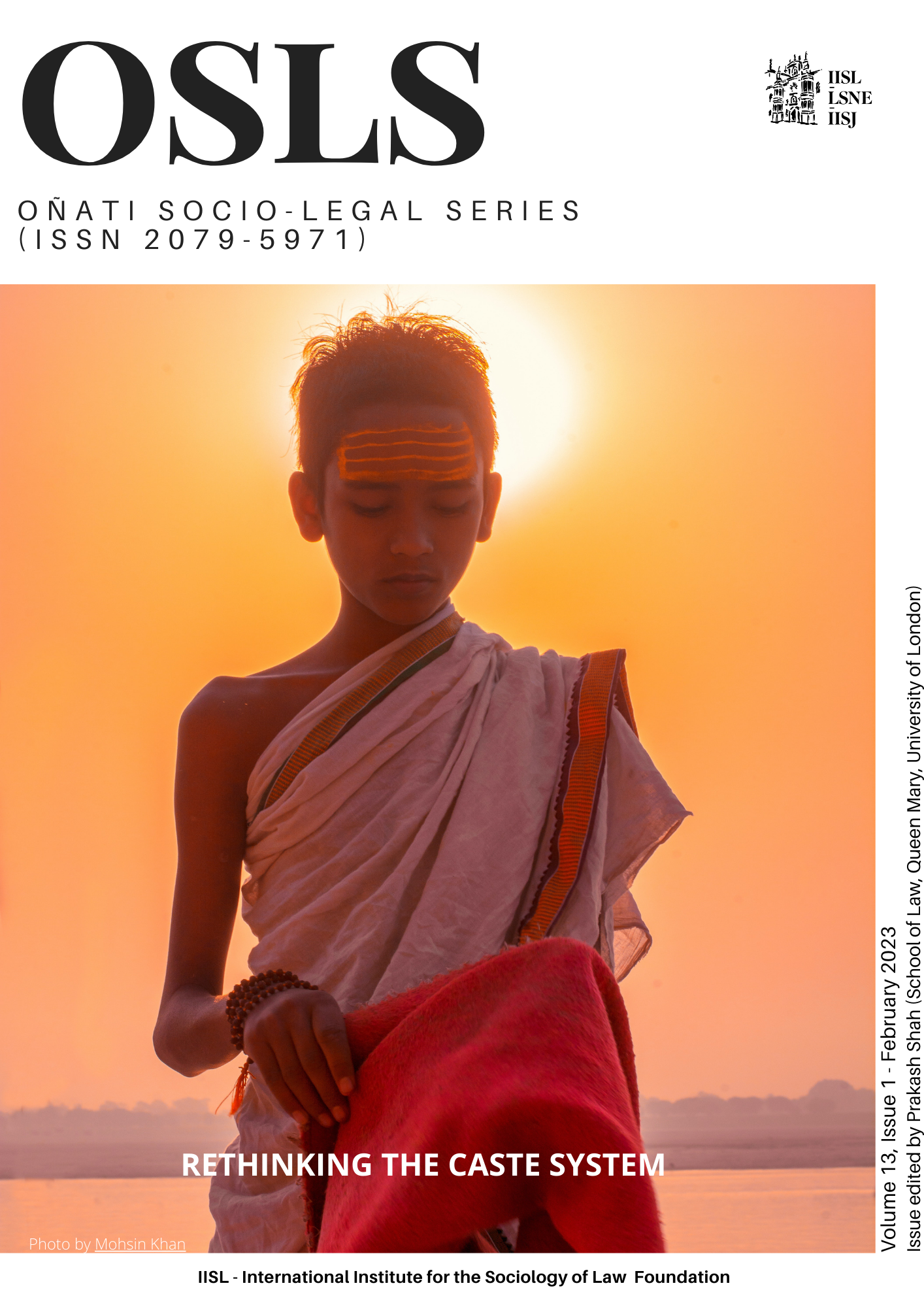 Downloads
Published
04-10-2022 — Updated on 01-02-2023
How to Cite
Fárek, M. (2023) "Caste, race, and slavery: On comparisons between race in the United States and caste in India, and to forgotten assumptions behind the legal categories", Oñati Socio-Legal Series, 13(1), pp. 58–88. Available at: https://opo.iisj.net/index.php/osls/article/view/1429 (Accessed: 27 March 2023).
Section
Thematic Articles
License
Copyright (c) 2022 Martin Fárek
This work is licensed under a Creative Commons Attribution-NonCommercial-NoDerivatives 4.0 International License.
OSLS strictly respects intellectual property rights and it is our policy that the author retains copyright, and articles are made available under a Creative Commons licence. The Creative Commons Non-Commercial Attribution No-Derivatives licence is our default licence, further details available at https://creativecommons.org/licenses/by-nc-nd/4.0 If this is not acceptable to you, please contact us.
The non-exclusive permission you grant to us includes the rights to disseminate the bibliographic details of the article, including the abstract supplied by you, and to authorise others, including bibliographic databases, indexing and contents alerting services, to copy and communicate these details.
For information on how to share and store your own article at each stage of production from submission to final publication, please read our Self-Archiving and Sharing policy.
The Copyright Notice showing the author and co-authors, and the Creative Commons license will be displayed on the article, and you must agree to this as part of the submission process. Please ensure that all co-authors are properly attributed and that they understand and accept these terms.