Remembering Sally Engle Merry: Her scholarship and her legacy
Keywords:
Sally Engle Merry, Anthropology of Law, interdisciplinary collaboration, ethnography, human rights and gender violence, quantitative knowledge, antropología del derecho, colaboración interdisciplinar, etnografía, derechos humanos y violencia de género, conocimiento cuantitativo
Abstract
This article reviews the scholarship and legacy of Sally Engle Merry who died on 8th September, 2020. If focuses on a number of research fields and themes that are central to her work and collaborative engagement with other scholars, primarily across the disciplines of anthropology, law, sociology and socio-legal studies. These research domains include neighbourhood justice and mediation, law and colonialism, human rights and transnational governance, gender violence, the quantification of knowledge globally, and the relationship between law, society and power.
Este artículo revisa la contribución académica y el legado de Sally Engle Merry, que falleció el 8 de septiembre de 2020. Nos centramos en una serie de campos y temas de investigación que son centrales en su trabajo y en su colaboración comprometida con otros investigadores, sobre todo en las áreas de la antropología, el derecho, la sociedad y los estudios socio-jurídicos. Esos dominios investigativos incluyen la justicia y la mediación vecinales, el derecho y el colonialismo, los derechos humanos y la gobernanza trasnacional, la violencia de género, la cuantificación global del conocimiento y la relación entre derecho, sociedad y poder.
Available from: https://doi.org/10.35295/osls.iisl/0000-0000-0000-1234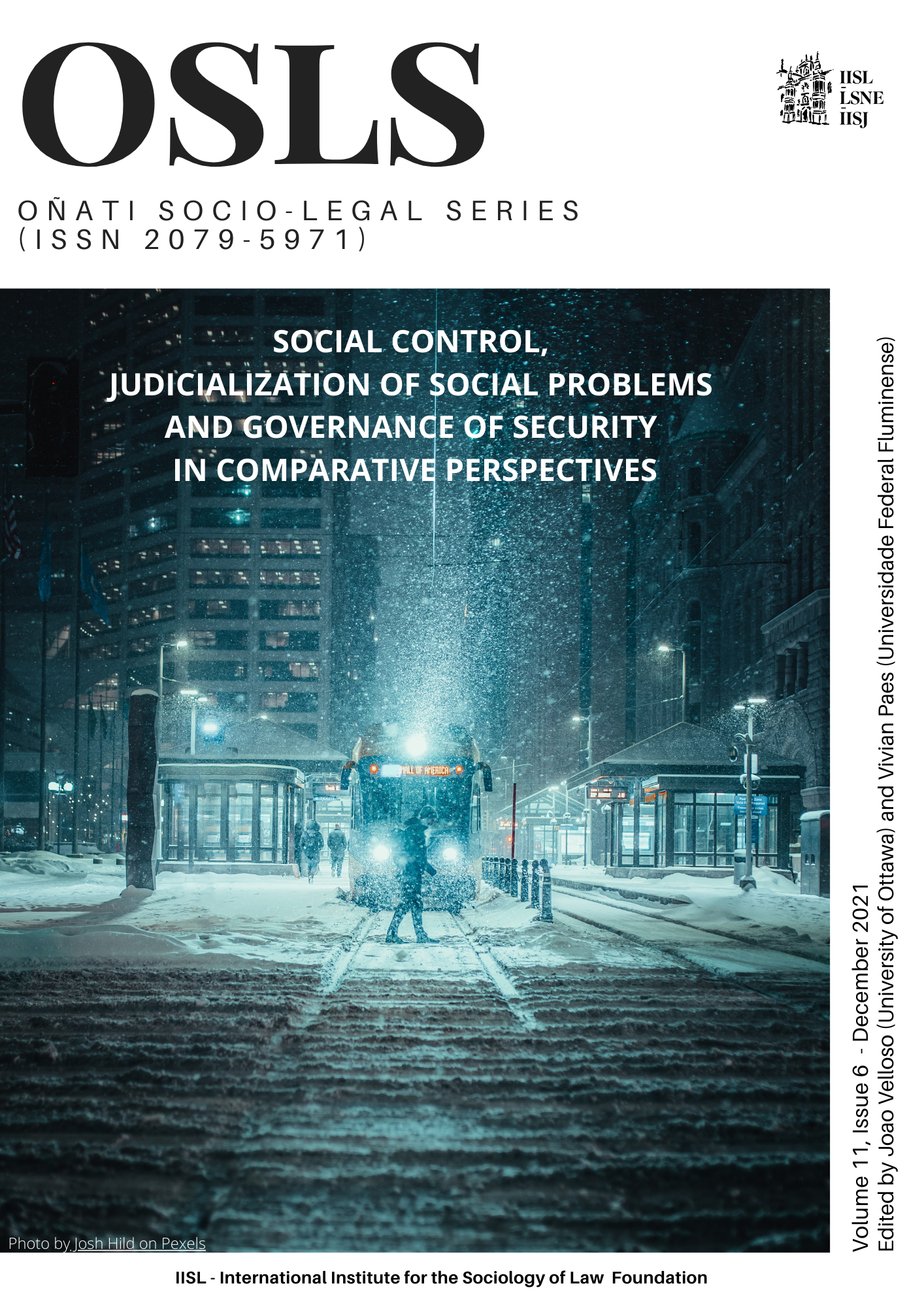 Published
01-10-2021 — Updated on 01-12-2021
How to Cite
Griffiths, A. (2021) "Remembering Sally Engle Merry: Her scholarship and her legacy", Oñati Socio-Legal Series, 11(6), pp. 1250–1259. Available at: https://opo.iisj.net/index.php/osls/article/view/1427 (Accessed: 30 November 2022).
License
Copyright (c) 2021 Anne Griffiths
This work is licensed under a Creative Commons Attribution-NonCommercial-NoDerivatives 4.0 International License.
OSLS strictly respects intellectual property rights and it is our policy that the author retains copyright, and articles are made available under a Creative Commons licence. The Creative Commons Non-Commercial Attribution No-Derivatives licence is our default licence, further details available at https://creativecommons.org/licenses/by-nc-nd/4.0 If this is not acceptable to you, please contact us.
The non-exclusive permission you grant to us includes the rights to disseminate the bibliographic details of the article, including the abstract supplied by you, and to authorise others, including bibliographic databases, indexing and contents alerting services, to copy and communicate these details.
For information on how to share and store your own article at each stage of production from submission to final publication, please read our Self-Archiving and Sharing policy.
The Copyright Notice showing the author and co-authors, and the Creative Commons license will be displayed on the article, and you must agree to this as part of the submission process. Please ensure that all co-authors are properly attributed and that they understand and accept these terms.