The utopia of Rojava: A new world for stateless people
Keywords:
utopia, legal change, participatory art, democracy, revolution, utopía, cambio jurídico, arte participativo, democracia, revolución
Abstract
This article investigates how participatory art can contribute to legal change. As a case study, it discusses Jonas Staal's project of New World Summit in Rojava, a (so far still) autonomous region in North and East Syria. It offers an interesting case, since it invites the law to include what it has excluded so far. To begin with, it is clarified how change is conceived within legal systems based on the rule of law. Although law resists radical change, it is involved in a constant process of adaptation to its environment. Subsequently, Staal's project of New World Summit is discussed from a utopian perspective. Its apparent impossibility is what makes is so valuable for law and its development. By erecting a parliament for Rojava, it presents a picture of how the international order could look like when things were different. It basically is an exercise in "utopian world-making".
Este artículo investiga cómo el arte participativo puede contribuir al cambio jurídico. Como estudio de caso, analiza el proyecto de Jonas Staal de la Cumbre del Nuevo Mundo de Rojava, una región (aun a día de hoy) autónoma del norte y el este de Siria. Ofrece un caso interesante, ya que invita al derecho a incluir lo que hasta ahora ha excluido. Para empezar, se aclara cómo se concibe el cambio dentro de los sistemas jurídicos basados en el Estado de Derecho. Aunque el derecho se resiste a los cambios radicales, está implicado en un proceso constante de adaptación a su entorno. A continuación, se comenta el proyecto de Staal de la Nueva Cumbre Mundial desde una perspectiva utópica. Su aparente imposibilidad es lo que lo hace tan valioso para el derecho y su desarrollo. Al erigir un parlamento para Rojava, presenta una imagen de cómo podría ser el orden internacional si las cosas fueran diferentes. Como tal, es un ejercicio de "creación de un mundo utópico".
Available from: https://doi.org/10.35295/osls.iisl/0000-0000-0000-1269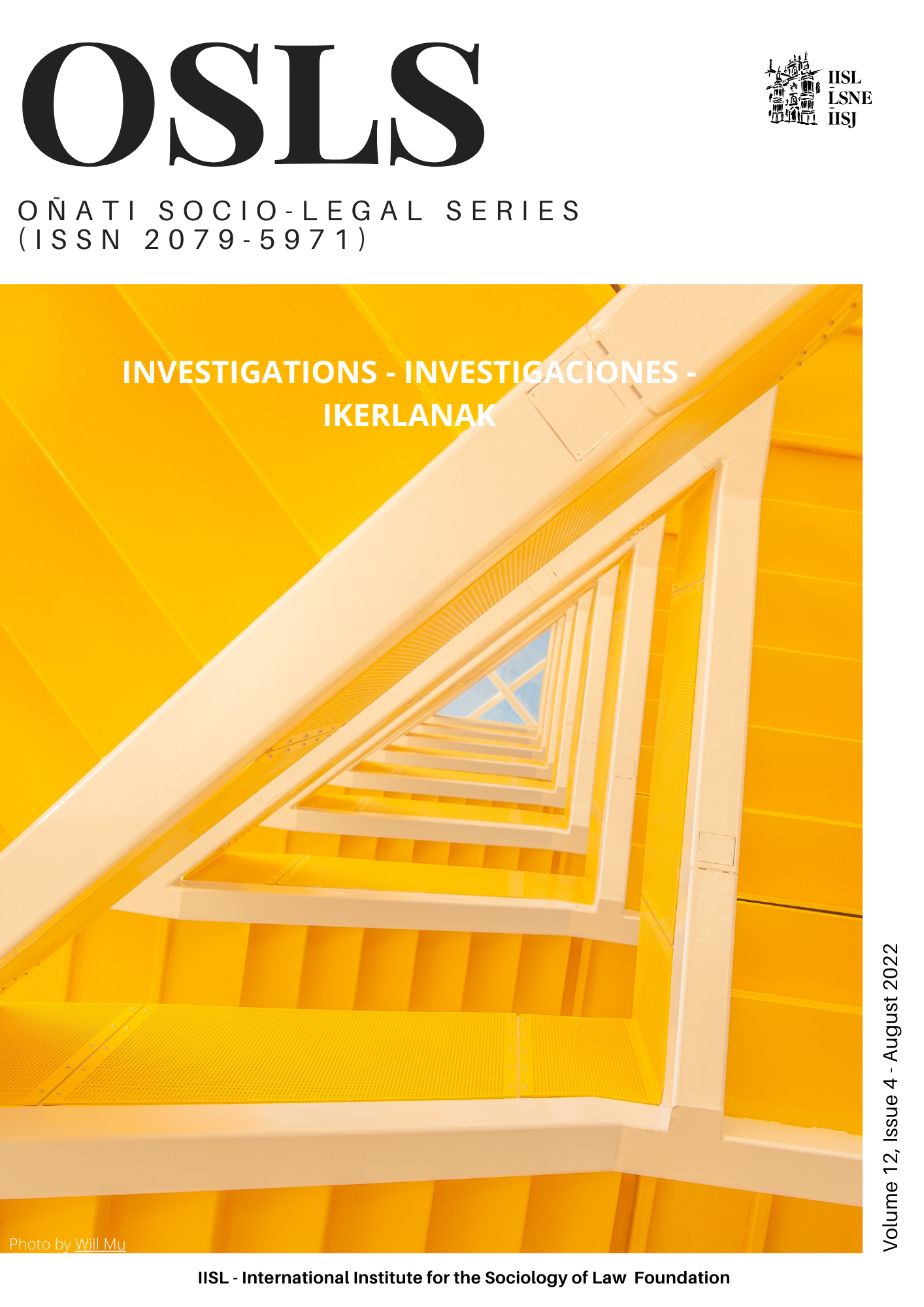 Published
30-03-2022 — Updated on 01-08-2022
How to Cite
van Klink, B. (2022) "The utopia of Rojava: A new world for stateless people", Oñati Socio-Legal Series, 12(4), pp. 822–842. Available at: https://opo.iisj.net/index.php/osls/article/view/1419 (Accessed: 1 October 2023).
Section
Individual Articles
License
Copyright (c) 2022 Bart van Klink
This work is licensed under a Creative Commons Attribution-NonCommercial-NoDerivatives 4.0 International License.
OSLS strictly respects intellectual property rights and it is our policy that the author retains copyright, and articles are made available under a Creative Commons licence. The Creative Commons Non-Commercial Attribution No-Derivatives licence is our default licence, further details available at https://creativecommons.org/licenses/by-nc-nd/4.0 If this is not acceptable to you, please contact us.
The non-exclusive permission you grant to us includes the rights to disseminate the bibliographic details of the article, including the abstract supplied by you, and to authorise others, including bibliographic databases, indexing and contents alerting services, to copy and communicate these details.
For information on how to share and store your own article at each stage of production from submission to final publication, please read our Self-Archiving and Sharing policy.
The Copyright Notice showing the author and co-authors, and the Creative Commons license will be displayed on the article, and you must agree to this as part of the submission process. Please ensure that all co-authors are properly attributed and that they understand and accept these terms.