A justification of basic income beyond a theory of justice
Keywords:
Universal basic income, conflict, law, Marxism, welfare, renta básica universal, conflicto, derecho, marxismo, bienestar
Abstract
Most theoretical positions in support of basic income draw on a "fair society" model. Even in a post-Marxist context, basic income is conceived as a formal recognition of a social relationship, aimed at validating a liberation process that has already taken place. The present work begins from an alternative perspective. In line with a dialectical and conflicting concept of basic income, it proposes a mechanism for the reappropriation of the decision-making process, which opens up spaces for deconstruction and conflict. However, the concept must be calibrated for the conditions in which the right to a basic income is claimed; it must also take account of prevailing power relations. The paper presents a theory of a basic income as a liberation mechanism that facilitates the disarticulation of the mercantile organization of social relations and favours the possibility of autonomously deciding one's future and the conditions of communal life.
La mayoría de las posturas teóricas a favor de la renta básica se basan en un modelo de "sociedad justa". Incluso en un contexto posmarxista, la renta básica se concibe como un reconocimiento formal de una relación social, destinado a validar un proceso de liberación que ya ha tenido lugar. El presente trabajo parte de una perspectiva alternativa. Siguiendo una concepción dialéctica y conflictiva de la renta básica, propone un mecanismo de reapropiación del proceso de toma de decisiones, que abre espacios de deconstrucción y conflicto. Sin embargo, el concepto debe calibrarse para las condiciones en las que se reclama el derecho a una renta básica; también debe tener en cuenta las relaciones de poder imperantes. El documento presenta una teoría de la renta básica como mecanismo de liberación que facilita la desarticulación de la organización mercantil de las relaciones sociales y favorece la posibilidad de decidir autónomamente el propio futuro y las condiciones de la vida en común.
Available from: https://doi.org/10.35295/osls.iisl/0000-0000-0000-1265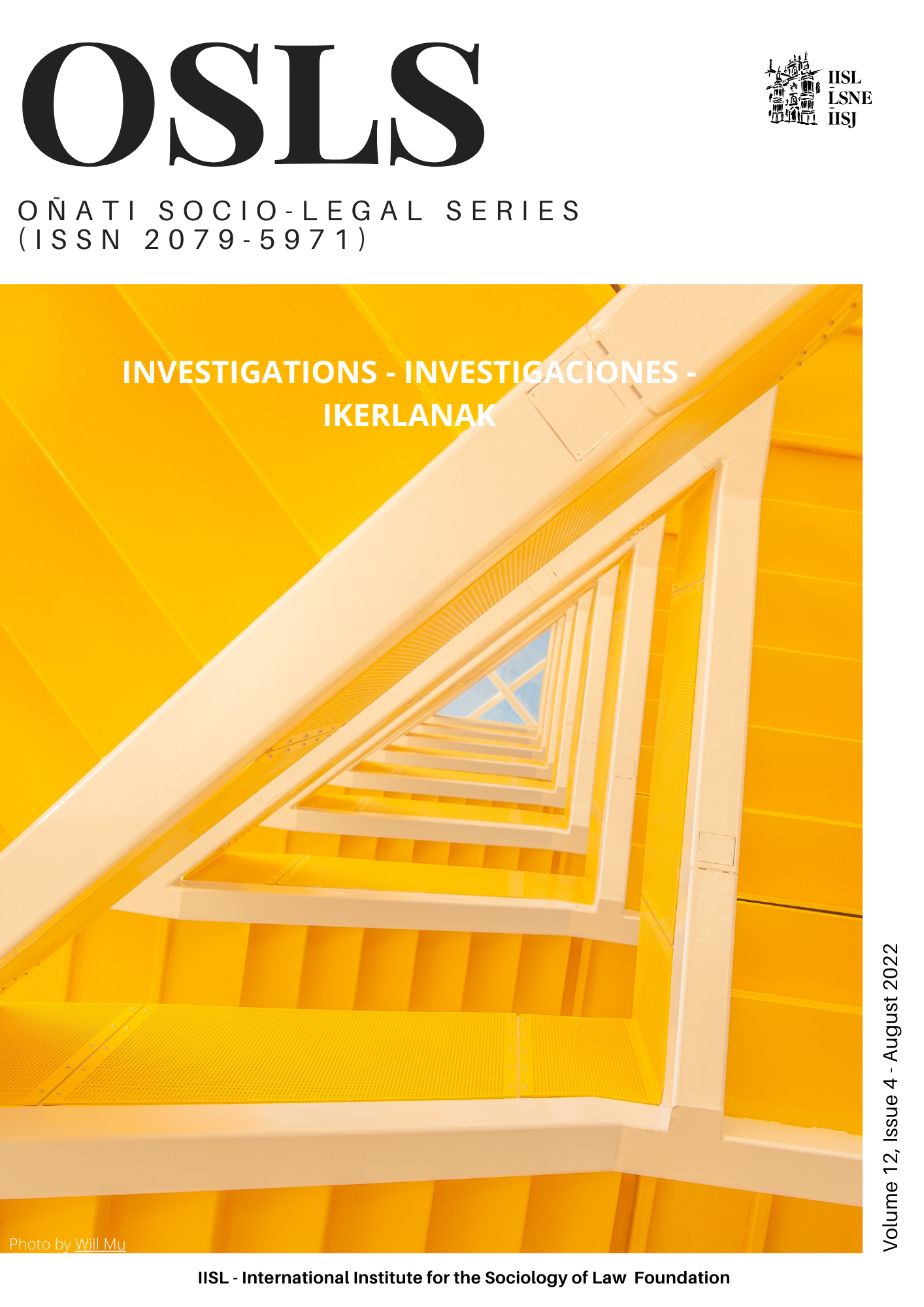 Downloads
Published
27-01-2022 — Updated on 01-08-2022
How to Cite
Pisani, G. (2022) "A justification of basic income beyond a theory of justice", Oñati Socio-Legal Series, 12(4), pp. 737–761. Available at: https://opo.iisj.net/index.php/osls/article/view/1404 (Accessed: 29 May 2023).
Section
Individual Articles
License
Copyright (c) 2022 Giacomo Pisani
This work is licensed under a Creative Commons Attribution-NonCommercial-NoDerivatives 4.0 International License.
OSLS strictly respects intellectual property rights and it is our policy that the author retains copyright, and articles are made available under a Creative Commons licence. The Creative Commons Non-Commercial Attribution No-Derivatives licence is our default licence, further details available at https://creativecommons.org/licenses/by-nc-nd/4.0 If this is not acceptable to you, please contact us.
The non-exclusive permission you grant to us includes the rights to disseminate the bibliographic details of the article, including the abstract supplied by you, and to authorise others, including bibliographic databases, indexing and contents alerting services, to copy and communicate these details.
For information on how to share and store your own article at each stage of production from submission to final publication, please read our Self-Archiving and Sharing policy.
The Copyright Notice showing the author and co-authors, and the Creative Commons license will be displayed on the article, and you must agree to this as part of the submission process. Please ensure that all co-authors are properly attributed and that they understand and accept these terms.