Linchamientos en Chile y Argentina: Una aproximación desde el quehacer de jueces, fiscales y defensores
(Lynching in Chile and Argentina: An approach from the work of judges, prosecutors and defenders)
Keywords:
Lynchings, Legal field, legal operators, linchamientos, derecho, campo jurídico, operadores jurídicos, law
Abstract
El artículo indaga en cómo se construye, desde el Derecho, el significado de los linchamientos en Chile y Argentina. Utilizando los postulados de Bourdieu respecto al campo jurídico, se explora en los discursos de jueces, fiscales y defensores. Para ello se realizaron 37 entrevistas a estos agentes, y se recurrió al análisis de contenido. Los resultados arrojados son similares para ambos países y muestran que las disposiciones de los entrevistados se acoplan a ciertas estructuras organizacionales y usos institucionales que, aunque devienen en la generación de ciertas gestiones orientadas a la represión de la violencia linchadora, cierran espacios a la posibilidad de la producción de sanciones jurídicas respecto de los linchamientos.
The article investigates, from the law, how the meaning of lynchings is constructed in Chile and Argentina. Using Bourdieu's framework applied to the legal field, this study explores the discourses of judges, prosecutors and defense attorneys. For this purpose, 37 interviews were conducted with these agents, and content analysis was used. Although some gestures oriented to the repression of lynch violence are identified in the interviewees, the results show how in both countries their dispositions align with organizational structures and institutional uses that restrict the possibility to produce legal sanctions regarding lynchings.
Available from: https://doi.org/10.35295/osls.iisl/0000-0000-0000-1277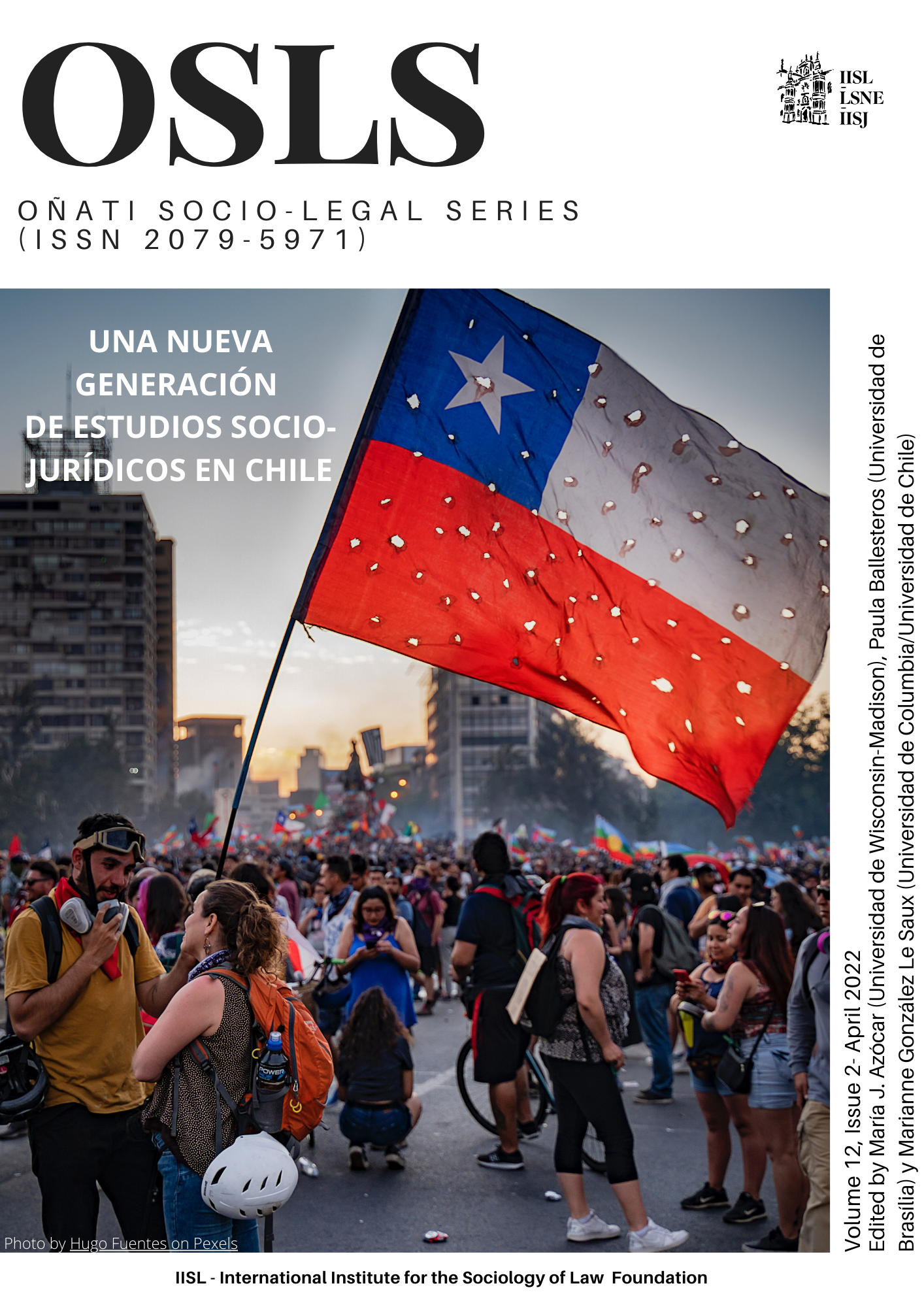 Downloads
How to Cite
Quiroz, L. (2022) "Linchamientos en Chile y Argentina: Una aproximación desde el quehacer de jueces, fiscales y defensores: (Lynching in Chile and Argentina: An approach from the work of judges, prosecutors and defenders)", Oñati Socio-Legal Series, 12(2), pp. 383–413. Available at: https://opo.iisj.net/index.php/osls/article/view/1396 (Accessed: 27 June 2022).
Section
Individual Articles
License
Copyright (c) 2021 Loreto Quiroz
This work is licensed under a Creative Commons Attribution-NonCommercial-NoDerivatives 4.0 International License.
OSLS strictly respects intellectual property rights and it is our policy that the author retains copyright, and articles are made available under a Creative Commons licence. The Creative Commons Non-Commercial Attribution No-Derivatives licence is our default licence, further details available at https://creativecommons.org/licenses/by-nc-nd/4.0 If this is not acceptable to you, please contact us.
The non-exclusive permission you grant to us includes the rights to disseminate the bibliographic details of the article, including the abstract supplied by you, and to authorise others, including bibliographic databases, indexing and contents alerting services, to copy and communicate these details.
For information on how to share and store your own article at each stage of production from submission to final publication, please read our Self-Archiving and Sharing policy.
The Copyright Notice showing the author and co-authors, and the Creative Commons license will be displayed on the article, and you must agree to this as part of the submission process. Please ensure that all co-authors are properly attributed and that they understand and accept these terms.