Resistiendo a la COVID-19 y levantando las voces desde el encierro: análisis de cartas públicas de mujeres recluidas en prisiones de Lima, Perú
(Resisting COVID-19 and raising voices from behind prison walls: Analysis of public letters from women in prison in Lima, Peru)
Keywords:
Centros penitenciarios, movilización social, derechos humanos, género, Prisons, social mobilization, human rights, gender
Abstract
Un aumento exponencial de la población penitenciaria en las últimas décadas da luces de un giro punitivo que potenció una crisis del sistema penitenciario y ubica a las personas privadas de libertad como grupo vulnerable frente a problemáticas como la emergencia sanitaria por COVID-19. En América Latina esta vulnerabilidad aumenta dado el hacinamiento y condiciones precarias de vida dentro de las prisiones. El presente trabajo recupera voces invisibilizadas dentro del sistema penitenciario y desde una metodología cualitativa, se analizan acciones de reclamo de mujeres privadas de libertad en una prisión de Lima-Perú durante los primeros meses de la emergencia sanitaria. Se sostiene que las mujeres privadas de libertad se posicionan para reclamar el abandono del Estado desde tres ejes autoidentificatorios: 1. El sentido de colectividad; 2. La resocialización enmarcada en la lógica de la categorización penitenciaria; y 3. Su rol como reproductoras de cuidado. Se concluye que estas son estrategias de despliegue de agencia y acciones propositivas por parte de las mujeres encarceladas.
Over the last few decades, an exponential increase in the prison population highlights the punitive turn that has led to a crisis in the penitentiary system and makes prisoners a vulnerable group for health emergencies such as the COVID-19. In Latin America, this vulnerability increases due to overcrowding and precarious living conditions inside prisons. This paper recovers silenced voices within the prison system. From a qualitative methodology, we analyze the claim actions of women prisoners at a prison in Lima-Peru during the first months of COVID-19. We identify that women deprived of their liberty position themselves to claim the State's abandonment from three self-identifying axes: 1. The sense of collectivity; 2. The resocialization process framed in the logic of prison categorization; and 3. Their role as reproducers of care. It is concluded that these are strategies for the deployment of agency and proactive actions of imprisoned women.
Available from: https://doi.org/10.35295/osls.iisl/0000-0000-0000-1252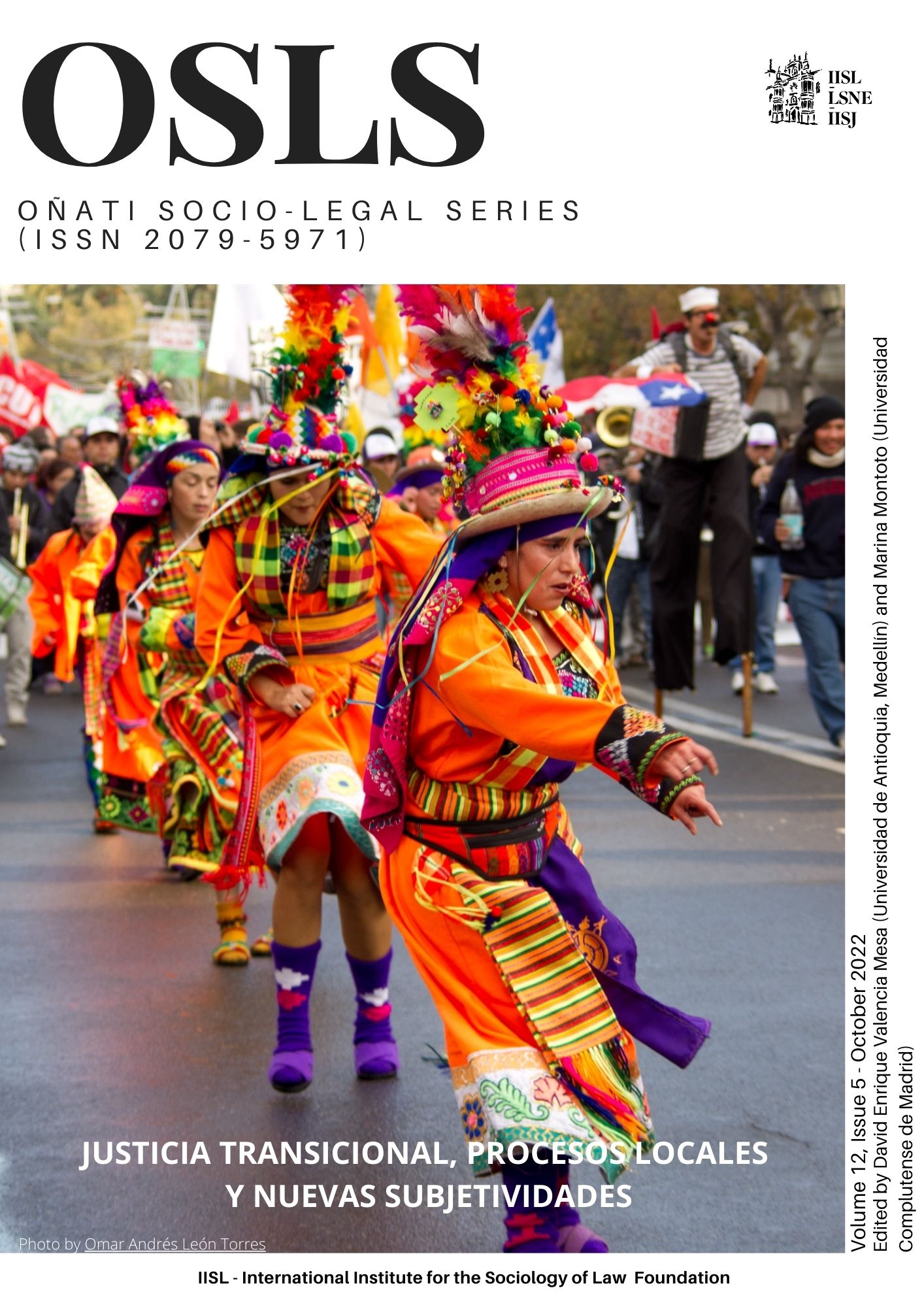 Published
27-01-2022 — Updated on 01-10-2022
How to Cite
Bracco Bruce, L., Hildenbrand Mellet, A., Carranza Risco, A. S. and Lindley Llanos, V. (2022) "Resistiendo a la COVID-19 y levantando las voces desde el encierro: análisis de cartas públicas de mujeres recluidas en prisiones de Lima, Perú: (Resisting COVID-19 and raising voices from behind prison walls: Analysis of public letters from women in prison in Lima, Peru)", Oñati Socio-Legal Series, 12(5), pp. 1267–1286. Available at: https://opo.iisj.net/index.php/osls/article/view/1393 (Accessed: 1 October 2023).
Section
Individual Articles
License
Copyright (c) 2022 Lucia Bracco Bruce, Adriana Hildenbrand Mellet, Ana Sofía Carranza Risco, Valeria Lindley Llanos
This work is licensed under a Creative Commons Attribution-NonCommercial-NoDerivatives 4.0 International License.
OSLS strictly respects intellectual property rights and it is our policy that the author retains copyright, and articles are made available under a Creative Commons licence. The Creative Commons Non-Commercial Attribution No-Derivatives licence is our default licence, further details available at https://creativecommons.org/licenses/by-nc-nd/4.0 If this is not acceptable to you, please contact us.
The non-exclusive permission you grant to us includes the rights to disseminate the bibliographic details of the article, including the abstract supplied by you, and to authorise others, including bibliographic databases, indexing and contents alerting services, to copy and communicate these details.
For information on how to share and store your own article at each stage of production from submission to final publication, please read our Self-Archiving and Sharing policy.
The Copyright Notice showing the author and co-authors, and the Creative Commons license will be displayed on the article, and you must agree to this as part of the submission process. Please ensure that all co-authors are properly attributed and that they understand and accept these terms.