Idiosincrasia de las pandillas en El Salvador y su impacto en la vida pública
(Idiosyncrasy of gangs in El Salvador and its impact on public life)
Keywords:
Pandillas, maras, Salvatrucha 13, Barrio 18, El Salvador, violencia, gangs, 18 Street, violence
Abstract
Se presenta una investigación cualitativa que a través de la entrevista y el relato de vida pretende identificar los elementos característicos de las pandillas salvadoreñas y sus diferencias respecto a otras estructuras similares de la región. Se presenta un marco teórico que permite situarse en los antecedentes históricos y en los factores sociales y políticos que permitieron el surgimiento y expansión de las pandillas. Los resultados describen a las pandillas como estructuras sólidas, jerarquizadas con alta capacidad de adaptación y cada vez más sofisticadas. La discusión extrapola el fenómeno a otros contextos con características similares para comprender la dimensión del problema.
This is a qualitative investigation that based on the interview and the life story, aims to identify the characteristic elements of the Salvadoran gangs and their differences from other similar structures in the region. A theoretical framework is presented that allows locating in the historical background and in the social and political factors that allowed the emergence and expansion of gangs The results describe gangs as strong, hierarchical structures with high adaptability and increasingly sophisticated. In the discussion, the phenomenon is extrapolated to other contexts with similar characteristics to understand the dimension of the problem.
Available from: https://doi.org/10.35295/osls.iisl/0000-0000-0000-1261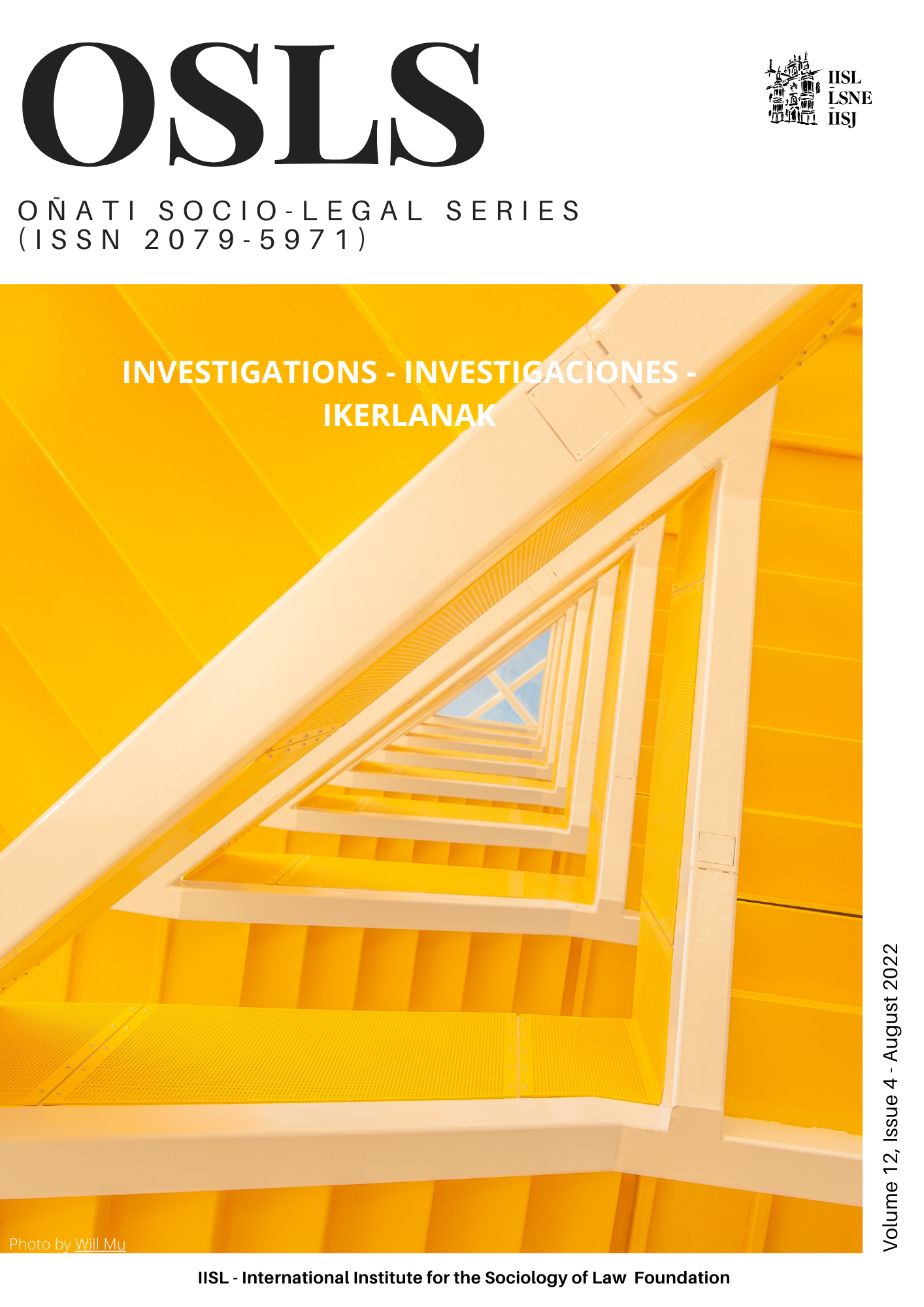 How to Cite
Martínez-Reyes, A. and Navarro-Pérez, J. J. (2022) "Idiosincrasia de las pandillas en El Salvador y su impacto en la vida pública: (Idiosyncrasy of gangs in El Salvador and its impact on public life)", Oñati Socio-Legal Series, 12(4), pp. 709–736. Available at: https://opo.iisj.net/index.php/osls/article/view/1386 (Accessed: 19 August 2022).
Section
Individual Articles
License
Copyright (c) 2022 Alberto Martínez-Reyes, J. Javier Navarro-Pérez
This work is licensed under a Creative Commons Attribution-NonCommercial-NoDerivatives 4.0 International License.
OSLS strictly respects intellectual property rights and it is our policy that the author retains copyright, and articles are made available under a Creative Commons licence. The Creative Commons Non-Commercial Attribution No-Derivatives licence is our default licence, further details available at https://creativecommons.org/licenses/by-nc-nd/4.0 If this is not acceptable to you, please contact us.
The non-exclusive permission you grant to us includes the rights to disseminate the bibliographic details of the article, including the abstract supplied by you, and to authorise others, including bibliographic databases, indexing and contents alerting services, to copy and communicate these details.
For information on how to share and store your own article at each stage of production from submission to final publication, please read our Self-Archiving and Sharing policy.
The Copyright Notice showing the author and co-authors, and the Creative Commons license will be displayed on the article, and you must agree to this as part of the submission process. Please ensure that all co-authors are properly attributed and that they understand and accept these terms.