La implementación de los Acuerdos de Paz de El Salvador desde la perspectiva de las víctimas
(The implementation of the El Salvador Peace Agreements from the victims' perspective)
Keywords:
El Salvador, guerra civil, Acuerdos de Paz, justicia anamnética, víctimas, civil war, Peace Agreements, anamnestic justice, victims
Abstract
El conflicto armado que vivió El Salvador en la década de los ochenta dejó como resultado millares de víctimas civiles. La guerra finalizó a través de un proceso de negociación que se consolidó con la firma de los Acuerdos de Paz, entre la guerrilla del FMLN y el gobierno salvadoreño, en Chapultepec, México. Entre los principales objetivos de los Acuerdos, además del alto el fuego, la democratización del país y de garantizar el pleno respeto de los derechos humanos, incluía la reconciliación de la sociedad. Este artículo propone reflexionar, desde un marco teórico basado en categorías éticas, acerca de las carencias y oportunidades de los Acuerdos de Paz a partir de un acercamiento crítico a la implementación de estos. El análisis se lleva a cabo a partir del diálogo con víctimas inocentes provocadas por la violencia política ejercida por ambos bandos.
The armed conflict in El Salvador in the 1980s resulted in thousands of civilian casualties. The war ended through a negotiation process that was consolidated with the signing of the Peace Agreement between the FMLN guerrillas and the Salvadoran government in Chapultepec, Mexico. The main objectives of the Agreement, in addition to the ceasefire, the democratisation of the country and guaranteeing full respect of human rights, included the reconciliation of society. This article aims to reflect from an ethical viewpoint on the shortcomings and opportunities of the Peace Agreement with a critical review of its implementation. The analysis is based on a dialogue with innocent victims of the political violence perpetrated by both sides.
Available from: https://doi.org/10.35295/osls.iisl/0000-0000-0000-1270
References
Asamblea Legislativa de El Salvador, 1993. Ley De Amnistía General Para La Consolidación De La Paz. Disponible en: https://www.acnur.org/fileadmin/Documentos/BDL/2002/1841.pdf [Con acceso el 26 de agosto de 2020].
Alvarenga, P., 1996. Cultura y ética de la violencia. El Salvador 1880-1932. San José: Editorial Centroamericana.
Adorno, Th. W., 2006. Mínima Moralia: reflexiones desde la vida dañada. Obra Completa 4. Madrid: Akal.
Bergmann, A., 2015. Sin razón aparente: conflictos sociales y violencia en la posguerra. En: Ó. Meléndez y A. Bergmann (Comps), Violencia en tiempos de paz: conflictividad y criminalización en El Salvador. San Salvador: Dirección Nacional de Investigaciones en Cultura y Arte, de la Secretaría de Cultura.
Etxeberria, X., 2007. Dinámicas de la memoria y víctimas del terrorismo. Bilbao: Bakeaz.
Galtung, J., 1998. Tras la violencia, 3R: reconstrucción, reconciliación y resolución. Afrontando los efectos visibles e invisibles de la guerra y la violencia. Bilbao: Bakeaz y Gernika Gogoratu.
Gómez Isa, F., 2014. Justicia, verdad y reparación en el proceso de paz en Colombia. Revista Derecho del Estado, (33), 35-63. Disponible en: https://revistas.uexternado.edu.co/index.php/derest/article/view/3956/4257 [Con acceso el 3 de septiembre de 2020].
Hayner, P., 2008. Verdades innombrables. El reto de las comisiones de la verdad. México: FCE.
Herzog, B., 2020. Invisibilización del sufrimiento. Sobre el (Des)aparecer de las fuentes de la crítica. En: J.M. Romero y J.A. Zamora, eds. Crítica inmanente de la sociedad. Barcelona: Antrhopos, 129-148.
Herbolzheimer, K. y Campaña, M., 2008. Reforma Agraria, Conflictos Armados y Acuerdos De Paz. Guaraguao, 12(29), 49–72. Disponible en: www.jstor.org/stable/25596657. Accessed 3 Apr. 2021 [Con acceso el 25 de agosto de 2020].
Martín B., C., 2005. Reconciliación y democratización en América Latina: un análisis regional. Papel de las políticas de Verdad, Justicia y Reparación. En: G. Pacheco Oreamuno, L. Acevedo Narea, G. GalliI and R. Ames Cobián, eds. Verdad, Justicia y Reparación: Desafíos para la democracia y la convivencia social. Stockholm; San José: International IDEA; IIDDH, 53-84.
Mate, R., 2016. Violencia del terrorismo y superación de la violencia. En: J. Zamora, R. Mate y J. Maiso, eds., Las víctimas como precio necesario. Madrid: Trotta.
Mate, R., 2011a. Memoria y justicia en Walter Benjamin. En: R. Mate y J.A. Zamora, eds., Justicia y memoria. Hacia una teoría de la justicia anamnética. Barcelona: Anthropos, 29-36.
Mate, R., 2011b. Tratado de la injusticia. Barcelona: Anthropos.
Mate, R., Sucasas Peón, A. y Zamora, J.A., 2010. Memoria, política, justicia en diálogo con Reyes Mate. Madrid: Trotta.
Mate, R., 2006. Medianoche en la historia: comentarios a las tesis de Walter Benjamin "Sobre el concepto de la historia". Madrid: Trotta.
Mate, R., 2005. A contraluz de las ideas políticamente correctas. Barcelona: Anthropos.
Mate, R., 1994. La herencia pendiente de la «razón ananmnética». Isegoría. Revista de Filosofía Moral y Política, (10), 117- 132.
Meléndez, Ó. y Bergmann, A., 2015. Violencia en tiempos de paz: conflictividad y criminalización en El Salvador. San Salvador: Dirección Nacional de Investigaciones en Cultura y Arte, de la Secretaría de Cultura.
Metz, J. B., 2007. Memoria passionis. Una evocación provocadora en una sociedad pluralista. Santander: Sal Terrae.
Naciones Unidas, 1993. De la locura a la esperanza. La guerra de doce años en El Salvador. Informe de la Comisión de la Verdad para El Salvador (1992-1993). San Salvador: Editorial Universitaria.
Naciones Unidas, 1992. Acuerdos de El Salvador: En el camino de la paz. S.L.: Depto. de Información pública de las Naciones Unidas.
Pearce, J., 2018. Emotional Histories: A Historiography of Resistances in Chalatenango, El Salvador. En: M. Macleod y N. De Marinis, eds, Resisting violence. emotional communities in Latin America. Palgrave Macmillan, Cham, 77-97.
Programa de Naciones Unidas para el Desarrollo (PNUD), 2005. El PNUD frente a los desafíos de la Paz y el Desarrollo: la experiencia de El Salvador (1992-2002). San Salvador: PNUD.
Salazar, A. y Cruz, M.C., 2012. CCR: Organización y Lucha Popular en Chalatenango. San Salvador: Asociación de Comunidades para el Desarrollo de Chalatenango.
Sprenkels, R. y Melara Minero, L.M., 2017. Auge y declive de la persecución violenta en El Salvador: patrones, variaciones y actores (1970 -1991). En: M. Menjívar y R. Sprenkels, eds. La revolución revisitada: nuevas perspectivas sobre la insurrección y la guerra en El Salvador. San Salvador: UCA Editores, 79-148.
Walter, k., 2018. La muerte violenta como realidad cotidiana: El Salvador, 1912-2016. San Salvador: AccesArte.
Zamora, J.A., 2012. Del nuevo imperativo a la reconciliación: quebrar el poder de la violencia. Revista Internacional de los estudios vascos, Extra (10): Política de la memoria: una ética del nunca más, 122-144. Disponible en: http://www.eusko-ikaskuntza.eus/PDFAnlt/rievcuadernos/10/10122144.pdf [Con acceso el 30 de junio de 2020].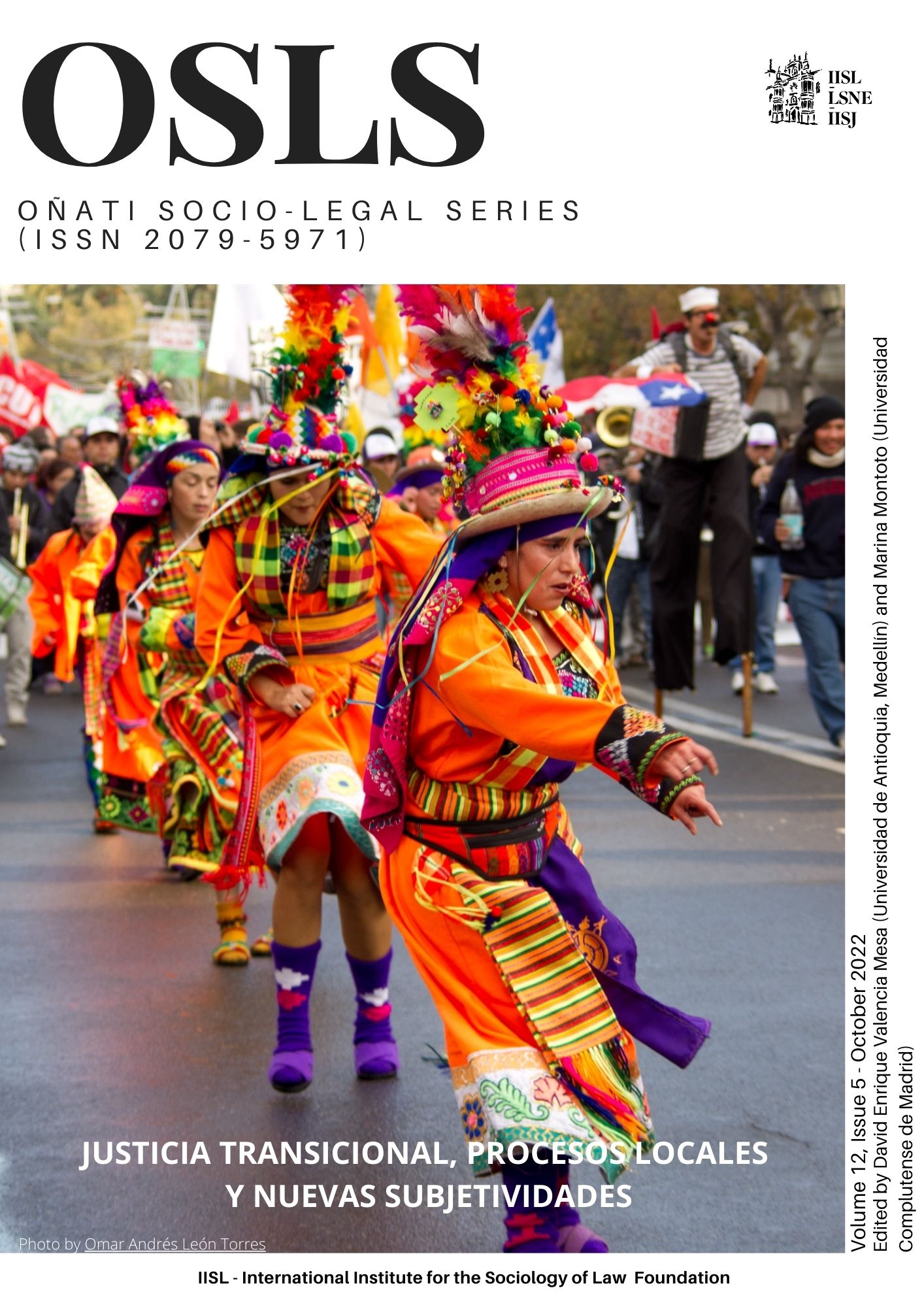 Downloads
Published
30-03-2022 — Updated on 01-10-2022
How to Cite
Deras, R. (2022) "La implementación de los Acuerdos de Paz de El Salvador desde la perspectiva de las víctimas: (The implementation of the El Salvador Peace Agreements from the victims' perspective)", Oñati Socio-Legal Series, 12(5), pp. 1134–1152. Available at: https://opo.iisj.net/index.php/osls/article/view/1373 (Accessed: 30 November 2022).
Section
Thematic Articles
License
Copyright (c) 2022 Roberto Deras
This work is licensed under a Creative Commons Attribution-NonCommercial-NoDerivatives 4.0 International License.
OSLS strictly respects intellectual property rights and it is our policy that the author retains copyright, and articles are made available under a Creative Commons licence. The Creative Commons Non-Commercial Attribution No-Derivatives licence is our default licence, further details available at https://creativecommons.org/licenses/by-nc-nd/4.0 If this is not acceptable to you, please contact us.
The non-exclusive permission you grant to us includes the rights to disseminate the bibliographic details of the article, including the abstract supplied by you, and to authorise others, including bibliographic databases, indexing and contents alerting services, to copy and communicate these details.
For information on how to share and store your own article at each stage of production from submission to final publication, please read our Self-Archiving and Sharing policy.
The Copyright Notice showing the author and co-authors, and the Creative Commons license will be displayed on the article, and you must agree to this as part of the submission process. Please ensure that all co-authors are properly attributed and that they understand and accept these terms.