La erradicación de la violencia institucional de las dictaduras en el Cono Sur. El contexto histórico como clave de resolución e impacto en la jurisprudencia de la Corte Interamericana
(The eradication of institutional violence by dictatorships in the Southern Cone. The historical context as a key to resolution and impact on the case law of the Inter-American Court)
Keywords:
historical memory, transitional justice, Inter-American Court, Southern Cone, human rights, memoria histórica, justicia transicional, Corte Interamericana, Cono Sur, derechos humanos
Abstract
El artículo analiza el impacto de la Corte Interamericana en los procesos de justicia transicional de los seis países del Cono Sur tras los gobiernos de dictadura de las décadas de 1970 y 1980. El objetivo es determinar la relevancia de la reconstrucción del contexto histórico en la jurisprudencia interamericana con relación a la erradicación de la violencia institucional practicada por los regímenes de facto. El estudio se realiza sobre diez sentencias condenatorias: se identifica su común denominador y se determinan cuáles han sido las medidas adoptadas por los Estados frente a tales condenas, especialmente aquellas que han supuesto reformas estructurales y sistémicas. Este análisis propone demostrar que la reconstrucción de los contextos históricos, estatales y regional, en las sentencias de la Corte Interamericana ha sido una herramienta fundamental para extender los alcances de su jurisprudencia a los procesos de justicia transicional de toda la región, más allá de los casos individuales denunciados y de los Estados condenados.
The article analyses the impact of the Inter-American Court on the transitional justice processes of the six countries of the Southern Cone after the dictatorship governments of 1970s and 1980s. The main goal is to determine the relevance of the reconstruction of historical contexts in the Court's judgments regarding the eradication of institutional violence in de facto regimes. The study is focused on 10 resolutions, in order to identify their common features and determine the measures adopted by condemned States, especially those that involve structural and systemic reforms. This analysis demonstrates that the reconstruction of historical contexts, both state-wide and regional, in the judgments of the Inter-American Court has been a fundamental tool to extend the scope of its jurisprudence to the transitional justice processes of the entire region, beyond individual cases and convicted States.
Available from: https://doi.org/10.35295/osls.iisl/0000-0000-0000-1238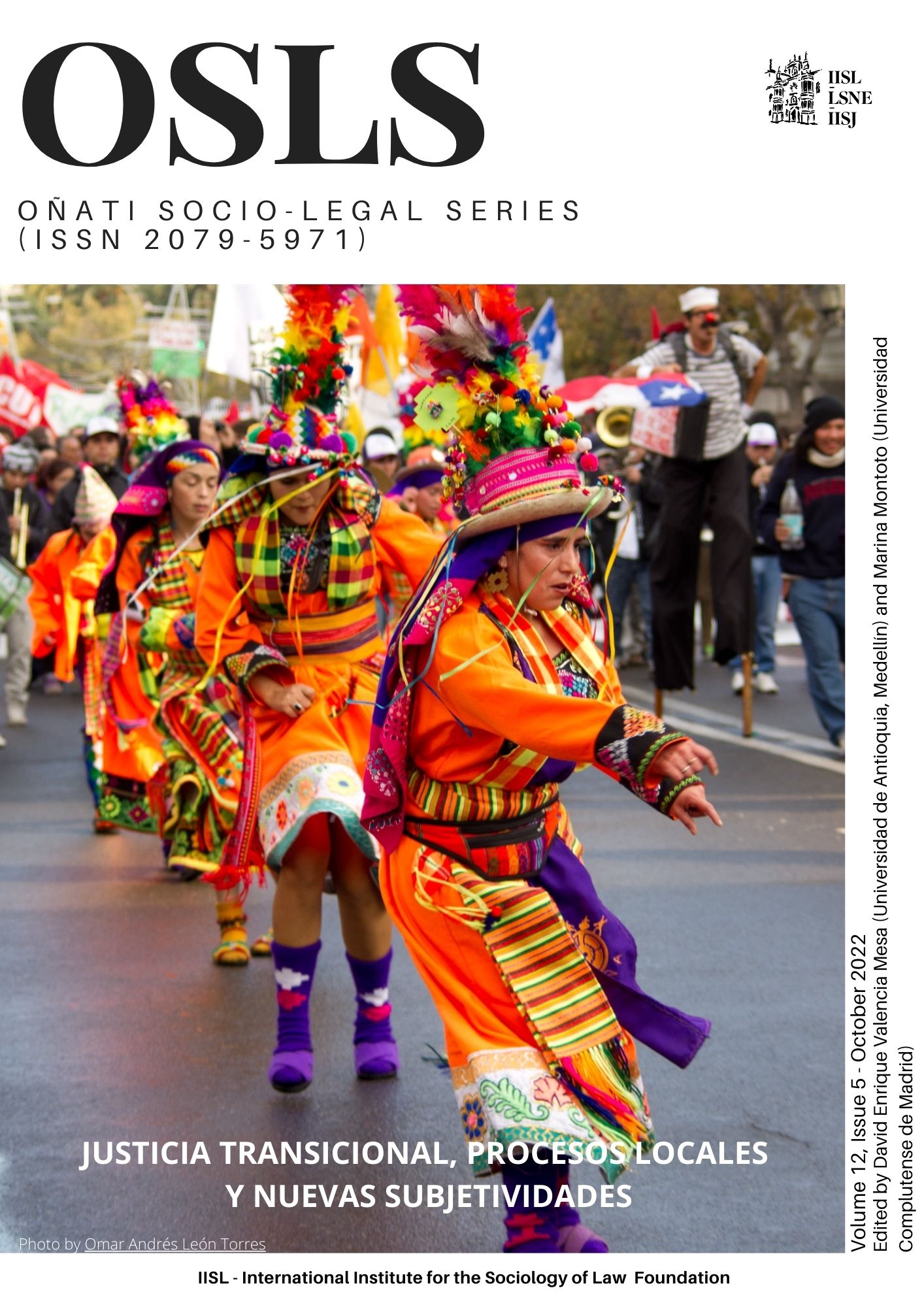 Published
30-11-2021 — Updated on 01-10-2022
How to Cite
de la Orden, G. (2022) "La erradicación de la violencia institucional de las dictaduras en el Cono Sur. El contexto histórico como clave de resolución e impacto en la jurisprudencia de la Corte Interamericana: (The eradication of institutional violence by dictatorships in the Southern Cone. The historical context as a key to resolution and impact on the case law of the Inter-American Court)", Oñati Socio-Legal Series, 12(5), pp. 1081–1114. Available at: https://opo.iisj.net/index.php/osls/article/view/1372 (Accessed: 30 November 2022).
Section
Thematic Articles
License
Copyright (c) 2021 Gustavo de la Orden
This work is licensed under a Creative Commons Attribution-NonCommercial-NoDerivatives 4.0 International License.
OSLS strictly respects intellectual property rights and it is our policy that the author retains copyright, and articles are made available under a Creative Commons licence. The Creative Commons Non-Commercial Attribution No-Derivatives licence is our default licence, further details available at https://creativecommons.org/licenses/by-nc-nd/4.0 If this is not acceptable to you, please contact us.
The non-exclusive permission you grant to us includes the rights to disseminate the bibliographic details of the article, including the abstract supplied by you, and to authorise others, including bibliographic databases, indexing and contents alerting services, to copy and communicate these details.
For information on how to share and store your own article at each stage of production from submission to final publication, please read our Self-Archiving and Sharing policy.
The Copyright Notice showing the author and co-authors, and the Creative Commons license will be displayed on the article, and you must agree to this as part of the submission process. Please ensure that all co-authors are properly attributed and that they understand and accept these terms.