Normalising the use of electronic evidence: Bringing technology use into a familiar normative path in civil procedure
Keywords:
cross-border litigation, electronic evidence, electronic taking of evidence, Regulation (EU) 2020/1983, eIDAS, GDPR, e-CODEX, Canguilhem, litigios transfronterizos, pruebas electrónicas, obtención electrónica de pruebas
Abstract
Society is increasingly relying on technology for daily business and activities. This is linked to a rapid update in technology use and digitalisation with courts being called to consider new forms of evidence in an electronic environment and/or rely on technology for the taking of evidence. The normative framework concerning electronic evidence remains fragmented while various legislative projects are ongoing. In this process the global pandemic accelerated attention for technology solutions and their integration in the handling of court claims. In the EU, the reviewed Taking of Evidence Regulation (Regulation 2020/1783) addresses some of the necessary aspects related to electronic evidence and cooperation between authorities. Other elements are covered by cross-sectorial EU legislation such as regulations concerning data protection or electronic identification and trust services. New regulation proposals concerning the digitalisation of judicial cooperation and communication in cross-border procedures are set to address some of the legislative gaps in the near future as well as support the developments of necessary technology. However, the overall existing legislation is only partly sufficient for providing a comprehensive framework and does not provide much guidance in the process of considering metadata or assessing electronic evidence.
La sociedad se apoya cada vez más en la tecnología para sus negocios y actividades diarias. Esto está relacionado con la rápida actualización del uso de la tecnología y la digitalización, y los tribunales están llamados a considerar nuevas formas de prueba en un entorno electrónico y/o a confiar en la tecnología para la obtención de pruebas. El marco normativo relativo a las pruebas electrónicas sigue estando fragmentado, mientras que hay varios proyectos legislativos en curso. En este proceso, la pandemia mundial aceleró la atención sobre las soluciones tecnológicas y su integración en la tramitación de las demandas judiciales. En la UE, el Reglamento revisado sobre la obtención de pruebas (Reglamento 2020/1783) aborda algunos de los aspectos necesarios relacionados con las pruebas electrónicas y la cooperación entre autoridades. Otros elementos están cubiertos por la legislación intersectorial de la UE, como los reglamentos relativos a la protección de datos o la identificación electrónica y los servicios de confianza. Las propuestas de nuevos reglamentos relativos a la digitalización de la cooperación judicial y la comunicación en los procedimientos transfronterizos están destinadas a colmar algunas de las lagunas legislativas en un futuro próximo, así como a respaldar el desarrollo de la tecnología necesaria. Sin embargo, la legislación general existente sólo es parcialmente suficiente para proporcionar un marco global y no ofrece mucha orientación en el proceso de consideración de los metadatos o de evaluación de las pruebas electrónicas.
Available from: https://doi.org/10.35295/osls.iisl/0000-0000-0000-1304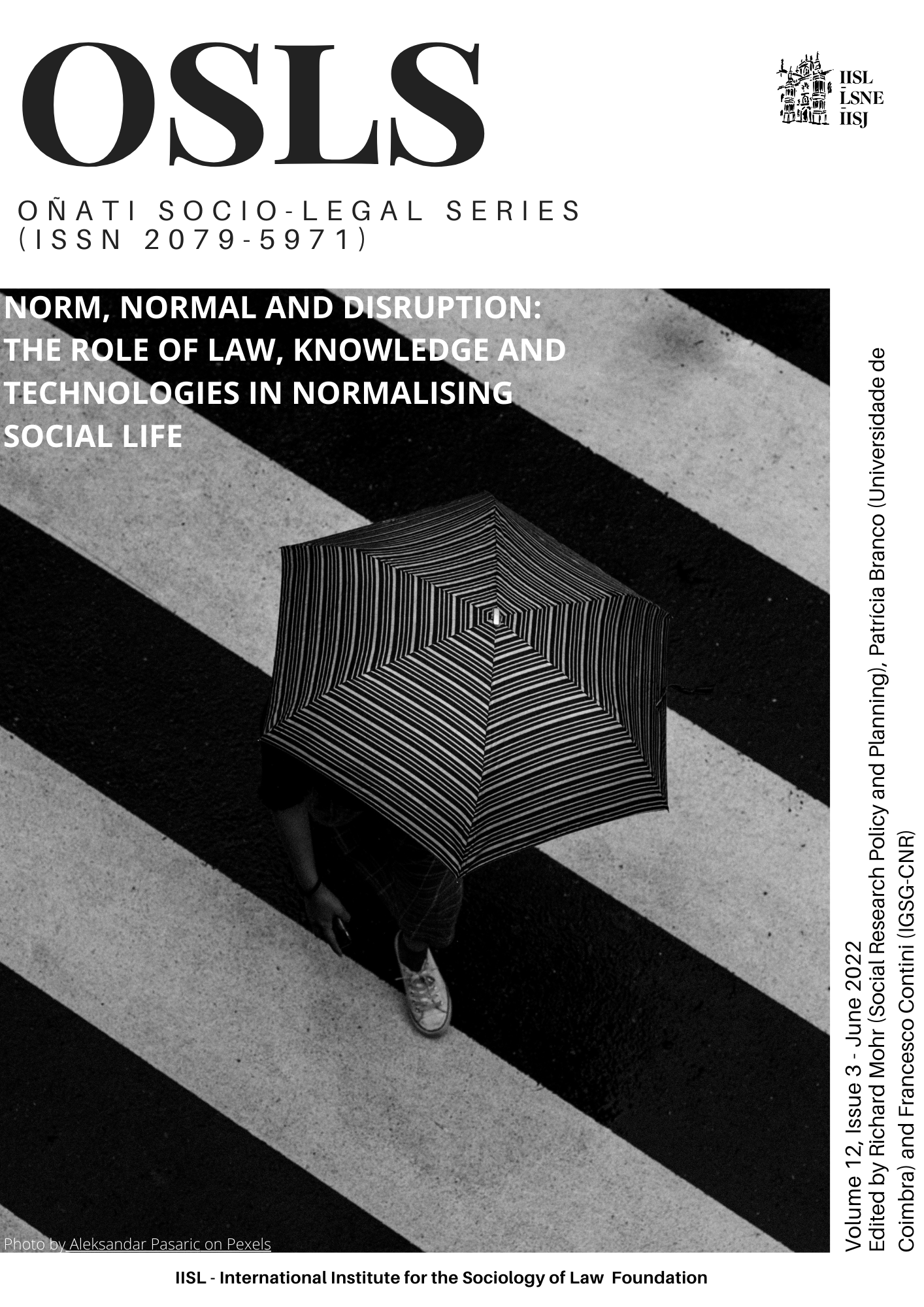 Downloads
How to Cite
Onţanu, E. A. (2022) "Normalising the use of electronic evidence: Bringing technology use into a familiar normative path in civil procedure", Oñati Socio-Legal Series, 12(3), pp. 582–613. Available at: https://opo.iisj.net/index.php/osls/article/view/1370 (Accessed: 26 June 2022).
License
Copyright (c) 2022 Elena Alina Ontanu
This work is licensed under a Creative Commons Attribution-NonCommercial-NoDerivatives 4.0 International License.
OSLS strictly respects intellectual property rights and it is our policy that the author retains copyright, and articles are made available under a Creative Commons licence. The Creative Commons Non-Commercial Attribution No-Derivatives licence is our default licence, further details available at https://creativecommons.org/licenses/by-nc-nd/4.0 If this is not acceptable to you, please contact us.
The non-exclusive permission you grant to us includes the rights to disseminate the bibliographic details of the article, including the abstract supplied by you, and to authorise others, including bibliographic databases, indexing and contents alerting services, to copy and communicate these details.
For information on how to share and store your own article at each stage of production from submission to final publication, please read our Self-Archiving and Sharing policy.
The Copyright Notice showing the author and co-authors, and the Creative Commons license will be displayed on the article, and you must agree to this as part of the submission process. Please ensure that all co-authors are properly attributed and that they understand and accept these terms.