Law and hostile design in the city: Imposing decorum and visibility regimes in the urban environment
Keywords:
Hostile design, law and urban objects, decorum, visibility regimes, right to the city, diseño hostil, derecho y objetos urbanos, decoro, regímenes de visibilidad, derecho a la ciudad
Abstract
The aim of the paper is to examine new trends in the regulation of access to public space, looking at the legal implications of the adoption of hostile architecture and objects as a widespread tendency in urban design. The paper approaches the rising interest in hostile architecture and design with the aim to show the normative aspects of such a trend and how law contributes to shaping an urban space more prone to the insertion of hostile urban objects in it. I begin with a brief discussion of attempts to define and understanding hostile architecture through some examples and showing how the topic matters for legal and socio-legal studies. Then, drawing on examples from Italian legislation, I analyze how the link between "decorum" and hostile architecture shapes public spaces and how this helps to create a specific regime of visibility and expulsion for certain categories of people. Finally, I make some concluding remarks on how hostile design represents a challenge for re-thinking cities in more inclusive terms.
El objetivo del artículo es examinar las nuevas tendencias en la regulación del acceso al espacio público, analizando las implicaciones jurídicas de la adopción de la arquitectura y los objetos hostiles como tendencia generalizada del diseño urbano. El documento aborda el interés creciente por la arquitectura y el diseño hostiles, con el objetivo de mostrar los aspectos normativos de dicha tendencia y cómo el derecho contribuye a configurar un espacio urbano más propenso a la inserción de objetos urbanos hostiles. Comienzo con un breve análisis de los intentos de definir y comprender la arquitectura hostil a través de algunos ejemplos y mostrando la importancia del tema para los estudios jurídicos y socio-jurídicos. A continuación, basándome en ejemplos de la legislación italiana, analizo cómo el vínculo entre el "decoro" y la arquitectura hostil da forma a los espacios públicos y cómo esto contribuye a crear un régimen específico de visibilidad y expulsión para determinadas categorías de personas. Por último, hago algunas observaciones sobre cómo el diseño hostil representa un reto para repensar las ciudades en términos más inclusivos.
Available from: https://doi.org/10.35295/osls.iisl/0000-0000-0000-1306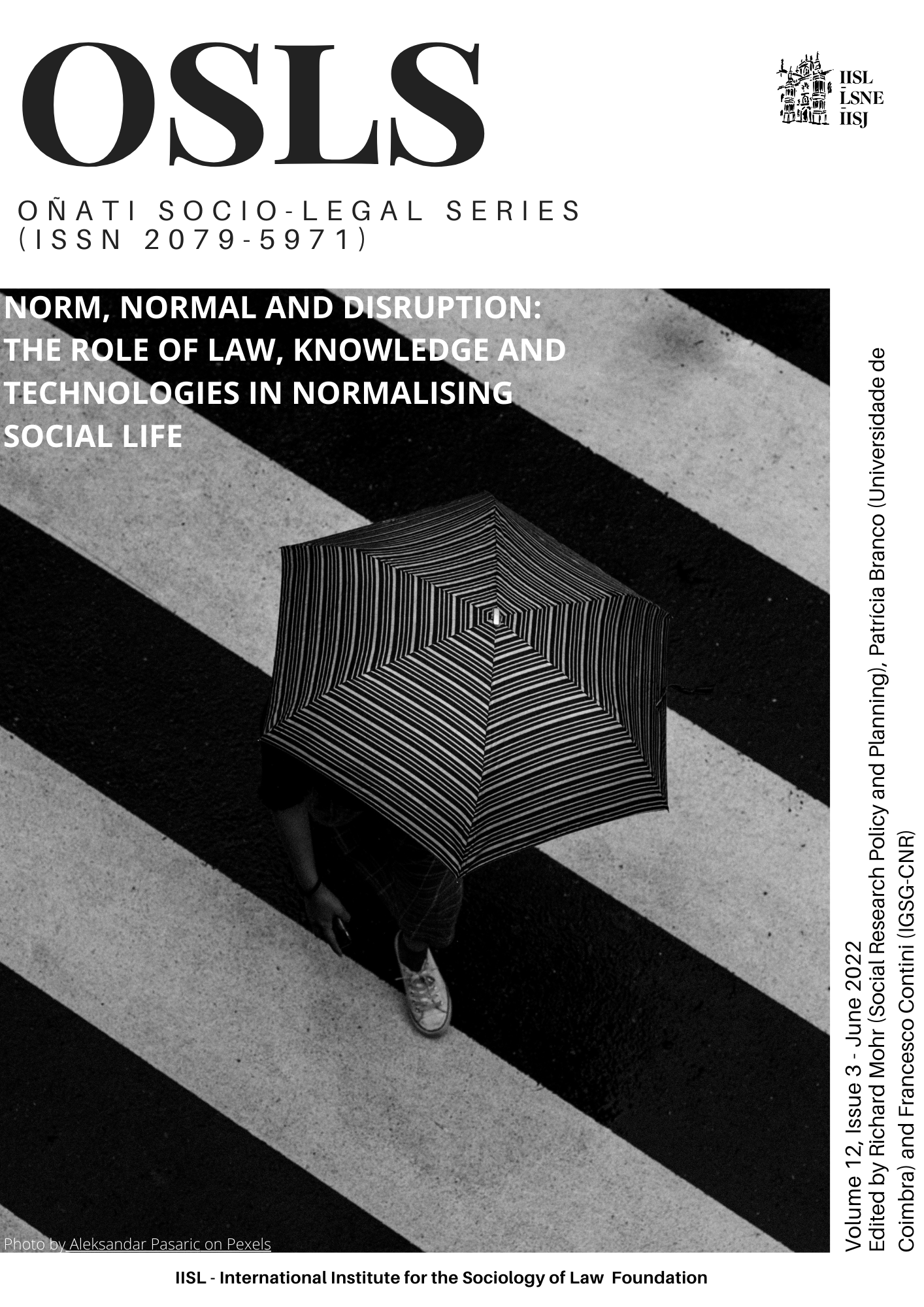 How to Cite
Nitrato Izzo, V. (2022) "Law and hostile design in the city: Imposing decorum and visibility regimes in the urban environment", Oñati Socio-Legal Series, 12(3), pp. 522–539. Available at: https://opo.iisj.net/index.php/osls/article/view/1369 (Accessed: 26 June 2022).
License
Copyright (c) 2022 Valerio Nitrato Izzo
This work is licensed under a Creative Commons Attribution-NonCommercial-NoDerivatives 4.0 International License.
OSLS strictly respects intellectual property rights and it is our policy that the author retains copyright, and articles are made available under a Creative Commons licence. The Creative Commons Non-Commercial Attribution No-Derivatives licence is our default licence, further details available at https://creativecommons.org/licenses/by-nc-nd/4.0 If this is not acceptable to you, please contact us.
The non-exclusive permission you grant to us includes the rights to disseminate the bibliographic details of the article, including the abstract supplied by you, and to authorise others, including bibliographic databases, indexing and contents alerting services, to copy and communicate these details.
For information on how to share and store your own article at each stage of production from submission to final publication, please read our Self-Archiving and Sharing policy.
The Copyright Notice showing the author and co-authors, and the Creative Commons license will be displayed on the article, and you must agree to this as part of the submission process. Please ensure that all co-authors are properly attributed and that they understand and accept these terms.