The "damned of inclusion", or the normalization of the discourses and social processes of criminalisation of young adults in Portugal: a complex set of social, legal and criminal disruptions
Keywords:
Young adults, Processes of criminalization, Judicial response, Disruptions, Portugal, adultos jóvenes, procesos de criminalización, respuesta judicial, rupturas
Abstract
Portugal, with circa 10 million inhabitants, has almost 800 young people, aged 16-24 years, serving prison sentences. The majority comes from low-income families living in sensitive urban areas of Lisbon and Oporto, with low levels of education, and many are Afro-Portuguese or come from African Portuguese-speaking countries. These young people are thus identified with the neighbourhoods where they live, portrayed as violent and problematic. The narratives from the actors of the justice system we interviewed suggest that such depiction results from a set of plural disruptions – social, legal, and institutional – leading to the selectivity and criminalisation of this group of young people. We thus call them the "damned of inclusion" since the plurality of exclusions affecting them hasn't been addressed holistically by the social inclusion programs created in the last decades. Since these young men are "caught under the radar", there seems to be a criminal reaction from the law, the judicial practices and the prison system – which turns into a normalizing response.
Portugal, con cerca de 10 millones de habitantes, tiene casi 800 jóvenes, de edades entre 16 y 24 años, cumpliendo sentencias de prisión. La mayoría son de familias de bajos ingresos que residen en áreas urbanas sensibles de Lisboa y Oporto, con bajos niveles educativos. Muchos son afroportugueses u originarios de países lusoparlantes de África. Esos jóvenes son identificados, entonces, con los barrios donde viven, retratados como violentos y problemáticos. Las narrativas de los actores que entrevistamos del sistema judicial hacen pensar que dicha descripción resulta de un conjunto de rupturas plurales –sociales, jurídicas e institucionales– conducentes a la selección y criminalización de ese grupo de jóvenes. Así, los denominamos los "malditos de la integración", ya que los programas de integración social de las últimas décadas no se han ocupado holísticamente de la pluralidad de exclusiones que los afectan. Dado que esos jóvenes pasan inadvertidos, parece haber una reacción penal por parte del derecho, las prácticas judiciales y el sistema de prisiones, lo cual se convierte en una respuesta normalizadora.
Available from: https://doi.org/10.35295/osls.iisl/0000-0000-0000-1235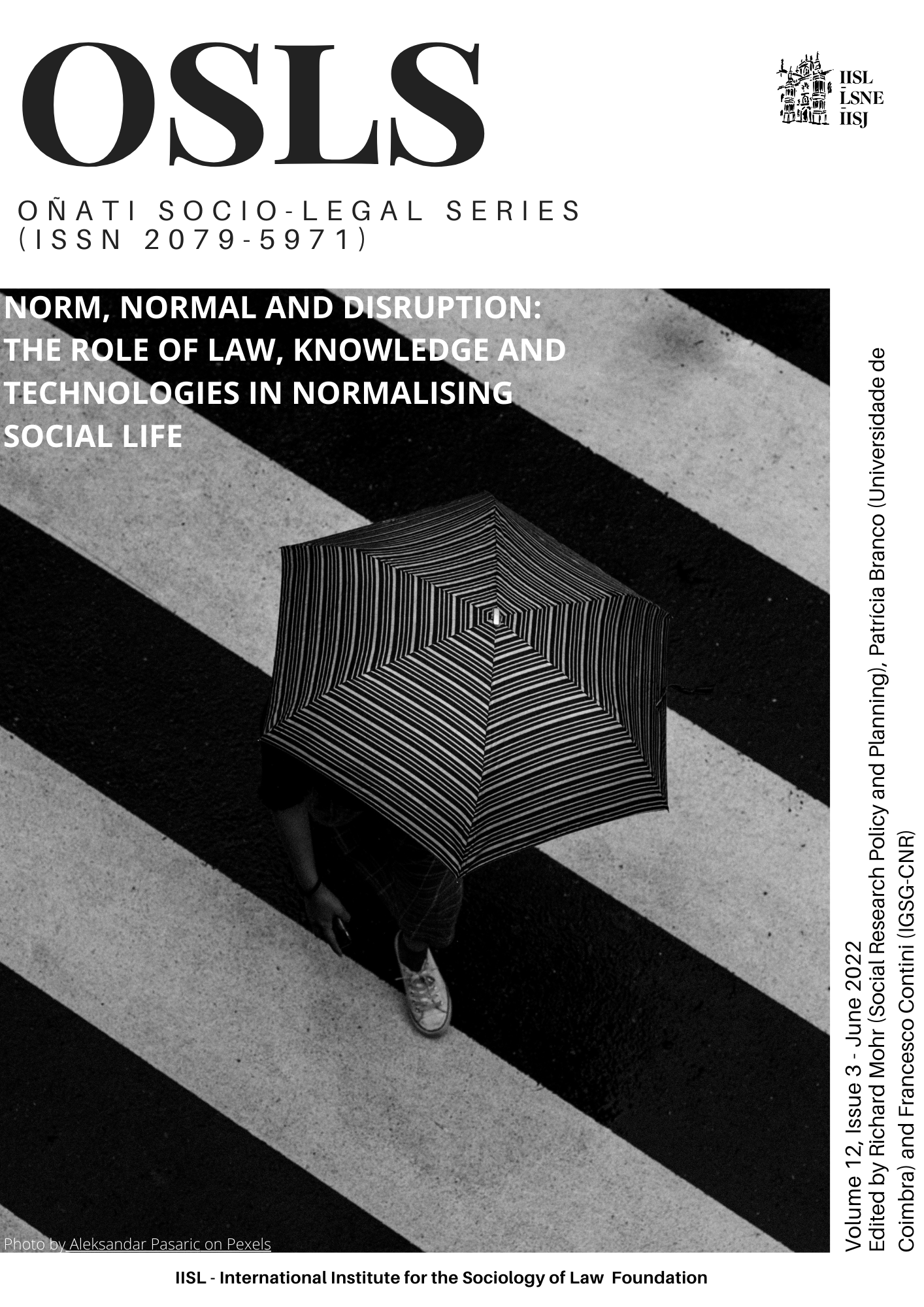 Published
30-11-2021 — Updated on 01-06-2022
How to Cite
Branco, P. and Pedroso, J. (2022) "The 'damned of inclusion', or the normalization of the discourses and social processes of criminalisation of young adults in Portugal: a complex set of social, legal and criminal disruptions", Oñati Socio-Legal Series, 12(3), pp. 478–505. Available at: https://opo.iisj.net/index.php/osls/article/view/1363 (Accessed: 5 October 2022).
License
Copyright (c) 2021 Patrícia Branco, João Pedroso
This work is licensed under a Creative Commons Attribution-NonCommercial-NoDerivatives 4.0 International License.
OSLS strictly respects intellectual property rights and it is our policy that the author retains copyright, and articles are made available under a Creative Commons licence. The Creative Commons Non-Commercial Attribution No-Derivatives licence is our default licence, further details available at https://creativecommons.org/licenses/by-nc-nd/4.0 If this is not acceptable to you, please contact us.
The non-exclusive permission you grant to us includes the rights to disseminate the bibliographic details of the article, including the abstract supplied by you, and to authorise others, including bibliographic databases, indexing and contents alerting services, to copy and communicate these details.
For information on how to share and store your own article at each stage of production from submission to final publication, please read our Self-Archiving and Sharing policy.
The Copyright Notice showing the author and co-authors, and the Creative Commons license will be displayed on the article, and you must agree to this as part of the submission process. Please ensure that all co-authors are properly attributed and that they understand and accept these terms.