Double normalization: When procedural law is made digital
Keywords:
e-justice, law and technology, fair trial, judicial reform, e-justicia, derecho y tecnología, juicio justo, reforma judicial
Abstract
The comparison of three e-justice platforms (EJP) leads to the identification of a common dynamic – called double normalization – which makes EJP development an institutional and constitutional issue, not just a functional one. The case study analysis of Trial on Line in Italy, e-Curia (Court of Justice of the European Union) and Kwaliteit en Innovatie rechtspraak in the Netherlands shows how EJPs, establishing the working environment for judges, lawyers, and clerks, create more powerful constraints than those provided by the law. The normalization carried out by legal standards to make judicial procedures predictable and homogeneous and grant equal treatment is supplemented by the digital working environment. Hence technology provides an additional layer of normalization, steering the behaviour of judges in predetermined directions and inhibiting other action pathways. The process challenges the right of the judge to interpret procedural law and require appropriate judicial governance mechanisms to safeguard fair trial. 
La comparación de tres plataformas de justicia electrónica (PJE) conduce a la identificación de una dinámica común –llamada doble normalización– que hace del desarrollo de las PJE una cuestión institucional y constitucional, no sólo funcional. El análisis de los estudios de caso de Trial on Line, en Italia, e-Curia (Tribunal de Justicia de la Unión Europea), y Kwaliteit en Innovatie rechtspraak, en los Países Bajos, muestra cómo las PJE, al establecer el entorno de trabajo de los jueces, abogados y secretarios, crean limitaciones más poderosas que las previstas por la ley. La normalización llevada a cabo por las normas jurídicas para hacer predecibles y homogéneos los procedimientos judiciales y conceder un trato igualitario se complementa con el entorno de trabajo digital. Por lo tanto, la tecnología proporciona una capa adicional de normalización, dirigiendo el comportamiento de los jueces en direcciones predeterminadas e inhibiendo otras vías de actuación. El proceso pone en tela de juicio el derecho del juez a interpretar el derecho procesal y exige mecanismos adecuados de gobernanza judicial para salvaguardar un juicio justo.
Available from: https://doi.org/10.35295/osls.iisl/0000-0000-0000-1305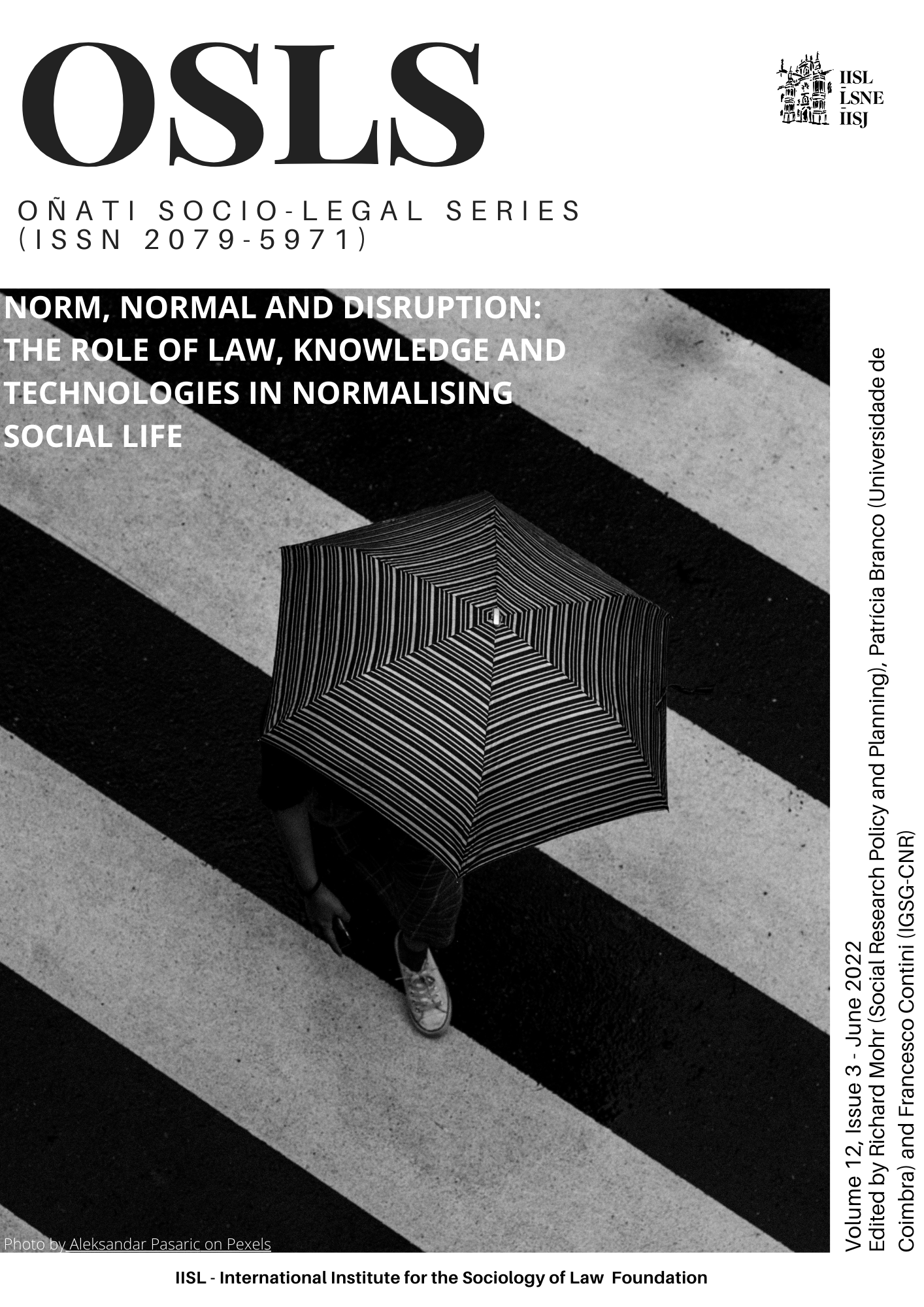 How to Cite
Contini, F. and Reiling, D. (2022) "Double normalization: When procedural law is made digital", Oñati Socio-Legal Series, 12(3), pp. 654–688. Available at: https://opo.iisj.net/index.php/osls/article/view/1362 (Accessed: 19 August 2022).
License
Copyright (c) 2022 Francesco Contini, Dory Reiling
This work is licensed under a Creative Commons Attribution-NonCommercial-NoDerivatives 4.0 International License.
OSLS strictly respects intellectual property rights and it is our policy that the author retains copyright, and articles are made available under a Creative Commons licence. The Creative Commons Non-Commercial Attribution No-Derivatives licence is our default licence, further details available at https://creativecommons.org/licenses/by-nc-nd/4.0 If this is not acceptable to you, please contact us.
The non-exclusive permission you grant to us includes the rights to disseminate the bibliographic details of the article, including the abstract supplied by you, and to authorise others, including bibliographic databases, indexing and contents alerting services, to copy and communicate these details.
For information on how to share and store your own article at each stage of production from submission to final publication, please read our Self-Archiving and Sharing policy.
The Copyright Notice showing the author and co-authors, and the Creative Commons license will be displayed on the article, and you must agree to this as part of the submission process. Please ensure that all co-authors are properly attributed and that they understand and accept these terms.