Coping with the undesired consequences of jury reform: How does the Russian criminal justice system control an acquittals spike over the reform 2018-2020?
Keywords:
Russian criminal justice system, jury reform, crime control model, autopoiesis, acquittals prevention strategies, Sistema de justicia penal ruso, reforma del jurado, modelo de control de la delincuencia, estrategias de prevención de absoluciones
Abstract
The historical development of the Soviet-Russian Criminal Justice System shows that there are ongoing negative attitudes towards acquittals amongst law enforcement agencies in Russia. Each period of acquittal rate rise is scrupulously monitored and controlled. Today, an acquittals spike in modern Russia is happening by virtue of Jury Reform, which has broadened the jury trial to the level of District Courts. By drawing on qualitative data from the observation of trials by jury, this paper explores the set of strategies and tactics, which the Criminal Justice System deploys to increase chances of reaching a guilty verdict by jury. The most frequently used strategies include manipulation in communication, trial "recursion", trial acceleration, and system's learning. The theoretical basis of research acknowledges N. Luhmann's theory of autopoietic social systems and the Crime Control Model of H. Packer.  
El desarrollo histórico del sistema de justicia penal soviético-ruso muestra que hay una actitud negativa permanente hacia las absoluciones entre las fuerzas del orden de Rusia. Cada período de aumento de la tasa de absolución es escrupulosamente vigilado y controlado. En la actualidad, el aumento de las absoluciones en la Rusia moderna se produce en virtud de la Reforma del Jurado, que ha ampliado el juicio con jurado al nivel de los Tribunales de Distrito. A partir de datos cualitativos procedentes de la observación de juicios con jurado, este trabajo explora el conjunto de estrategias y tácticas que el Sistema de Justicia Penal despliega para aumentar las posibilidades de alcanzar un veredicto de culpabilidad por parte del jurado. Las estrategias más utilizadas son la manipulación en la comunicación, la "recursividad" del juicio, la aceleración del juicio y el aprendizaje del sistema. La base teórica de la investigación reconoce la teoría de los sistemas sociales autopoiéticos de N. Luhmann y el Modelo de Control del Crimen de H. Packer. 
Available from: https://doi.org/10.35295/osls.iisl/0000-0000-0000-1268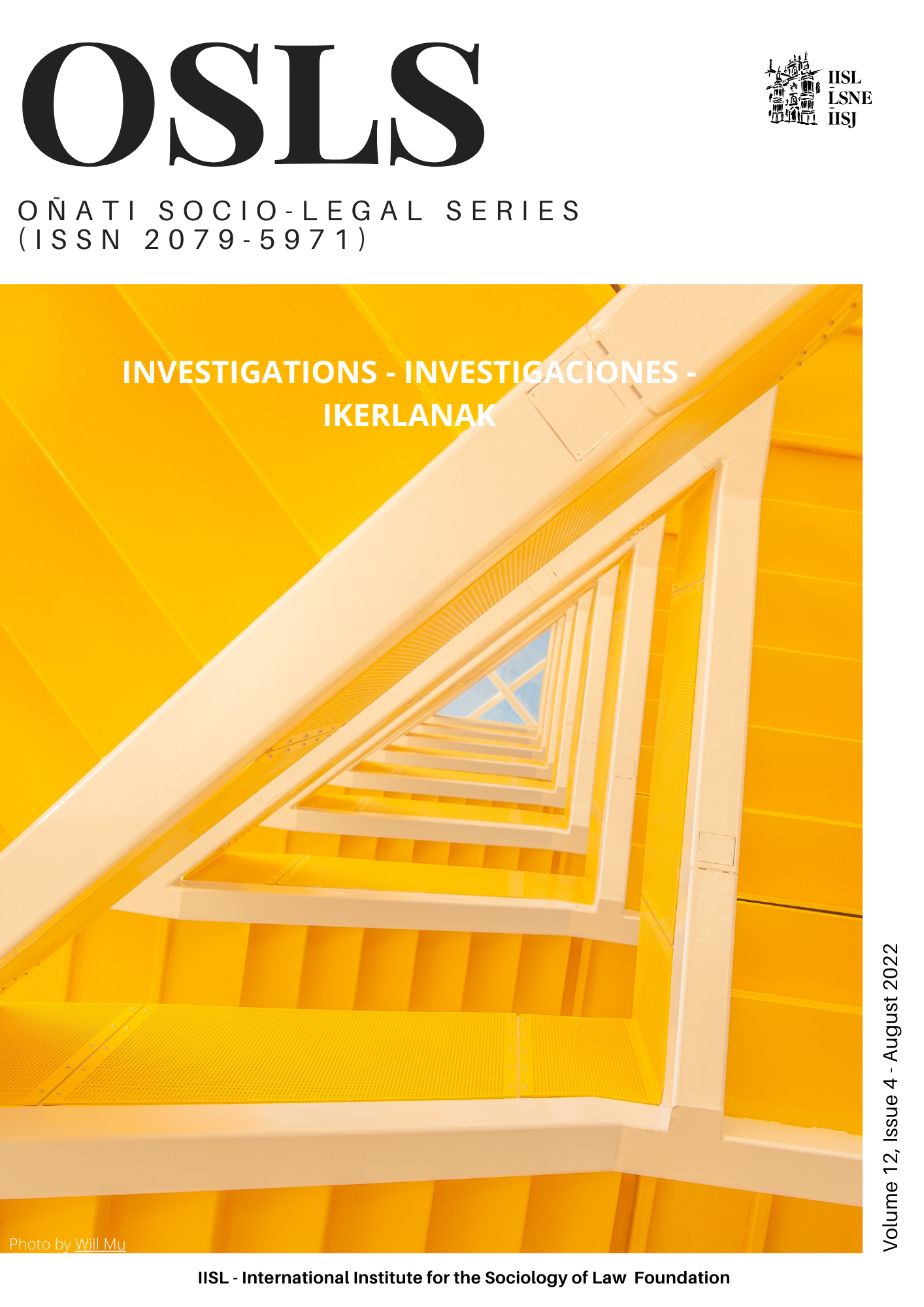 Downloads
Published
30-03-2022 — Updated on 01-08-2022
How to Cite
Skoblik, K. V. (2022) "Coping with the undesired consequences of jury reform: How does the Russian criminal justice system control an acquittals spike over the reform 2018-2020?", Oñati Socio-Legal Series, 12(4), pp. 790–821. Available at: https://opo.iisj.net/index.php/osls/article/view/1355 (Accessed: 1 October 2023).
Section
Individual Articles
License
Copyright (c) 2022 Konstantin Vladimirovich Skoblik
This work is licensed under a Creative Commons Attribution-NonCommercial-NoDerivatives 4.0 International License.
OSLS strictly respects intellectual property rights and it is our policy that the author retains copyright, and articles are made available under a Creative Commons licence. The Creative Commons Non-Commercial Attribution No-Derivatives licence is our default licence, further details available at https://creativecommons.org/licenses/by-nc-nd/4.0 If this is not acceptable to you, please contact us.
The non-exclusive permission you grant to us includes the rights to disseminate the bibliographic details of the article, including the abstract supplied by you, and to authorise others, including bibliographic databases, indexing and contents alerting services, to copy and communicate these details.
For information on how to share and store your own article at each stage of production from submission to final publication, please read our Self-Archiving and Sharing policy.
The Copyright Notice showing the author and co-authors, and the Creative Commons license will be displayed on the article, and you must agree to this as part of the submission process. Please ensure that all co-authors are properly attributed and that they understand and accept these terms.