Integrating "storytelling" as a method in judicial processes? The case of Justicia Especial para la Paz
Keywords:
Colombia, transitional justice, storytelling, criminal law, justicia transicional, narración, derecho penal
Abstract
This paper examines how Colombia's Justicia Especial para la Paz (JEP) emerges as a tribunal within which the roles of history, politics, and transitional justice becomes contested. The paper starts by placing the JEP in a historical, social, and political context. Building on the contextualization, it focuses on how the JEP appears to be an extension of the five-decade long conflict in Colombia in its attempt to deal with the past. The paper underscores how punishing "bad" things is not an easy task. Against this background, the paper challenges the boundaries of criminal liability by discussing and analyzing "storytelling" as an alternative to truth-telling in the JEP in order to not only provide additional nuances to the conflict, but also as a way to, at least theoretically, tie different social collectives together in a post-conflict society and enable the courtroom to function constructively with difficult social issues in the aftermath of cataclysm.
Este artículo examina cómo la Justicia Especial para la Paz (JEP) de Colombia emerge como un tribunal en el que se contestan los roles de la historia, la política y la justicia transicional. El artículo comienza situando a la JEP en un contexto histórico, social y político. Partiendo de la contextualización, se centra en cómo la JEP parece ser una extensión del conflicto de cinco décadas en Colombia en su intento de lidiar con el pasado. El documento subraya cómo castigar lo "malo" no es tarea fácil. En este contexto, el documento desafía los límites de la responsabilidad penal mediante la discusión y el análisis de la "narración" como una alternativa a la narración de la verdad en la JEP, con el fin no sólo de proporcionar matices adicionales al conflicto, sino también como una forma de, al menos teóricamente, vincular a los diferentes colectivos sociales en una sociedad posconflicto y permitir que el tribunal funcione de manera constructiva con las difíciles cuestiones sociales en el período posterior al cataclismo.
Available from: https://doi.org/10.35295/osls.iisl/0000-0000-0000-1271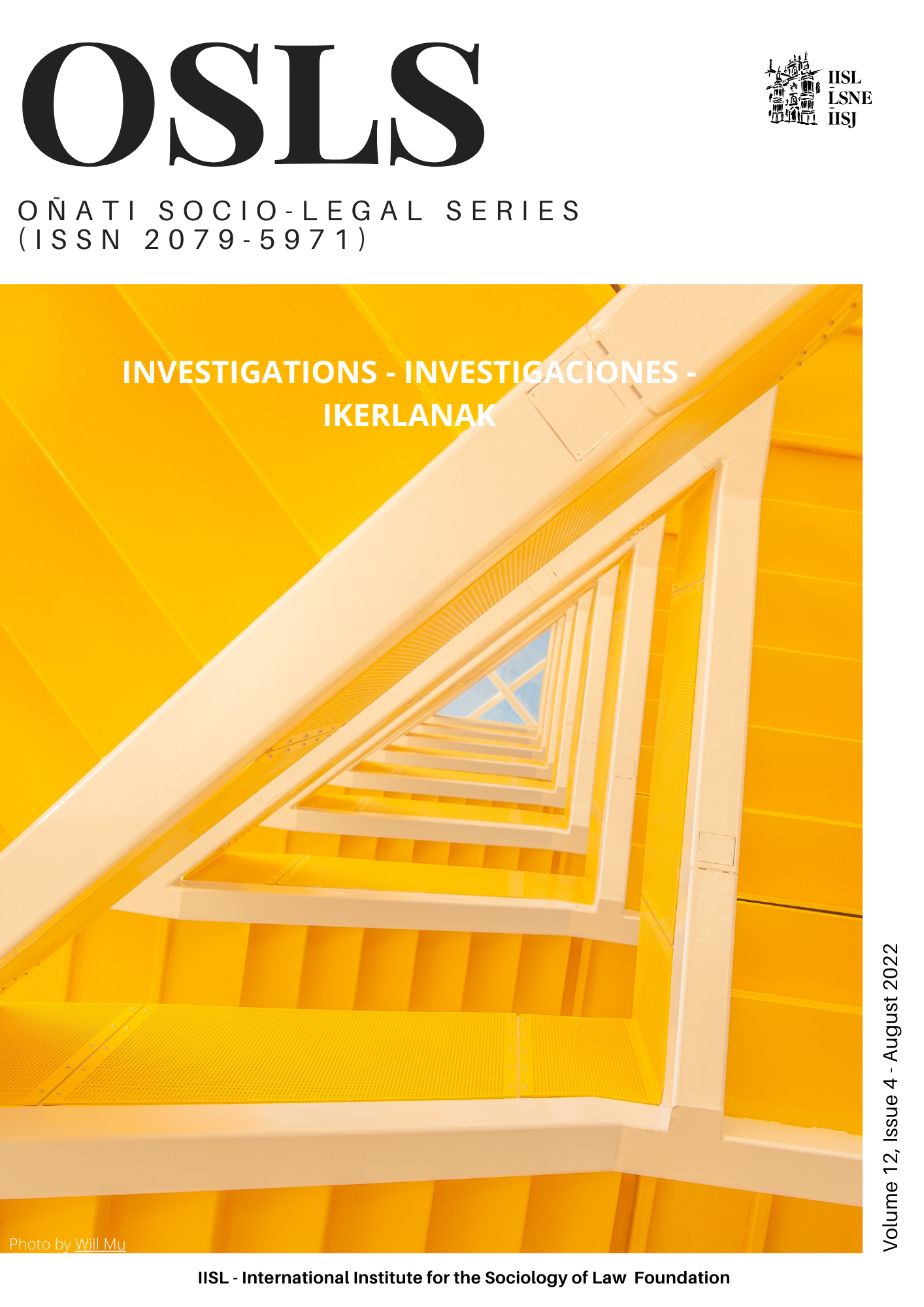 Published
30-03-2022 — Updated on 01-08-2022
How to Cite
Strandberg Hassellind, F. (2022) "Integrating 'storytelling' as a method in judicial processes? The case of Justicia Especial para la Paz", Oñati Socio-Legal Series, 12(4), pp. 843–872. Available at: https://opo.iisj.net/index.php/osls/article/view/1354 (Accessed: 29 May 2023).
Section
Individual Articles
License
Copyright (c) 2022 Filip Strandberg Hassellind
This work is licensed under a Creative Commons Attribution-NonCommercial-NoDerivatives 4.0 International License.
OSLS strictly respects intellectual property rights and it is our policy that the author retains copyright, and articles are made available under a Creative Commons licence. The Creative Commons Non-Commercial Attribution No-Derivatives licence is our default licence, further details available at https://creativecommons.org/licenses/by-nc-nd/4.0 If this is not acceptable to you, please contact us.
The non-exclusive permission you grant to us includes the rights to disseminate the bibliographic details of the article, including the abstract supplied by you, and to authorise others, including bibliographic databases, indexing and contents alerting services, to copy and communicate these details.
For information on how to share and store your own article at each stage of production from submission to final publication, please read our Self-Archiving and Sharing policy.
The Copyright Notice showing the author and co-authors, and the Creative Commons license will be displayed on the article, and you must agree to this as part of the submission process. Please ensure that all co-authors are properly attributed and that they understand and accept these terms.