El abandono de la violencia intrafamiliar ante los tribunales de familia en Chile: La historia de un objeto etnográfico
(The abandonment of the family courts' intrafamily violence procedures: The history of an ethnographic object)
Keywords:
Violencia intrafamiliar, tribunales de familia, etnografía legal, Intrafamily violence, family courts, legal ethnography
Abstract
Este artículo analiza el abandono de los procedimientos de violencia intrafamiliar ante los Tribunales de Familia en Chile. Por abandono me refiero a un proceso de exclusión política, institucional y técnica que ha hecho de estos procedimientos judiciales un aspecto problemático de la administración de justicia y, consecuentemente, de la respuesta estatal a la desigualdad de género. El artículo se desprende de una etnografía realizada en dos tribunales de familia chilenos durante el año 2017 y desarrolla una genealogía sobre el fenómeno del abandono a partir de la literatura chilena y la evidencia etnográfica. De esta forma, el artículo da cuenta de la intensidad y complejidad que el abandono de los procedimientos de violencia intrafamiliar manifestaba en la práctica cotidiana de los tribunales de familia.  El artículo tiene dos objetivos. Primero, busca responder a un vacío en la literatura relativo a la visibilización y contextualización de los procedimientos de familia en materia de violencia intrafamiliar en Chile. Segundo, se propone destacar a la etnografía legal como una metodología útil para desarrollar una lectura situada y transdiciplinaria sobre la labor judicial.
This article analyses the abandonment of the intrafamily violence procedures of Chilean family courts. The abandonment designates a process of political, institutional, and technical exclusion that has rendered these procedures problematic within Chilean justice administration and, consequently, in the state's response to gender violence. The article is based on an ethnographic fieldwork conducted during 2017 and develops a historical itinerary of the position of abandonment based on Chilean literature and ethnographic material. Thus, the article demonstrates the complexity of IFV procedures abandonment in the FCs' everyday work. The article has two main objectives. First, addressing a gap in the literature concerning the visibilization and contextualization of this part of Chilean judicial work. Second, highlighting legal ethnography as a methodology useful for developing a transdisciplinary approach to the administration of justice.
Available from: https://doi.org/10.35295/osls.iisl/0000-0000-0000-1233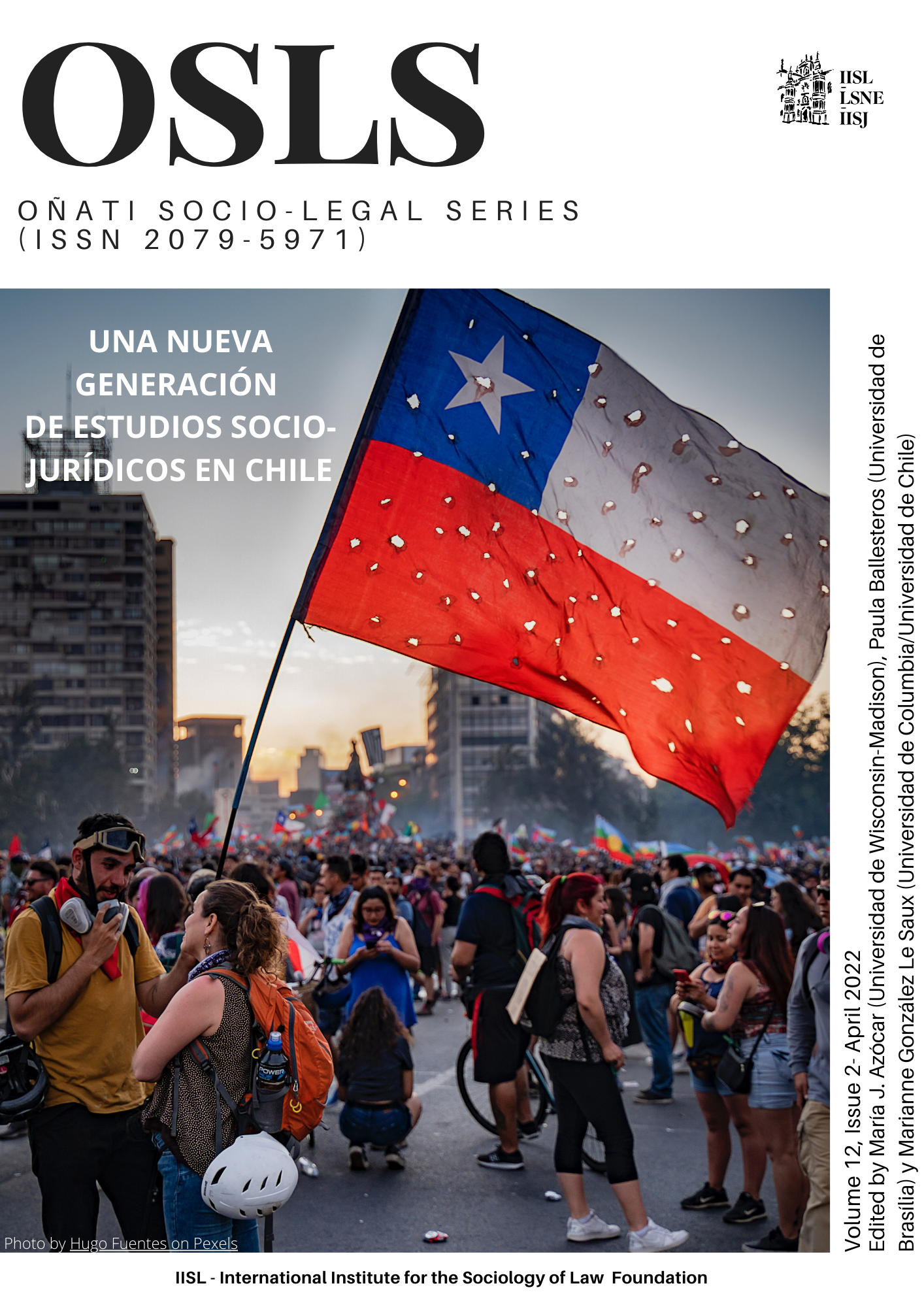 Downloads
Published
15-02-2021 — Updated on 01-04-2022
How to Cite
Riquelme Espinosa, I. (2022) "El abandono de la violencia intrafamiliar ante los tribunales de familia en Chile: La historia de un objeto etnográfico : (The abandonment of the family courts' intrafamily violence procedures: The history of an ethnographic object)", Oñati Socio-Legal Series, 12(2), pp. 238–263. Available at: https://opo.iisj.net/index.php/osls/article/view/1346 (Accessed: 27 June 2022).
Section
Thematic Articles
License
Copyright (c) 2022 Ignacio Riquelme Espinosa
This work is licensed under a Creative Commons Attribution-NonCommercial-NoDerivatives 4.0 International License.
OSLS strictly respects intellectual property rights and it is our policy that the author retains copyright, and articles are made available under a Creative Commons licence. The Creative Commons Non-Commercial Attribution No-Derivatives licence is our default licence, further details available at https://creativecommons.org/licenses/by-nc-nd/4.0 If this is not acceptable to you, please contact us.
The non-exclusive permission you grant to us includes the rights to disseminate the bibliographic details of the article, including the abstract supplied by you, and to authorise others, including bibliographic databases, indexing and contents alerting services, to copy and communicate these details.
For information on how to share and store your own article at each stage of production from submission to final publication, please read our Self-Archiving and Sharing policy.
The Copyright Notice showing the author and co-authors, and the Creative Commons license will be displayed on the article, and you must agree to this as part of the submission process. Please ensure that all co-authors are properly attributed and that they understand and accept these terms.