Derecho al cuidado: un abordaje desde los derechos (humanos)
(The right to care: A (human) rights approach)
Keywords:
Cuidado, democracia, derechos sociales, derechos humanos, igualdad de género, ciudadanía, Care, democracy, vulnerability, social rights, human rights, gender equality, citizenship
Abstract
El cuidado constituye un elemento esencial en el desarrollo de la vida social. No obstante, resulta una realidad poco visible. El debate público acerca de quién y cómo debe ocuparse del cuidado – la familia, el Estado, el mercado– supone una cuestión crucial porque el modelo actual genera grandes desigualdades. Además, el desequilibrio de género marca toda esa discusión al ser el cuidado socialmente atribuido a las mujeres. Por todo ello, resulta oportuno abordar el asunto desde un horizonte de democratización de las políticas de cuidados en una perspectiva basada en los derechos. En este contexto, la discusión acerca de la articulación de un derecho (humano) al cuidado resulta especialmente pertinente desde la defensa de la indivisibilidad e interdependencia entre los derechos políticos, civiles y sociales. Este trabajo pretende, más que un análisis técnico o dogmático, reflexionar de forma general en torno a las políticas de cuidados y la construcción de una ciudadanía más inclusiva en relación con esta cuestión central para la democracia y el desarrollo social.

Care is an essential element in the development of social life. However, it is rather an invisible reality. The public debate about who and how should care - the family, the State, the market - is a crucial issue because the current model generates great inequalities. In addition, the gender imbalance marks all this discussion as care is socially attributed to women. Therefore, it is appropriate to approach care from a horizon of democratization of care policies in a rights-based perspective. In this context, the discussion about the articulation of a (human) right to care is especially relevant from the defense of the indivisibility and interdependency between political, civil, and social rights. This work aims, more than a technical or dogmatic analysis, to reflect in a general way about care policies and the construction of a more inclusive citizenship around this central issue for democracy and social development.
Available from: https://doi.org/10.35295/osls.iisl/0000-0000-0000-1231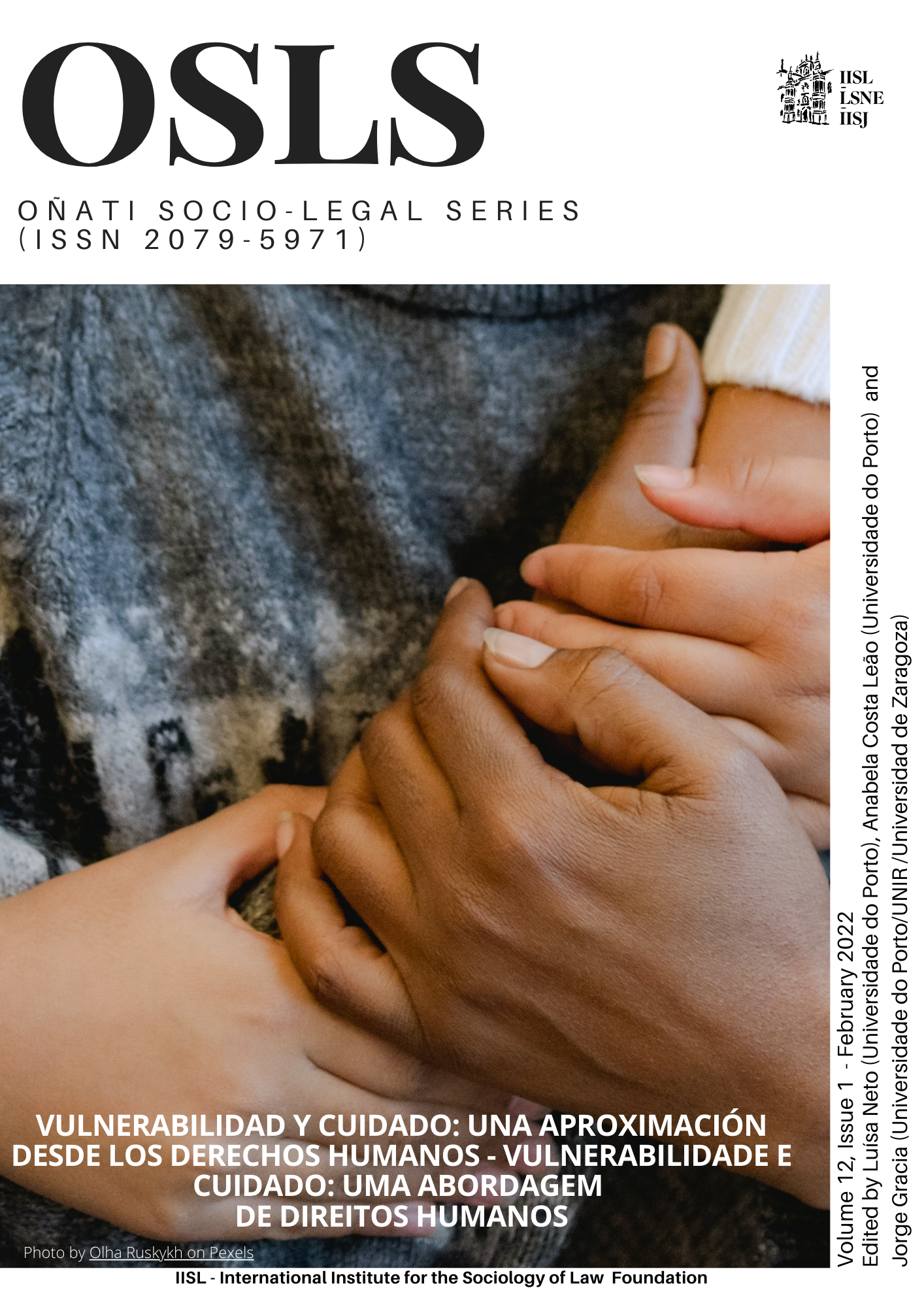 Downloads
Published
11-01-2021 — Updated on 01-02-2022
How to Cite
Gracia Ibáñez, J. (2022) "Derecho al cuidado: un abordaje desde los derechos (humanos): (The right to care: A (human) rights approach)", Oñati Socio-Legal Series, 12(1), pp. 179–210. Available at: https://opo.iisj.net/index.php/osls/article/view/1330 (Accessed: 7 December 2023).
License
Copyright (c) 2021 Jorge Gracia Ibáñez
This work is licensed under a Creative Commons Attribution-NonCommercial-NoDerivatives 4.0 International License.
OSLS strictly respects intellectual property rights and it is our policy that the author retains copyright, and articles are made available under a Creative Commons licence. The Creative Commons Non-Commercial Attribution No-Derivatives licence is our default licence, further details available at https://creativecommons.org/licenses/by-nc-nd/4.0 If this is not acceptable to you, please contact us.
The non-exclusive permission you grant to us includes the rights to disseminate the bibliographic details of the article, including the abstract supplied by you, and to authorise others, including bibliographic databases, indexing and contents alerting services, to copy and communicate these details.
For information on how to share and store your own article at each stage of production from submission to final publication, please read our Self-Archiving and Sharing policy.
The Copyright Notice showing the author and co-authors, and the Creative Commons license will be displayed on the article, and you must agree to this as part of the submission process. Please ensure that all co-authors are properly attributed and that they understand and accept these terms.