The legal field as battleground for social struggle: Reclaiming law from the margins
Keywords:
Social movements, property, commons, law, critical legal studies, derecho, movimientos sociales, propiedad, bienes comunes
Abstract
Scepticism towards law's potential of fostering social change has been widespread in critical theory and contributed to strengthen social movements' mistrust vis-à-vis the use of legal tools to advance their claims. Such "anti-law" posture is based on the assumption that law would formalise existing relations of domination and posits the need for a political praxis liberated from "legalistic drifts". This article discusses how legal tactics in favour of social change have been employed by social movements exerting a counter-hegemonic use of law in the post-2008 economic crisis conjuncture. The example of the struggle for the commons will be analysed as paradigmatic of how the interests of the marginalised can be protected by resorting to existing property arrangements, and how it is possible to reclaim law from the margins.
El escepticismo acerca del potencial que tiene la ley para fomentar el cambio social es general en la teoría crítica y contribuyó a fortalecer la desconfianza de los movimientos sociales respecto al uso de instrumentos legales para reivindicar sus reclamaciones. Esta postura "antilegal" se basa en la idea de que el derecho formalizaría las relaciones de dominación ya existentes; y afirma la necesidad de una práctica política libre de cualquier "deriva legalista". Este artículo analiza cómo las tácticas legales a favor del cambio social han sido empleadas por movimientos que han ejercido un uso contrahegemónico del derecho en la coyuntura posterior a la crisis económica de 2008. El ejemplo de la lucha italiana por los bienes comunes se analizará como paradigmático de cómo se pueden proteger los intereses de los marginalizados recurriendo a las formas de propiedad existentes, y cómo es posible reivindicar el derecho desde los márgenes.
Available from: https://doi.org/10.35295/osls.iisl/0000-0000-0000-1216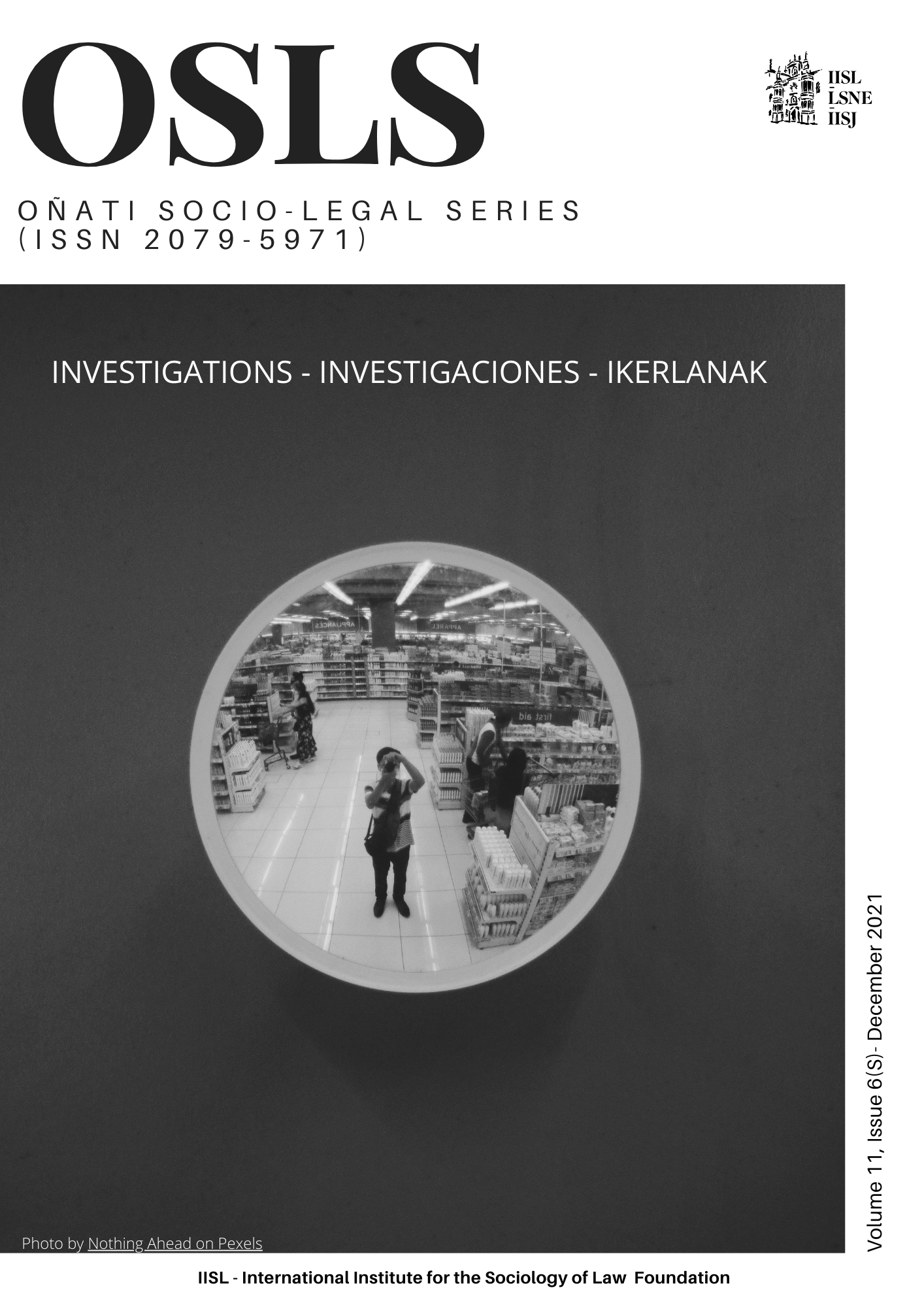 Downloads
Published
10-09-2021 — Updated on 22-12-2021
How to Cite
Pecile, V. (2021) "The legal field as battleground for social struggle: Reclaiming law from the margins", Oñati Socio-Legal Series, 11(6(S), pp. S187-S208. Available at: https://opo.iisj.net/index.php/osls/article/view/1320 (Accessed: 10 August 2022).
Section
Individual Articles
License
Copyright (c) 2021 Veronica Pecile
This work is licensed under a Creative Commons Attribution-NonCommercial-NoDerivatives 4.0 International License.
OSLS strictly respects intellectual property rights and it is our policy that the author retains copyright, and articles are made available under a Creative Commons licence. The Creative Commons Non-Commercial Attribution No-Derivatives licence is our default licence, further details available at https://creativecommons.org/licenses/by-nc-nd/4.0 If this is not acceptable to you, please contact us.
The non-exclusive permission you grant to us includes the rights to disseminate the bibliographic details of the article, including the abstract supplied by you, and to authorise others, including bibliographic databases, indexing and contents alerting services, to copy and communicate these details.
For information on how to share and store your own article at each stage of production from submission to final publication, please read our Self-Archiving and Sharing policy.
The Copyright Notice showing the author and co-authors, and the Creative Commons license will be displayed on the article, and you must agree to this as part of the submission process. Please ensure that all co-authors are properly attributed and that they understand and accept these terms.