Alcohol-related crime or no crime because of the perpetrator's (factual) insanity?
Keywords:
crime, insanity, state of intoxication, diminished sanity, guilt, delito, demencia, cordura disminuida, intoxicación, culpa
Abstract
The criminal liability of the perpetrator of a criminal act is not only conditioned on the objective features of the criminal act but also on the subjective ones (intentional or unintentional behavior). Apart from the subjective features of the act, guilt is also necessary in order to be able to attribute the crime. However, both theory and practice face with one exception to the principle of nullum crimen sine culpa (no crime without guilt). This applies to a state of disturbances of mental functions caused by the perpetrator of a criminal act. There are numerous problems arising from the collision of the need to punish the perpetrator (dictated by criminal policy), and the real state of his/her psyche, which can sometimes speak even for no fault (and thus no crime). It has a significant meaning for the subjective aspects of the crime. The aim of this study is to present these problems based on a dogmatic and legal analysis of regulations and a review of the literature in the field of medicine. The final conclusions lead to a de lege ferenda postulate concerning the legal solution of the above-mentioned dilemmas.
La responsabilidad penal de quien comete un acto delictivo no se supedita solo a las características objetivas del acto delictivo, sino también en las subjetivas (conducta intencionada o no intencionada). Además de los rasgos subjetivos del acto, la culpa no es necesaria para poder imputar el delito. Sin embargo, tanto la teoría como la práctica se encuentran con una sola excepción al principio de nullum crimen sine culpa (no hay delito sin culpa). Esto se aplica a un estado de alteraciones de las funciones mentales causadas por el autor o autora de un hecho delictivo. Surgen numerosos problemas de la colisión de la necesidad de castigar al perpetrador (dictada por la política penal) y el estado real de su psique, que a veces puede hablar incluso sin culpa (y por lo tanto, sin delito). Ello tiene un significado relevante para los aspectos subjetivos del delito. El objetivo de este estudio es presentar estos problemas basándonos en un análisis dogmático y jurídico de la normativa y en una revisión de la literatura médica. Las conclusiones llevan a un postulado de lege ferenda relativo a la solución jurídica de los mencionados dilemas.
Available from: https://doi.org/10.35295/osls.iisl/0000-0000-0000-1203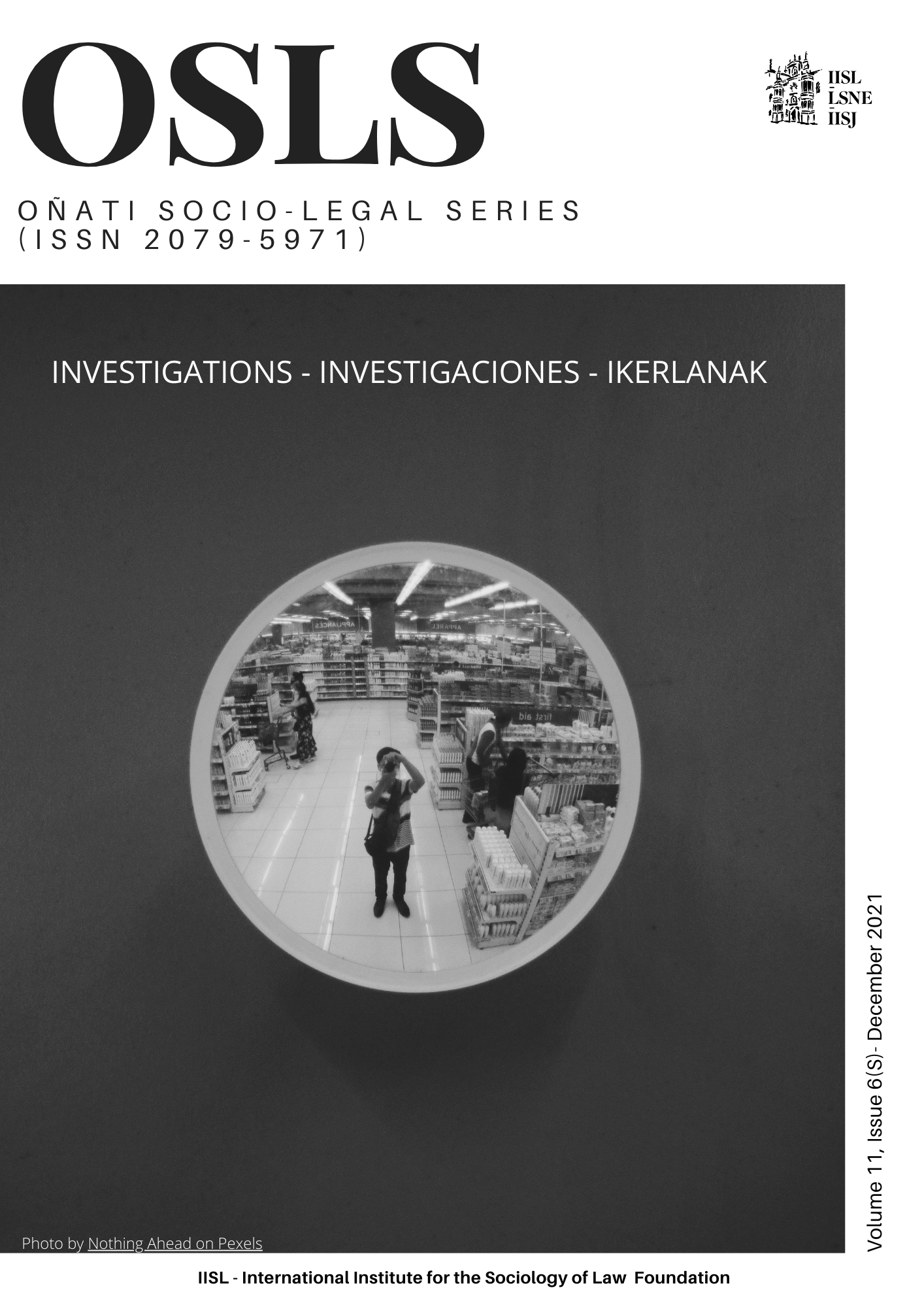 Downloads
Published
28-06-2021 — Updated on 22-12-2021
How to Cite
Golonka, A. D. (2021) "Alcohol-related crime or no crime because of the perpetrator's (factual) insanity?", Oñati Socio-Legal Series, 11(6(S), pp. S146-S163. Available at: https://opo.iisj.net/index.php/osls/article/view/1312 (Accessed: 10 August 2022).
Section
Individual Articles
License
Copyright (c) 2021 Anna Danuta Golonka
This work is licensed under a Creative Commons Attribution-NonCommercial-NoDerivatives 4.0 International License.
OSLS strictly respects intellectual property rights and it is our policy that the author retains copyright, and articles are made available under a Creative Commons licence. The Creative Commons Non-Commercial Attribution No-Derivatives licence is our default licence, further details available at https://creativecommons.org/licenses/by-nc-nd/4.0 If this is not acceptable to you, please contact us.
The non-exclusive permission you grant to us includes the rights to disseminate the bibliographic details of the article, including the abstract supplied by you, and to authorise others, including bibliographic databases, indexing and contents alerting services, to copy and communicate these details.
For information on how to share and store your own article at each stage of production from submission to final publication, please read our Self-Archiving and Sharing policy.
The Copyright Notice showing the author and co-authors, and the Creative Commons license will be displayed on the article, and you must agree to this as part of the submission process. Please ensure that all co-authors are properly attributed and that they understand and accept these terms.