Da crença aos fatos: Aspectos políticos criminais e empíricos da monitoração eletrônica no Brasil e na Argentina em perspectiva comparada
(Criminal Policy and Technology: Electronic monitoring in Brazil and Argentina in a comparative perspective)
Keywords:
Monitoração eletrônica, Política criminal, Brasil, Argentina, comparação, Electronic monitoring, criminal policy, Brazil, comparison
Abstract
Este texto contém uma análise comparada da política criminal do Brasil e da Argentina a partir de seus documentos, estudos e narrativas sobre suas experiências de monitoração eletrônica. Parte-se dos aspectos mais discutidos sobre os controles eletrônicos de liberdade para utilizá-los como roteiro de exposição dos achados de pesquisa sobre as duas realidades estudadas. Ao final o resultado da comparação é resumido e são apresentadas perspectivas para que o uso destes dispositivos possa atender os interesses públicos relacionados ao problema criminal, e também as necessidades de gestão das estratégias de controle contemporâneas, tais como os seus custos e suas finalidades.

This text contains a comparative analysis of criminal policy in Brazil and Argentina based on their documents, studies and narratives about their electronic monitoring experiences. It starts from the most discussed aspects about electronic freedom controls to use them as a guide for exposing the research findings about the two studied realities. At the end, the result of the comparison is summarized and perspectives are presented so that the use of these devices can meet the public interests related to the criminal problem, as well as the management needs of contemporary control strategies, such as their costs and purposes.
Available from: https://doi.org/10.35295/osls.iisl/0000-0000-0000-1167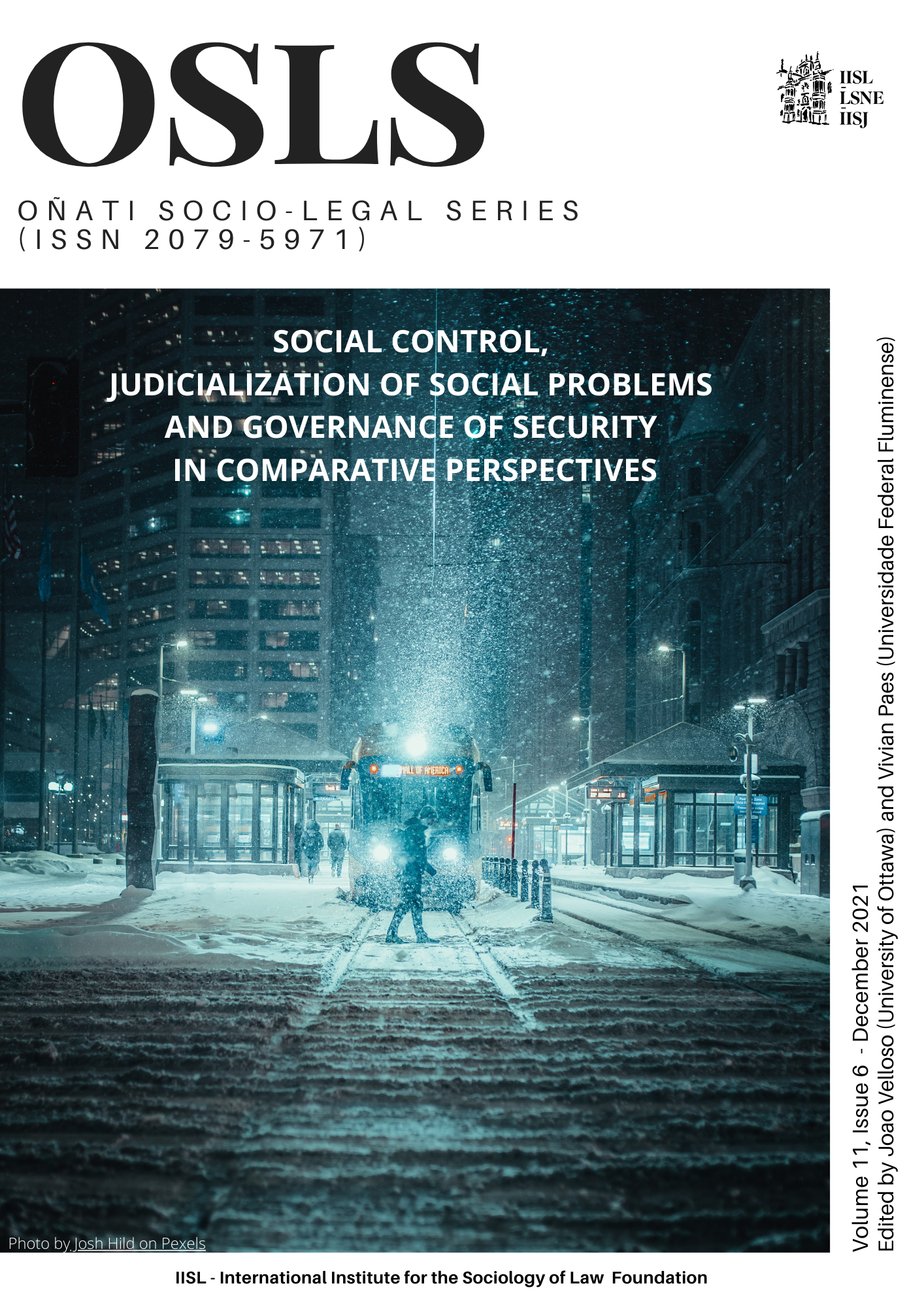 Published
13-09-2021 — Updated on 01-12-2021
How to Cite
Zackseski, C. (2021) "Da crença aos fatos: Aspectos políticos criminais e empíricos da monitoração eletrônica no Brasil e na Argentina em perspectiva comparada: (Criminal Policy and Technology: Electronic monitoring in Brazil and Argentina in a comparative perspective)", Oñati Socio-Legal Series, 11(6), pp. 1330–1364. Available at: https://opo.iisj.net/index.php/osls/article/view/1232 (Accessed: 7 December 2023).
Section
Thematic Articles
License
Copyright (c) 2021 Cristina Zackseski
This work is licensed under a Creative Commons Attribution-NonCommercial-NoDerivatives 4.0 International License.
OSLS strictly respects intellectual property rights and it is our policy that the author retains copyright, and articles are made available under a Creative Commons licence. The Creative Commons Non-Commercial Attribution No-Derivatives licence is our default licence, further details available at https://creativecommons.org/licenses/by-nc-nd/4.0 If this is not acceptable to you, please contact us.
The non-exclusive permission you grant to us includes the rights to disseminate the bibliographic details of the article, including the abstract supplied by you, and to authorise others, including bibliographic databases, indexing and contents alerting services, to copy and communicate these details.
For information on how to share and store your own article at each stage of production from submission to final publication, please read our Self-Archiving and Sharing policy.
The Copyright Notice showing the author and co-authors, and the Creative Commons license will be displayed on the article, and you must agree to this as part of the submission process. Please ensure that all co-authors are properly attributed and that they understand and accept these terms.