Introducción: Innovación legislativa en tiempos de excepcionalidad
(Introduction: Legislative innovation in exceptional times)
Keywords:
Innovación legislativa, normalidad, excepcionalidad, derecho, política, Legislative innovation, normality, exceptionality, law, politics
Abstract
Este texto introduce el monográfico temático dedicado a problematizar las concepciones de normalidad y excepcionalidad en la producción legislativa, considerando el abordaje de situaciones sociales que rompen también con las consideraciones de lo que es normal o excepcional. Esta introducción contextualiza conceptualmente las ocho contribuciones que componen este número, dividido en dos bloques según el contexto de actuación, País Vasco-Navarra o América Latina, y que analizan casuísticas relativas a cuatro grandes áreas de excepcionalidad: política, sanitaria, económica y las que afectan a las relaciones de género. Los trabajos aquí reunidos comparten el objetivo de comprender las dinámicas que se producen ante la inminente necesidad de aumentar las seguridades de la ciudadanía y las consecuencias que tienen las innovaciones legislativas en los diferentes ámbitos sociales.
This text introduces the thematic monograph dedicated to problematize the conceptions of normality and exceptionality in legislative production, considering the approach to social situations that also break with the considerations of what is normal or exceptional. This introduction contextualizes the eight contributions that make up this issue, divided into two blocks according to the context of action, Basque Country-Navarre or Latin America, and which analyze cases related to four major areas of exceptionality: political, health, economic and those affecting gender relations. The works gathered here share the objective of understanding the dynamics produced by the imminent need to increase the security of citizens and the consequences of legislative innovations in the different social spheres.
Available from: https://doi.org/10.35295/osls.iisl/0000-0000-0000-1336
Metrics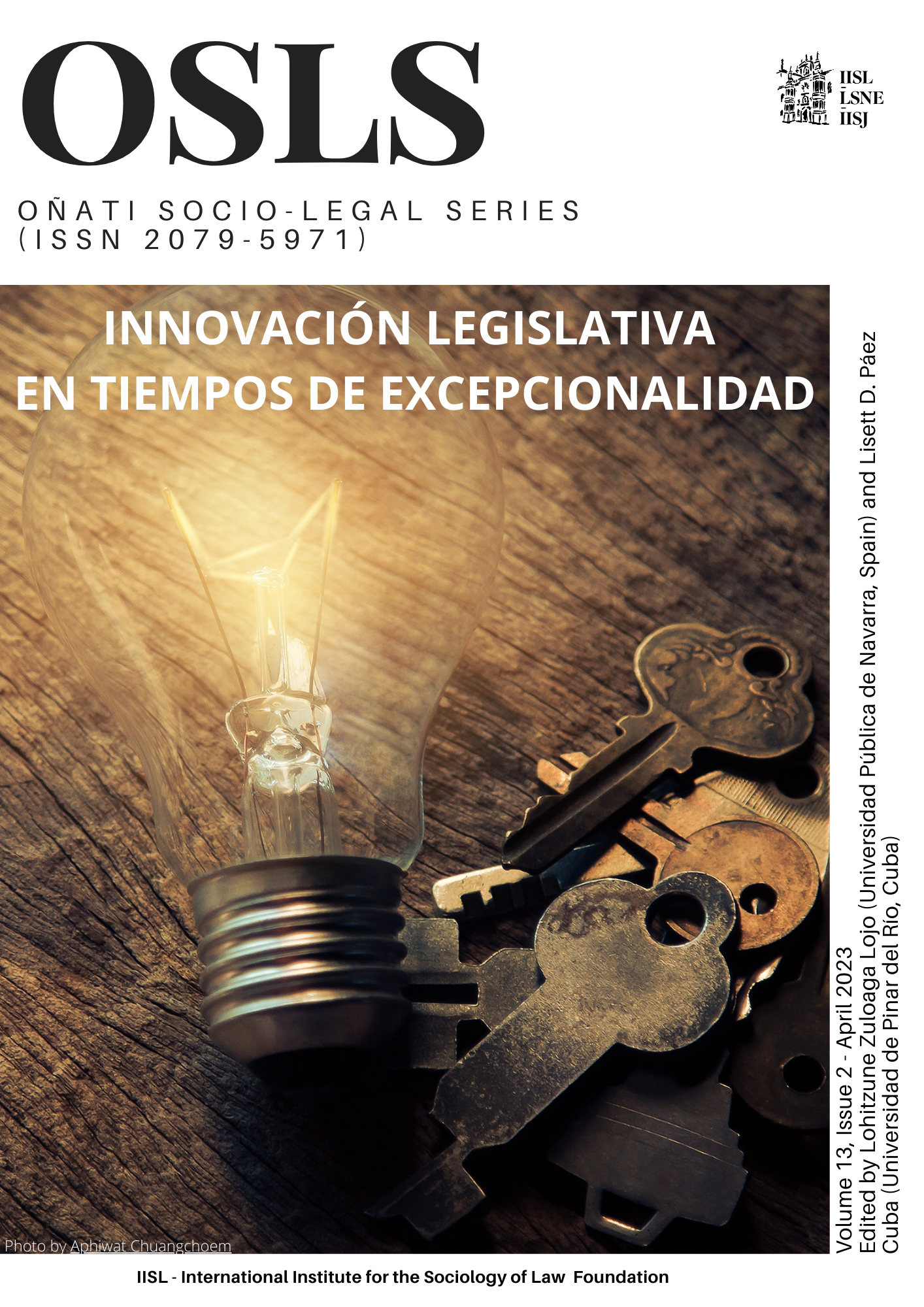 How to Cite
Zuloaga, L. and Páez Cuba, L. (2023) "Introducción: Innovación legislativa en tiempos de excepcionalidad: (Introduction: Legislative innovation in exceptional times)", Oñati Socio-Legal Series, 13(2), pp. 188–197. doi: 10.35295/osls.iisl/0000-0000-0000-1336.
License
Copyright (c) 2023 Lohitzune Zuloaga Lojo, Lisett D. Páez Cuba
This work is licensed under a Creative Commons Attribution-NonCommercial-NoDerivatives 4.0 International License.
OSLS strictly respects intellectual property rights and it is our policy that the author retains copyright, and articles are made available under a Creative Commons licence. The Creative Commons Non-Commercial Attribution No-Derivatives licence is our default licence, further details available at https://creativecommons.org/licenses/by-nc-nd/4.0 If this is not acceptable to you, please contact us.
The non-exclusive permission you grant to us includes the rights to disseminate the bibliographic details of the article, including the abstract supplied by you, and to authorise others, including bibliographic databases, indexing and contents alerting services, to copy and communicate these details.
For information on how to share and store your own article at each stage of production from submission to final publication, please read our Self-Archiving and Sharing policy.
The Copyright Notice showing the author and co-authors, and the Creative Commons license will be displayed on the article, and you must agree to this as part of the submission process. Please ensure that all co-authors are properly attributed and that they understand and accept these terms.