Sociología jurídica: introducción y principales enfoques teóricos
(Sociology of law: Introduction and main theoretical approaches)
Keywords:
Sociología jurídica, teoría del derecho, enfoques teóricos, sociology of law, legal theory, theoretical approaches
Abstract
El presente trabajo tiene por objetivo reflexionar sobre la Sociología Jurídica como disciplina, a partir de sus conceptualizaciones, campos de estudio y principales enfoques teóricos. Aborda desde un enfoque crítico el estudio del Derecho como fenómeno social, y su comprensión desde los enfoques sociales en los que opera y de los significados que los sujetos construyen a partir de sus normas. Igualmente revisa las principales y diversas explicaciones teóricas acerca del Derecho de los clásicos autores de la Teoría Sociológica. Lejos de concluir que esta diversidad teórica es contradictoria o confusa en los análisis del Derecho y del sistema jurídico, debemos admitir que –por el contrario– la perspectiva sociológica es multiparadigmática y transitarla propone un interesante desafío.
The objective of this paper is to reflect on Sociology of Law as a discipline, based on its conceptualizations, fields of study and main theoretical approaches. From a critical focus, it approaches the study of Law as a social phenomenon, and its understanding from the social approaches in which it operates and from the meanings that subjects construct from its norms. Likewise, it reviews the main and diverse theoretical explanations of Law by the classic authors of Sociological Theory. Far from concluding that this theoretical diversity is contradictory or confusing in the analysis of Law and the legal system, we must admit that – on the contrary – the sociological perspective is multi-paradigmatic and going through it poses an interesting challenge.
Available from: https://doi.org/10.35295/osls.iisl/0000-0000-0000-1359
Metrics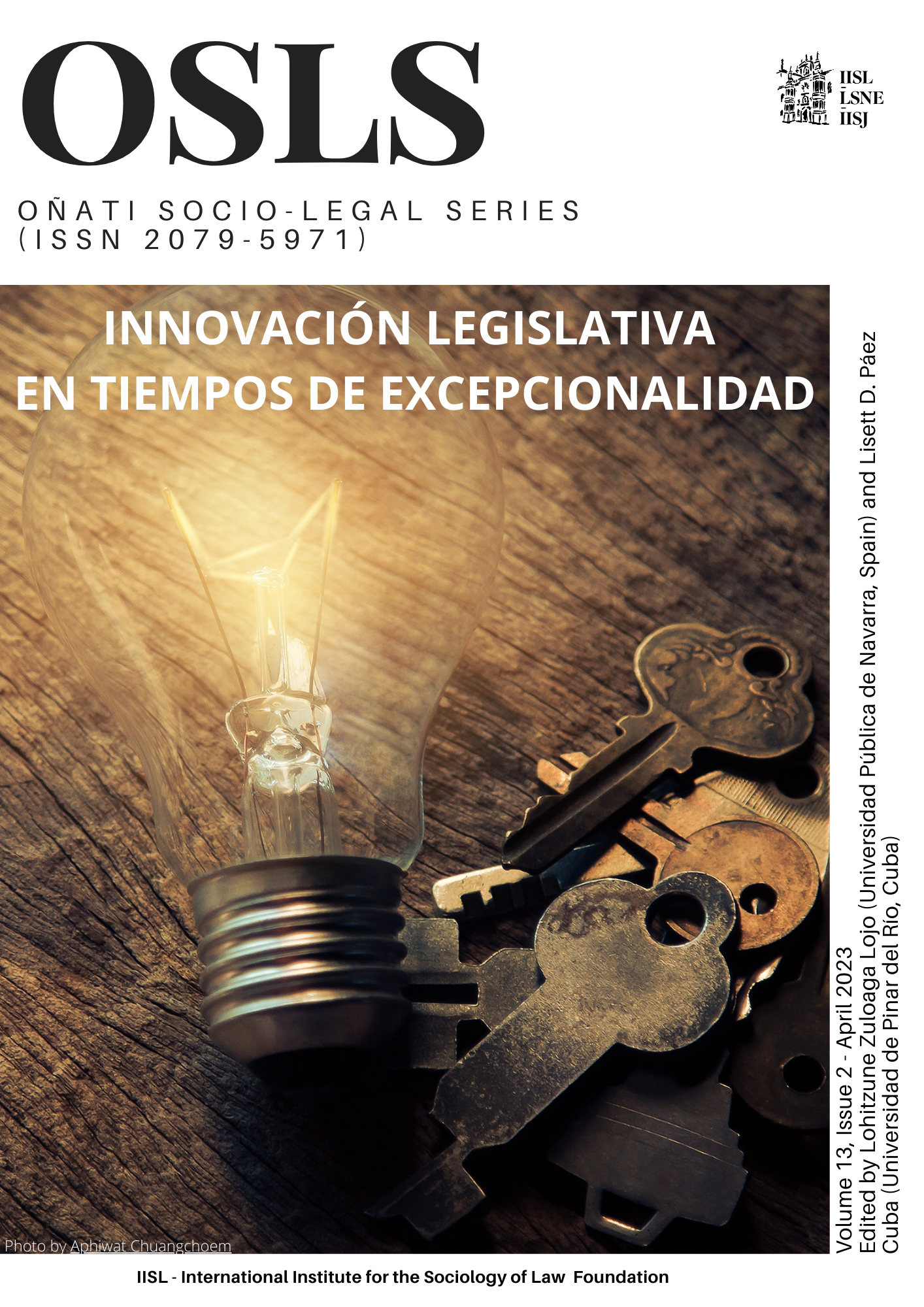 Downloads
Published
09-12-2022 — Updated on 01-04-2023
How to Cite
Sánchez Busso, M. (2023) "Sociología jurídica: introducción y principales enfoques teóricos: (Sociology of law: Introduction and main theoretical approaches)", Oñati Socio-Legal Series, 13(2), pp. 536–562. doi: 10.35295/osls.iisl/0000-0000-0000-1359.
Section
Individual Articles
License
Copyright (c) 2022 Mariana Sánchez Busso
This work is licensed under a Creative Commons Attribution-NonCommercial-NoDerivatives 4.0 International License.
OSLS strictly respects intellectual property rights and it is our policy that the author retains copyright, and articles are made available under a Creative Commons licence. The Creative Commons Non-Commercial Attribution No-Derivatives licence is our default licence, further details available at https://creativecommons.org/licenses/by-nc-nd/4.0 If this is not acceptable to you, please contact us.
The non-exclusive permission you grant to us includes the rights to disseminate the bibliographic details of the article, including the abstract supplied by you, and to authorise others, including bibliographic databases, indexing and contents alerting services, to copy and communicate these details.
For information on how to share and store your own article at each stage of production from submission to final publication, please read our Self-Archiving and Sharing policy.
The Copyright Notice showing the author and co-authors, and the Creative Commons license will be displayed on the article, and you must agree to this as part of the submission process. Please ensure that all co-authors are properly attributed and that they understand and accept these terms.