Violencia en pareja y diversidad sexo-genérica en la legislación española: límites y dificultades en el tratamiento jurídico
(Intimate partner violence and sexual and gender diversity in Spanish legislation: Limits and difficulties in legal framework)
Keywords:
Violencia de género, violencia en pareja, respuesta jurídica, personas LGTBIQ , interseccionalidades, Invisible gender-based violence, intimate partner violence, legal response, LGTBIQ people, intersectionality theory
Abstract
La respuesta jurídico-penal de la violencia en parejas de minorías sexo-genéricas es diferente a la violencia en parejas heterosexuales, si atendemos a la legislación estatal en España, aunque, en la regulación autonómica, es objeto de una mención específica. El análisis muestra características en común entre la violencia en parejas heterosexuales y la que tiene lugar en minorías sexuales, desde la prevalencia a factores de riesgo, algunos de ellos asociados a preceptos de género que envuelven las relaciones afectivo-sexuales. También se encuentran diferencias y factores de riesgo específicos de la violencia en parejas formadas por personas LGTBIQ+. Este trabajo tiene como objetivo analizar el actual tratamiento jurídico según la legislación estatal y autonómica, previa caracterización de esta violencia. La investigación muestra los límites y dificultades que presenta la legislación española para abordar esta violencia. Se insta a la reflexión sobre las implicaciones de la perspectiva feminista interseccional para su mejor abordaje.
The criminal justice system responds to gender-sex minority dating violence differently from violence in heterosexual couples, as far as national law in Spain is concerned, although it does receive specific mention in regional legislation. Research shows that violence in heterosexual couples shares characteristics in common with that which takes place in sexual minorities, from its prevalence to risk factors, some of them associated with the gender rules that surround affective-sexual relationships. There are also differences, however, and risk factors that are specific to violence in LGBTIQ+ couples. The aim of this paper is to analyze how such abuse is currently treated according to national and regional legislation prior characterization of this violence. Research shows the difficulties and limits of Spanish legislation to address this type of violence. In order to improve the way these problems are dealt with, the implications of the intersectional feminist perspective should be taken into account.
Available from: https://doi.org/10.35295/osls.iisl/0000-0000-0000-1390
Metrics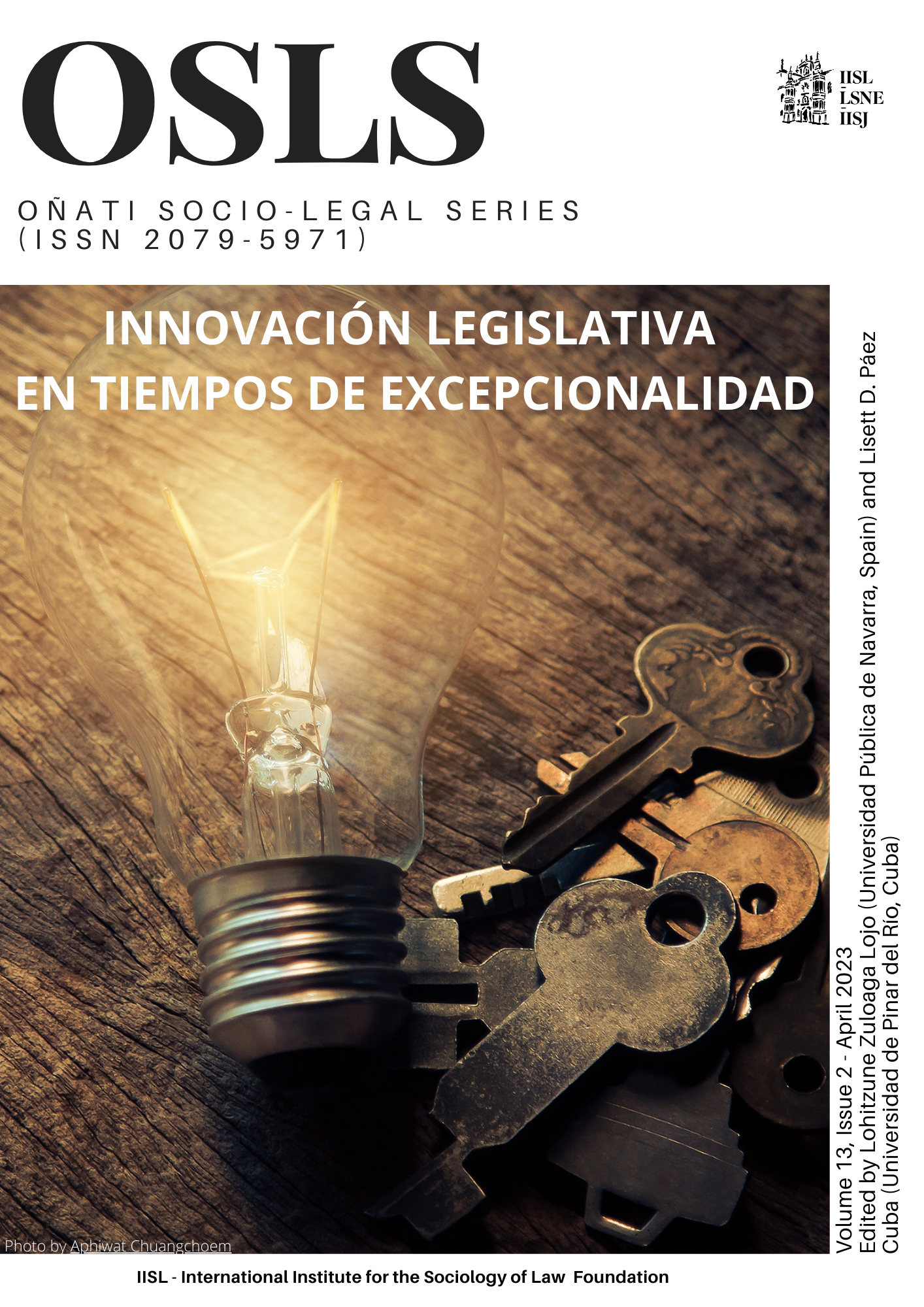 Published
06-02-2023 — Updated on 01-04-2023
How to Cite
Laliga Mollá, M. (2023) "Violencia en pareja y diversidad sexo-genérica en la legislación española: límites y dificultades en el tratamiento jurídico: (Intimate partner violence and sexual and gender diversity in Spanish legislation: Limits and difficulties in legal framework)", Oñati Socio-Legal Series, 13(2), pp. 464–489. doi: 10.35295/osls.iisl/0000-0000-0000-1390.
Section
Individual Articles
License
Copyright (c) 2023 Mónica Laliga Mollá
This work is licensed under a Creative Commons Attribution-NonCommercial-NoDerivatives 4.0 International License.
OSLS strictly respects intellectual property rights and it is our policy that the author retains copyright, and articles are made available under a Creative Commons licence. The Creative Commons Non-Commercial Attribution No-Derivatives licence is our default licence, further details available at https://creativecommons.org/licenses/by-nc-nd/4.0 If this is not acceptable to you, please contact us.
The non-exclusive permission you grant to us includes the rights to disseminate the bibliographic details of the article, including the abstract supplied by you, and to authorise others, including bibliographic databases, indexing and contents alerting services, to copy and communicate these details.
For information on how to share and store your own article at each stage of production from submission to final publication, please read our Self-Archiving and Sharing policy.
The Copyright Notice showing the author and co-authors, and the Creative Commons license will be displayed on the article, and you must agree to this as part of the submission process. Please ensure that all co-authors are properly attributed and that they understand and accept these terms.