Community-based justice or indigenous justice in international law: Analysis of Article 9 of ILO Convention 169
Abstract
This paper deals with communal justice or indigenous justice governed by Convention No. 169 of the International Labour Organization (ILO). Article 9 of the indicated Convention is analysed describing and commenting on the different aspects or assumptions it contains about communal or indigenous justice. Likewise, this content is analysed in the doctrine and in the author's field experience. The central question that guides the work is: How does the International Convention No. 169 of the International Labour Organization regulate communal or Indigenous justice? The answer is made through the verification of a hypothesis that raises the limits of the Article 9 of Convention 169 to understand and regulate communal or indigenous justice that is practiced in indigenous communities or peoples.
El presente ensayo trata sobre la justicia comunal o justicia indígena regulado en el Convenio Nro. 169 de la Organización Internacional del Trabajo (OIT). Se analiza el artículo 9º del indicado Convenio describiendo y comentando los distintos aspectos o supuestos que contiene sobre el tema de la justicia comunal o indígena. Asimismo, se analiza dicho contenido en la doctrina y en la experiencia de campo del autor. La pregunta central que guía el trabajo es ¿Cómo regula el Convenio Internacional Nro. 169 de la Organización Internacional del Trabajo la Justicia Indígena o la Justicia Comunal? La respuesta se realiza a través de la comprobación de una hipótesis que plantea los límites del citado artículo 9 del Convenio 169 para comprender y regular la justicia comunal o indígena que se practica en las comunidades o pueblos originarios.
Available from: https://doi.org/10.35295/osls.iisl/0000-0000-0000-1371
Metrics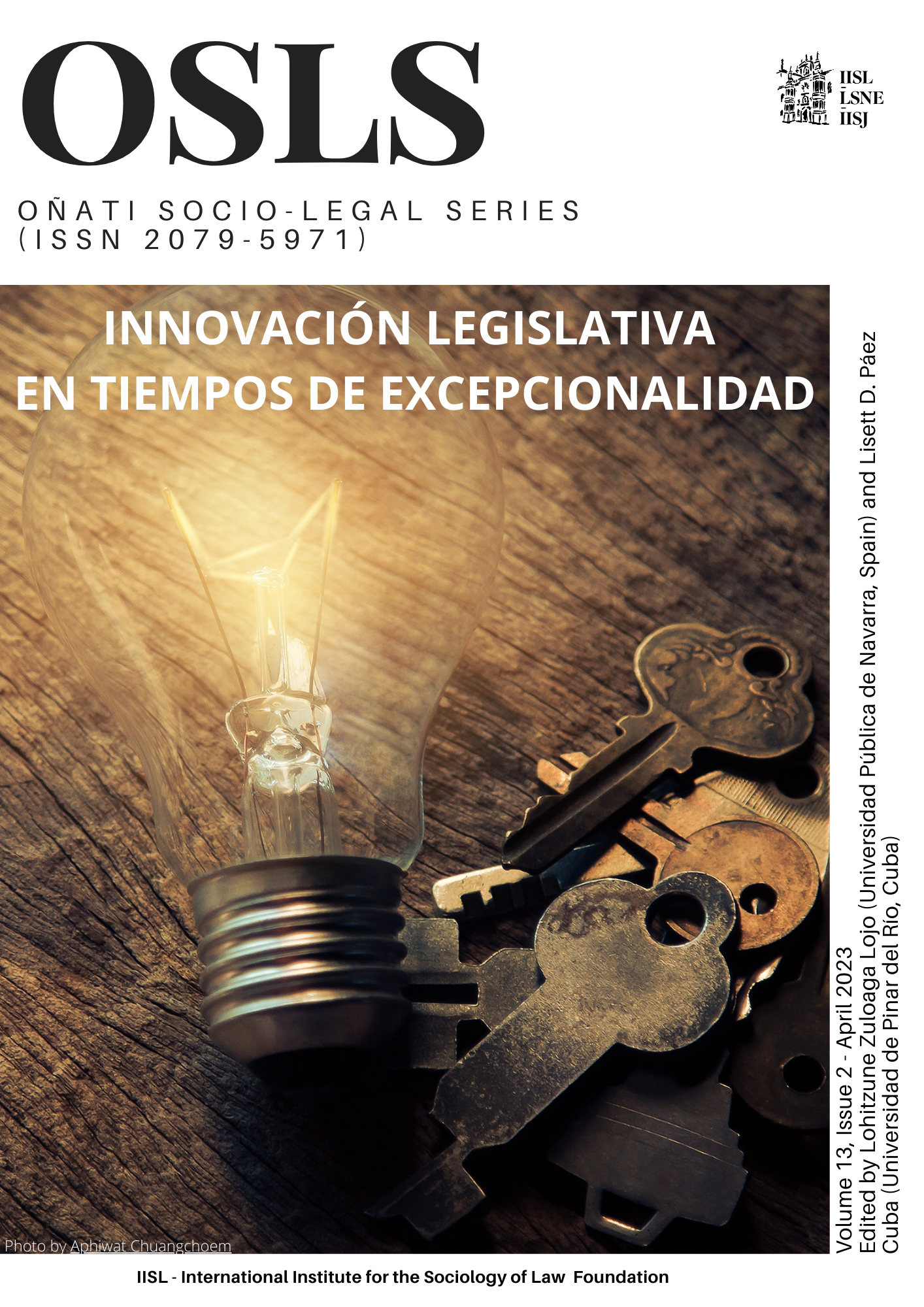 Downloads
Published
23-12-2022 — Updated on 01-04-2023
How to Cite
Peña Jumpa, A. (2023) "Community-based justice or indigenous justice in international law: Analysis of Article 9 of ILO Convention 169", Oñati Socio-Legal Series, 13(2), pp. 608–625. doi: 10.35295/osls.iisl/0000-0000-0000-1371.
Section
Individual Articles
License
Copyright (c) 2022 Antonio Peña Jumpa
This work is licensed under a Creative Commons Attribution-NonCommercial-NoDerivatives 4.0 International License.
OSLS strictly respects intellectual property rights and it is our policy that the author retains copyright, and articles are made available under a Creative Commons licence. The Creative Commons Non-Commercial Attribution No-Derivatives licence is our default licence, further details available at https://creativecommons.org/licenses/by-nc-nd/4.0 If this is not acceptable to you, please contact us.
The non-exclusive permission you grant to us includes the rights to disseminate the bibliographic details of the article, including the abstract supplied by you, and to authorise others, including bibliographic databases, indexing and contents alerting services, to copy and communicate these details.
For information on how to share and store your own article at each stage of production from submission to final publication, please read our Self-Archiving and Sharing policy.
The Copyright Notice showing the author and co-authors, and the Creative Commons license will be displayed on the article, and you must agree to this as part of the submission process. Please ensure that all co-authors are properly attributed and that they understand and accept these terms.