La (des) igualdad de género y los derechos humanos de las mujeres y las niñas como objetivos del desarrollo sostenible
(Gender equality and the human rights of women and girls as sustainable development goals)
Keywords:
Derecho Internacional Privado, Derechos Humanos, igualdad de género, desarrollo sostenible, derecho de las migrantes, Private International Law, Human Rights, gender equality, sustainable development
Abstract
La situación actual de mujeres y niñas se ha agravado dando clara muestra de ello los objetivos de la Agenda 2030 de desarrollo sostenible de Naciones Unidas que indican que con la pandemia las acciones tomadas para el logro de mejores estándares se han visto en retroceso. El caso de las mujeres migrantes, las refugiadas o desplazadas de sus hogares, muchas de ellas víctimas de tratos inhumanos, y de repetidas violaciones. En este artículo pusimos especial énfasis en la relación y articulación constante de los instrumentos normativos internacionales en el ámbito de los Derechos Humanos y del Derecho Internacional Privado con el fin de encontrar posibles respuestas a las problemáticas que se presentan, desde la perspectiva de género.
The current situation of women and girls has worsened, this is clearly showed in the objectives of the Schedule of 2030 for sustainable development of the United Nations, which indicates that with the pandemic the actions taken to achieve better standards have been receding. The case of women who are migrant, refugees or displaced from their homes, many of them victims of inhuman treatment and repeated violations. In this article we put special emphasis on the relationship and constant articulation of international normative instruments in the field of Human Rights and Private International Law in order to find possible answers to the problems that arise, from a gender perspective.
Available from: https://doi.org/10.35295/osls.iisl/0000-0000-0000-1389
Metrics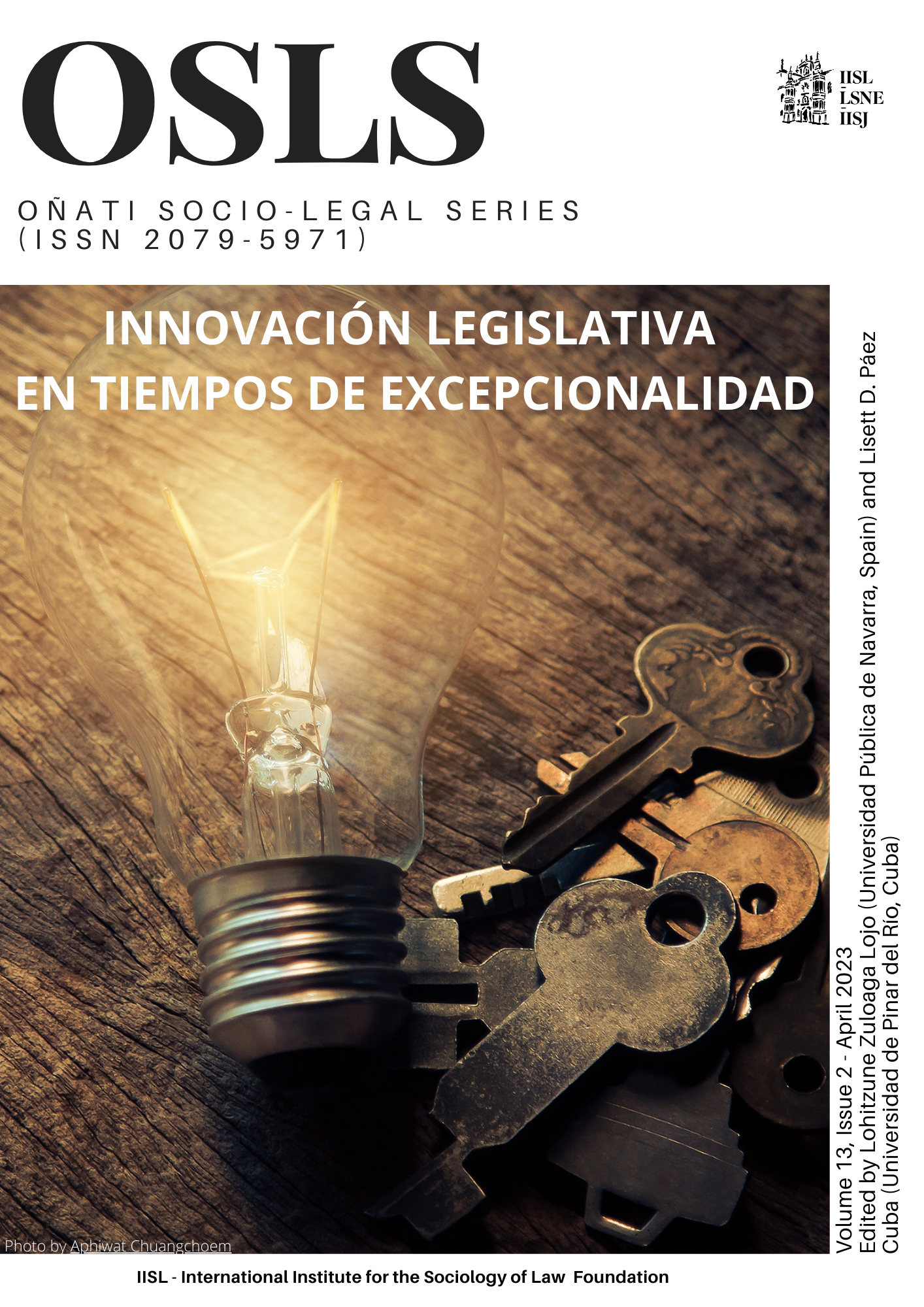 How to Cite
Consolo, A. and Bauger, E. (2023) "La (des) igualdad de género y los derechos humanos de las mujeres y las niñas como objetivos del desarrollo sostenible: (Gender equality and the human rights of women and girls as sustainable development goals)", Oñati Socio-Legal Series, 13(2), pp. 589–607. doi: 10.35295/osls.iisl/0000-0000-0000-1389.
Section
Individual Articles
License
Copyright (c) 2023 Analía Noemí Consolo, Erika Silvina Bauger
This work is licensed under a Creative Commons Attribution-NonCommercial-NoDerivatives 4.0 International License.
OSLS strictly respects intellectual property rights and it is our policy that the author retains copyright, and articles are made available under a Creative Commons licence. The Creative Commons Non-Commercial Attribution No-Derivatives licence is our default licence, further details available at https://creativecommons.org/licenses/by-nc-nd/4.0 If this is not acceptable to you, please contact us.
The non-exclusive permission you grant to us includes the rights to disseminate the bibliographic details of the article, including the abstract supplied by you, and to authorise others, including bibliographic databases, indexing and contents alerting services, to copy and communicate these details.
For information on how to share and store your own article at each stage of production from submission to final publication, please read our Self-Archiving and Sharing policy.
The Copyright Notice showing the author and co-authors, and the Creative Commons license will be displayed on the article, and you must agree to this as part of the submission process. Please ensure that all co-authors are properly attributed and that they understand and accept these terms.