Intervention in family conflicts through mediation from the comparative perspective of Brazil and Portugal legislation
Keywords:
Family conflicts, Mediation, Comparative, Brazil, Portugal, conflictos familiares, mediación, comparativa, Brasil
Abstract
The jurisdictional function of a country plays an important role in the resolution of family conflicts, causing a high number of lawsuits. However, the ability to resolve conflicts of this nature is not exclusive to the judiciary, it being possible for other ways, with help of a third party other than the State. Given the growing number of disputes that can be resolved extra judicially, the need for more investment in the development of other means of conflict resolution, such as mediation, to achieve social peace remains evident. This article aims to compare some aspects of mediation in Brazil and Portugal, seeking to focus especially on family conflicts, investigating similarities, equivalences and differences between the family mediation guiding principles in Brazil and Portugal. For this effect, it was privileged bibliographical and legislative research, with qualitative comparative analysis, which led to the conclusion that, despite the differences, the two diplomas are very similar, showing equivalences and few absences, which do not compromise the basis of mediation.
La función jurisdiccional de un país desempeña un papel importante en la resolución de los conflictos familiares, provocando un elevado número de pleitos. Sin embargo, la capacidad de resolver conflictos de esta naturaleza no es exclusiva del poder judicial, siendo posible por otras vías, con ayuda de un tercero distinto del Estado. Dado el creciente número de conflictos que pueden resolverse extrajudicialmente, sigue siendo evidente la necesidad de invertir más en el desarrollo de otros medios de resolución de conflictos, como la mediación, para lograr la paz social. Este artículo pretende comparar algunos aspectos de la mediación en Brasil y Portugal, buscando centrarse especialmente en los conflictos familiares, investigando las similitudes, equivalencias y diferencias entre los principios rectores de la mediación familiar en Brasil y Portugal. Para ello, se ha privilegiado la investigación bibliográfica y legislativa, con un análisis comparativo cualitativo, que llevó a la conclusión de que, a pesar de las diferencias, los dos diplomas son muy similares, mostrando equivalencias y pocas ausencias, que no comprometen las bases de la mediación.
Available from: https://doi.org/10.35295/osls.iisl/0000-0000-0000-1319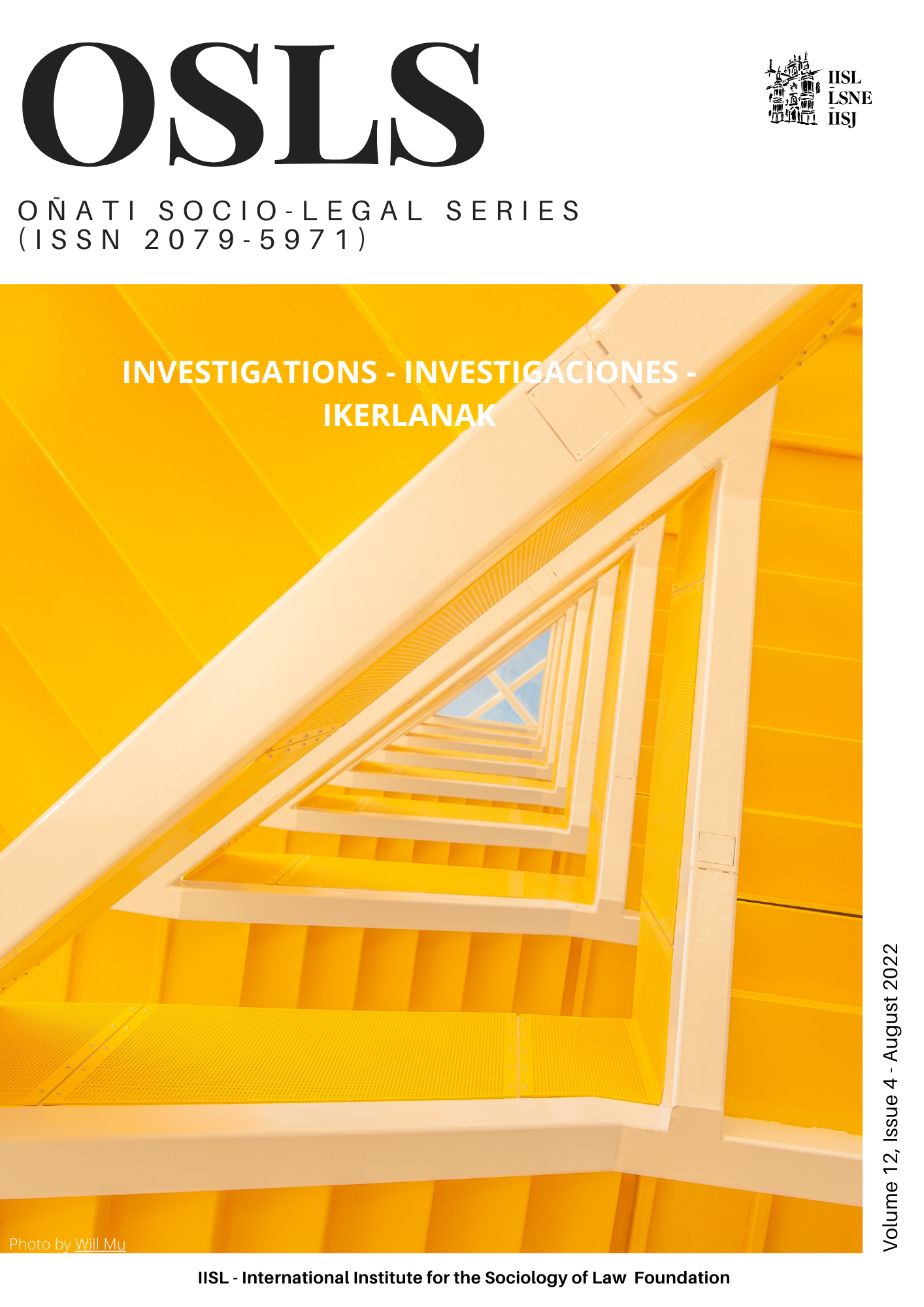 How to Cite
Coelho Silva, K., Martingo Costa Serra Cruz, R. and Passon Picoretti Francischetto, G. (2022) "Intervention in family conflicts through mediation from the comparative perspective of Brazil and Portugal legislation", Oñati Socio-Legal Series, 12(4), pp. 1001–1022. Available at: https://opo.iisj.net/index.php/osls/article/view/1545 (Accessed: 30 September 2023).
Section
Individual Articles
License
Copyright (c) 2022 Kelly Coelho Silva, Rossana Cruz, Gilsilene Passon
This work is licensed under a Creative Commons Attribution-NonCommercial-NoDerivatives 4.0 International License.
OSLS strictly respects intellectual property rights and it is our policy that the author retains copyright, and articles are made available under a Creative Commons licence. The Creative Commons Non-Commercial Attribution No-Derivatives licence is our default licence, further details available at https://creativecommons.org/licenses/by-nc-nd/4.0 If this is not acceptable to you, please contact us.
The non-exclusive permission you grant to us includes the rights to disseminate the bibliographic details of the article, including the abstract supplied by you, and to authorise others, including bibliographic databases, indexing and contents alerting services, to copy and communicate these details.
For information on how to share and store your own article at each stage of production from submission to final publication, please read our Self-Archiving and Sharing policy.
The Copyright Notice showing the author and co-authors, and the Creative Commons license will be displayed on the article, and you must agree to this as part of the submission process. Please ensure that all co-authors are properly attributed and that they understand and accept these terms.