Liderazgo político en tiempos de pandemia en el Estado español y en Euskadi
(Political leadership in times of pandemic in the Spanish State and Euskadi)
Keywords:
COVID-19, liderazgo político, gobernanza, Euskadi, España, political leadership, governance, Spain, Basque Country
Abstract
Este artículo analiza el liderazgo político del presidente del Estado español, Pedro Sánchez, en la gestión de la Covid-19 durante los quince meses siguientes a la primera declaración del estado de alarma, a la vez que el contrapeso ejercido desde el Partido Nacionalista Vasco (PNV) para incorporar a las Comunidades Autónomas en la gestión de la pandemia. Con una metodología descriptiva, se analiza y sistematiza la información obtenida en distintas fuentes documentales y se estudian las técnicas jurídicas empleadas por el Gobierno Central. Se identifican cuatro modelos de gestión de la pandemia vinculados a sendas fases, moldeados, en parte, por la acción del PNV. Los patrones de liderazgo identificados muestran que, si bien la pandemia posibilitó a Sánchez demostrar su capacidad de liderazgo, esta última se diluye cuando decide en la cuarta fase judicializar las decisiones políticas sobre la pandemia, evidenciando un fracaso de la política. Este giro supone desaprovechar la oportunidad para acometer cambios profundos y avanzar hacia la cogobernanza.  
This article analyzes the political leadership of the President of the Spanish State Pedro Sánchez in the management of COVID-19 during the fifteen months following the first declaration of the state of alarm and the counterweight exercised by the Basque Nationalist Party (PNV) to incorporate the Autonomous Communities in such management. The systematization and analysis of the information obtained from different documentary sources, as well as the legal techniques used by the central government, allows us to identify four leadership patterns that correspond to their respective pandemic management models, shaped, in part, by the action of the PNV. The identified leadership patterns show that, although the pandemic made it possible for Sánchez to demonstrate his leadership capacity, the latter is diluted when he decides in the fourth phase to judicialize political decisions on the pandemic, which means questioning the role of leadership politicians to deal with crises.
Available from: https://doi.org/10.35295/osls.iisl/0000-0000-0000-1337
Metrics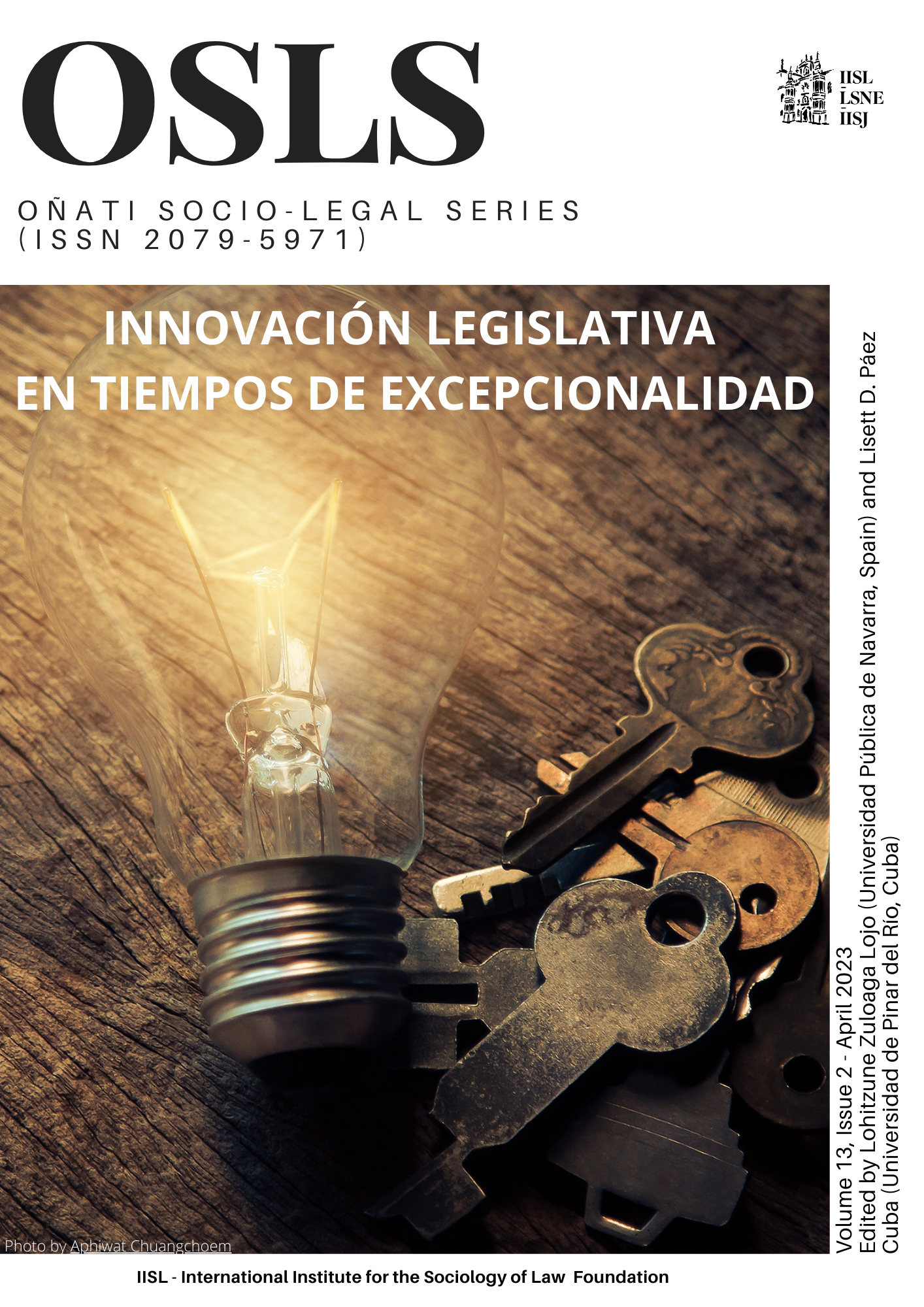 Downloads
Published
06-02-2023 — Updated on 01-04-2023
How to Cite
Aleman, E. (2023) "Liderazgo político en tiempos de pandemia en el Estado español y en Euskadi: (Political leadership in times of pandemic in the Spanish State and Euskadi)", Oñati Socio-Legal Series, 13(2), pp. 218–252. doi: 10.35295/osls.iisl/0000-0000-0000-1337.
Section
1ª parte - Contexto local vasco-navarro
License
Copyright (c) 2023 Eliana Aleman
This work is licensed under a Creative Commons Attribution-NonCommercial-NoDerivatives 4.0 International License.
OSLS strictly respects intellectual property rights and it is our policy that the author retains copyright, and articles are made available under a Creative Commons licence. The Creative Commons Non-Commercial Attribution No-Derivatives licence is our default licence, further details available at https://creativecommons.org/licenses/by-nc-nd/4.0 If this is not acceptable to you, please contact us.
The non-exclusive permission you grant to us includes the rights to disseminate the bibliographic details of the article, including the abstract supplied by you, and to authorise others, including bibliographic databases, indexing and contents alerting services, to copy and communicate these details.
For information on how to share and store your own article at each stage of production from submission to final publication, please read our Self-Archiving and Sharing policy.
The Copyright Notice showing the author and co-authors, and the Creative Commons license will be displayed on the article, and you must agree to this as part of the submission process. Please ensure that all co-authors are properly attributed and that they understand and accept these terms.