Impunity as a sanctuary
Keywords:
impunity, sanctuary, state crime, legal system, impunidad, santuario, crimen de Estado, sistema jurídico
Abstract
Impunity as a sanctuary refers to a situation wherein structures are constituted to prevent the legal system from reacting to criminal conduct. Focusing on the state criminality, this study examines the concept of impunity as a form of interference with the legal process. It also analyzes the continuities between the structures of power prompting criminal conduct and the lack of legal sanction. In this sense, the metaphor "sanctuary" shifts the main understanding of impunity as a problem that is exclusive to the internal operation of the criminal system to a wider constraint that supposes studying possible asymmetries of power from the legal system vis-à-vis other powerful actors. With this purpose, this paper considers a number of cases shedding light to structures of denial and obfuscation that allow to understand the particularities of understanding impunity as a sanctuary. 
La idea de la impunidad como santuario da cuenta de una forma específica de ausencia de rendición de cuentas cuando diferentes estructuras impiden que el sistema jurídico dé respuesta a conductas criminales. A la luz del estudio de la criminalidad de Estado este artículo explora el concepto de impunidad como una forma de interferencia del procesamiento judicial de las conductas violatorias. Refiere así a la comprensión de la continuidad entre las estructuras de poder que promueven las conductas criminales y su impunidad. En este sentido, la metáfora del "santuario" propone un viraje de la comprensión de la impunidad como un problema centrado en la operación interna del sistema penal a los elementos de influencia externa al sistema que supone el análisis de condicionantes mayores al funcionamiento del sistema de responsabilidad relacionados con posibles asimetrías de poder de diferentes actores capaces de influir en el funcionamiento de la rendición de cuentas. Con este propósito nuestro estudio aporta el análisis de algunos casos que permiten dar cuenta de las estructuras de negación y ocultamiento que involucra la comprensión de las particularidades de la impunidad como una forma de santuario.
Available from: https://doi.org/10.35295/osls.iisl/0000-0000-0000-1316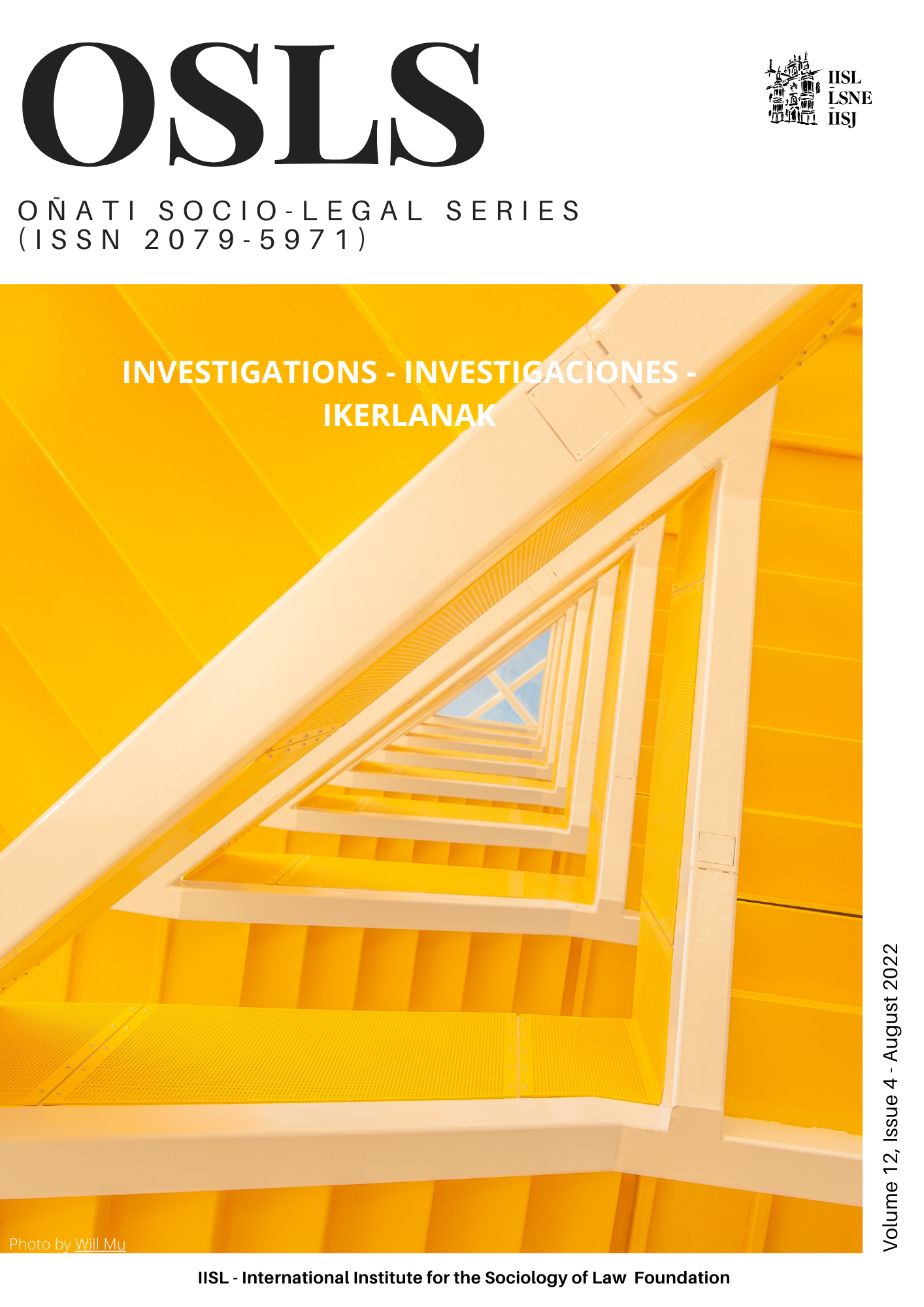 Downloads
How to Cite
Umaña Hernández, C. E. (2022) "Impunity as a sanctuary", Oñati Socio-Legal Series, 12(4), pp. 981–1000. Available at: https://opo.iisj.net/index.php/osls/article/view/1528 (Accessed: 19 August 2022).
Section
Individual Articles
License
Copyright (c) 2022 Camilo Eduardo Umaña Hernández
This work is licensed under a Creative Commons Attribution-NonCommercial-NoDerivatives 4.0 International License.
OSLS strictly respects intellectual property rights and it is our policy that the author retains copyright, and articles are made available under a Creative Commons licence. The Creative Commons Non-Commercial Attribution No-Derivatives licence is our default licence, further details available at https://creativecommons.org/licenses/by-nc-nd/4.0 If this is not acceptable to you, please contact us.
The non-exclusive permission you grant to us includes the rights to disseminate the bibliographic details of the article, including the abstract supplied by you, and to authorise others, including bibliographic databases, indexing and contents alerting services, to copy and communicate these details.
For information on how to share and store your own article at each stage of production from submission to final publication, please read our Self-Archiving and Sharing policy.
The Copyright Notice showing the author and co-authors, and the Creative Commons license will be displayed on the article, and you must agree to this as part of the submission process. Please ensure that all co-authors are properly attributed and that they understand and accept these terms.