La excepción como norma en Colombia: la atención al género tras el Acuerdo de Paz con las FARC-EP
(The exception as norm in Colombia. Attention to gender after the Peace Agreement with the FARC-EP)
Keywords:
Género, paz, seguridad, justicia transicional, Colombia, gender, peace, security, transitional justice
Abstract
El Acuerdo de Paz con las FARC-EP ha sido pionero en la incorporación de la agenda de Mujeres, Paz y Seguridad en los procesos de postconflicto. La creación de la Subcomisión de género, conformada por la sociedad civil organizada, se instituyó como una medida innovadora que impulsó la incorporación transversal del enfoque de género en el Acuerdo Final de Paz (2016). Estas disposiciones han supuesto un avance en la incorporación de una justicia transicional equitativa en el país; que promueve la reparación del impacto diferencial de la violencia en las mujeres y la población LGTBI+. Por estos motivos, el presente artículo tiene como objetivo abordar, desde una perspectiva de género, la innovación de las medidas legislativas desarrolladas en Colombia, en el contexto de excepcionalidad que caracteriza estos acuerdos, con el fin de ofrecer un análisis de la situación que pueda ofrecer lecciones para otros procesos de justicia transicional.
The Peace Agreement with the FARC-EP has been a pioneer in the incorporation of the Women, Peace and Security agenda in post-conflict processes. The creation of the Gender Sub-Commission, made up of organized civil society, was instituted as an innovative measure that promoted the mainstreaming of the gender approach in the Final Peace Agreement (2016). These provisions have meant an advance in the incorporation of an equitable transitional justice in the country; one that promotes the reparation of the differential impact of violence on women and the LGTBI+ population. For these reasons, this article aims to approach, from a gender perspective, the innovation of the legislative measures developed in Colombia, in the context of exceptionality that characterizes these agreements. The aim is to offer an analysis of the situation that can provide lessons for other transitional justice processes.
Available from: https://doi.org/10.35295/osls.iisl/0000-0000-0000-1342
Metrics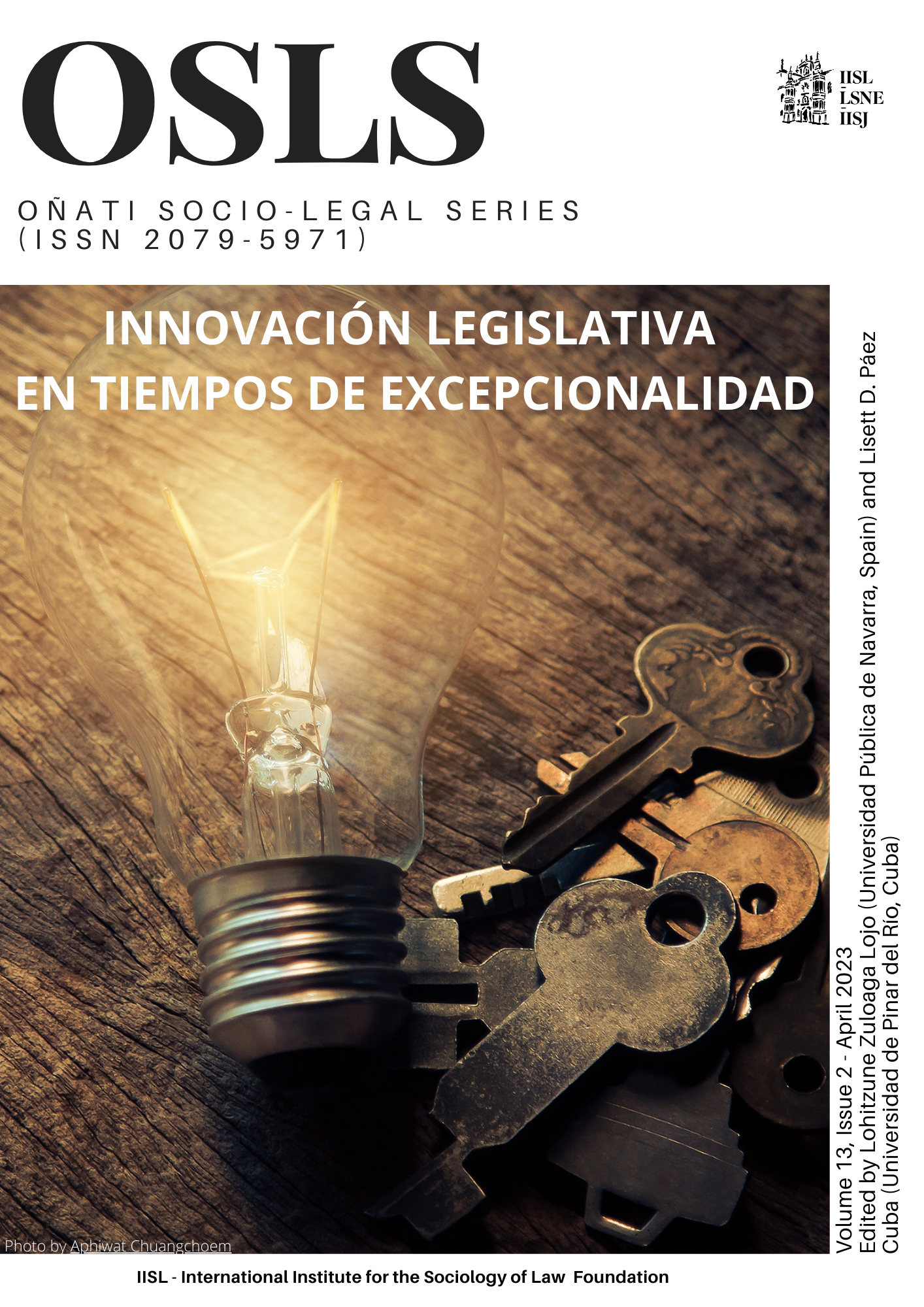 Published
09-12-2022 — Updated on 01-04-2023
How to Cite
Garrido Ortolá, A. (2023) "La excepción como norma en Colombia: la atención al género tras el Acuerdo de Paz con las FARC-EP : (The exception as norm in Colombia. Attention to gender after the Peace Agreement with the FARC-EP)", Oñati Socio-Legal Series, 13(2), pp. 406–435. doi: 10.35295/osls.iisl/0000-0000-0000-1342.
Section
2ª parte - Contexto latinoamericano
License
Copyright (c) 2022 Anabel Garrido Ortolá
This work is licensed under a Creative Commons Attribution-NonCommercial-NoDerivatives 4.0 International License.
OSLS strictly respects intellectual property rights and it is our policy that the author retains copyright, and articles are made available under a Creative Commons licence. The Creative Commons Non-Commercial Attribution No-Derivatives licence is our default licence, further details available at https://creativecommons.org/licenses/by-nc-nd/4.0 If this is not acceptable to you, please contact us.
The non-exclusive permission you grant to us includes the rights to disseminate the bibliographic details of the article, including the abstract supplied by you, and to authorise others, including bibliographic databases, indexing and contents alerting services, to copy and communicate these details.
For information on how to share and store your own article at each stage of production from submission to final publication, please read our Self-Archiving and Sharing policy.
The Copyright Notice showing the author and co-authors, and the Creative Commons license will be displayed on the article, and you must agree to this as part of the submission process. Please ensure that all co-authors are properly attributed and that they understand and accept these terms.