Introducción: Una nueva generación de estudios socio-jurídicos en Chile
(Introduction: A New Generation of Socio-Legal Studies in Chile)
Keywords:
Chile, estudios socio-jurídicos, interdisciplina, socio-legal studies, interdisciplinary work
Abstract
El objetivo de este número especial es mostrar el trabajo que está realizando una nueva generación de personas dedicadas a los estudios de Derecho y Sociedad en Chile. Este grupo interdisciplinario se ha venido congregando desde mediados de la década del 2010s, tomando realidad formal el año 2018 con la formación del Grupo de Derecho y Sociedad de Chile. Considerando la historia de los estudios socio-legales en Chile, se muestran las continuidades y rupturas que ha experimentado este campo de investigación desde los inicios del siglo XX hasta el presente. En este número especial se presentan las innovadoras perspectivas metodológicas y teóricas desarrolladas en la última década, las que invitan a repensar al derecho en su constitutiva paradoja: como reproductor de la desigualdad estructural y como herramienta de transformación social.  
This special issue shows the scholarship developed by a new generation of people dedicated to Socio-Legal Studies in Chile. Our interdisciplinary group has been gathering since the mid-2010s and got formalized in 2018 as the Chilean Law and Society Group. The history of socio-legal studies in Chile shows continuities and ruptures from the beginning of the 20th century to the present. In this special issue, each article offers innovative methodological and theoretical perspectives developed in the last decade in the Socio-Legal field in Chile. At its core, this special issue rethinks law as both a reproducer of structural inequality and as a tool for social transformation.
Available from: https://doi.org/10.35295/osls.iisl/0000-0000-0000-1278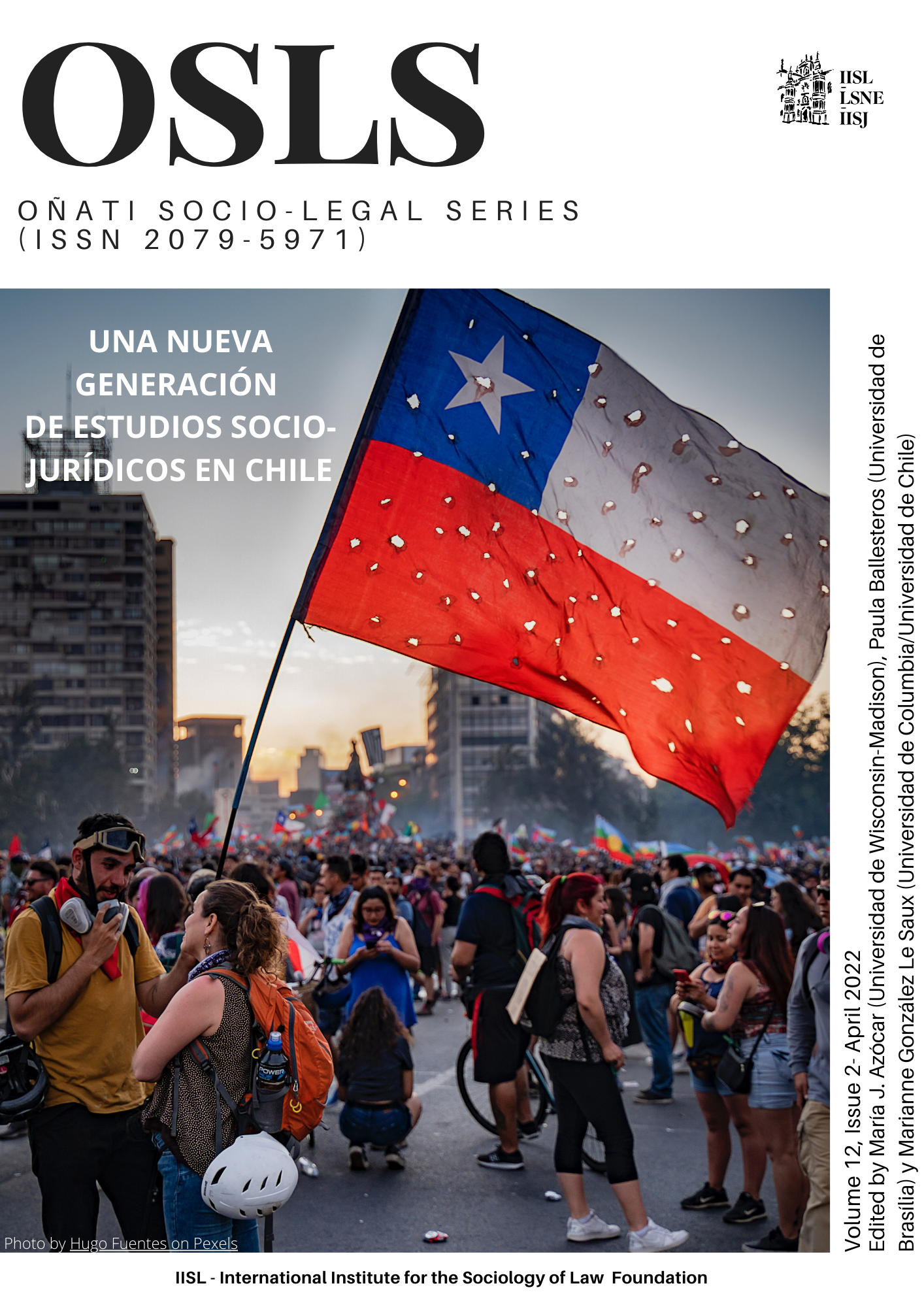 Downloads
How to Cite
Azócar, M. J., Ballesteros, P. and González Le Saux, M. (2022) "Introducción: Una nueva generación de estudios socio-jurídicos en Chile: (Introduction: A New Generation of Socio-Legal Studies in Chile)", Oñati Socio-Legal Series, 12(2), pp. 231–237. Available at: https://opo.iisj.net/index.php/osls/article/view/1519 (Accessed: 2 July 2022).
License
Copyright (c) 2022 María José Azócar, Paula Ballesteros, Marianne González-Le Saux
This work is licensed under a Creative Commons Attribution-NonCommercial-NoDerivatives 4.0 International License.
OSLS strictly respects intellectual property rights and it is our policy that the author retains copyright, and articles are made available under a Creative Commons licence. The Creative Commons Non-Commercial Attribution No-Derivatives licence is our default licence, further details available at https://creativecommons.org/licenses/by-nc-nd/4.0 If this is not acceptable to you, please contact us.
The non-exclusive permission you grant to us includes the rights to disseminate the bibliographic details of the article, including the abstract supplied by you, and to authorise others, including bibliographic databases, indexing and contents alerting services, to copy and communicate these details.
For information on how to share and store your own article at each stage of production from submission to final publication, please read our Self-Archiving and Sharing policy.
The Copyright Notice showing the author and co-authors, and the Creative Commons license will be displayed on the article, and you must agree to this as part of the submission process. Please ensure that all co-authors are properly attributed and that they understand and accept these terms.