The enigma of caste atrocities: Do scheduled castes and scheduled tribes face excessive violence in India?
Keywords:
atrocity, caste violence, concept creep, the atrocity approach, dalit, atrocidad, violencia de casta, fluencia del concepto, enfoque de atrocidad
Abstract
The dominant narrative on caste today asserts that the people belonging to the Scheduled Castes or "Dalits" and Scheduled Tribes or "Tribals" face pervasive and disproportionately more violence. The situation is considered further accentuated by the alleged "caste bias" against these communities in the police and the judiciary. The stringent legal provisions passed by the Indian Parliament, specifically to address crimes against these communities, have been presented as ineffectual or insufficient in curbing this violence. The official crime statistics are often cited as supporting these claims. However, a closer look at this data on crimes against SCs and STs, including the rates of crimes, court convictions and pendency, shows that these popular claims are not based on the evidence that the data provides. Further, a scrutiny of the claims itself reveals serious conceptual problems, fallacies, and errors. This article, while analyzing the currently available data on crimes against SCs and STs, also traces the source of the problems that have marred their understanding and interpretation. We specifically look at the evolution of the word 'atrocity' in the context of caste, how the term acquired a strange definition, how it came to mediate the understanding of caste violence and the collection of crime statistics, and how its usage is incredibly loaded to prove the point that there is excessive violence against SCs and STs.
La narrativa dominante sobre las castas hoy en día afirma que las personas pertenecientes a las castas registradas o "dalits" y a las tribus registradas o "tribales" se enfrentan a una violencia generalizada y desproporcionadamente mayor. La situación se considera aún más acentuada por el supuesto "sesgo de casta" contra estas comunidades en la policía y el poder judicial. Las estrictas disposiciones legales aprobadas por el Parlamento indio, específicamente para abordar los delitos contra estas comunidades, se han presentado como ineficaces o insuficientes para frenar esta violencia. A menudo se citan las estadísticas oficiales sobre la delincuencia para respaldar estas afirmaciones. Sin embargo, un examen más detallado de estos datos sobre los delitos contra las castas y las tribus desfavorecidas, incluidos los índices de delitos, las condenas judiciales y los casos pendientes, muestra que estas afirmaciones populares no se basan en las pruebas que ofrecen los datos. Además, un examen de las propias afirmaciones revela graves problemas conceptuales, falacias y errores. Este artículo, al tiempo que analiza los datos actualmente disponibles sobre los delitos contra las castas y las tribus desfavorecidas, también rastrea el origen de los problemas que han empañado su comprensión e interpretación. En concreto, examinamos la evolución de la palabra "atrocidad" en el contexto de las castas, cómo el término adquirió una definición extraña, cómo llegó a mediar en la comprensión de la violencia de las castas y en la recopilación de estadísticas sobre delitos, y cómo su uso está increíblemente cargado para demostrar que existe una violencia excesiva contra las castas y las tribus desfavorecidas.
Available from: https://doi.org/10.35295/osls.iisl/0000-0000-0000-1332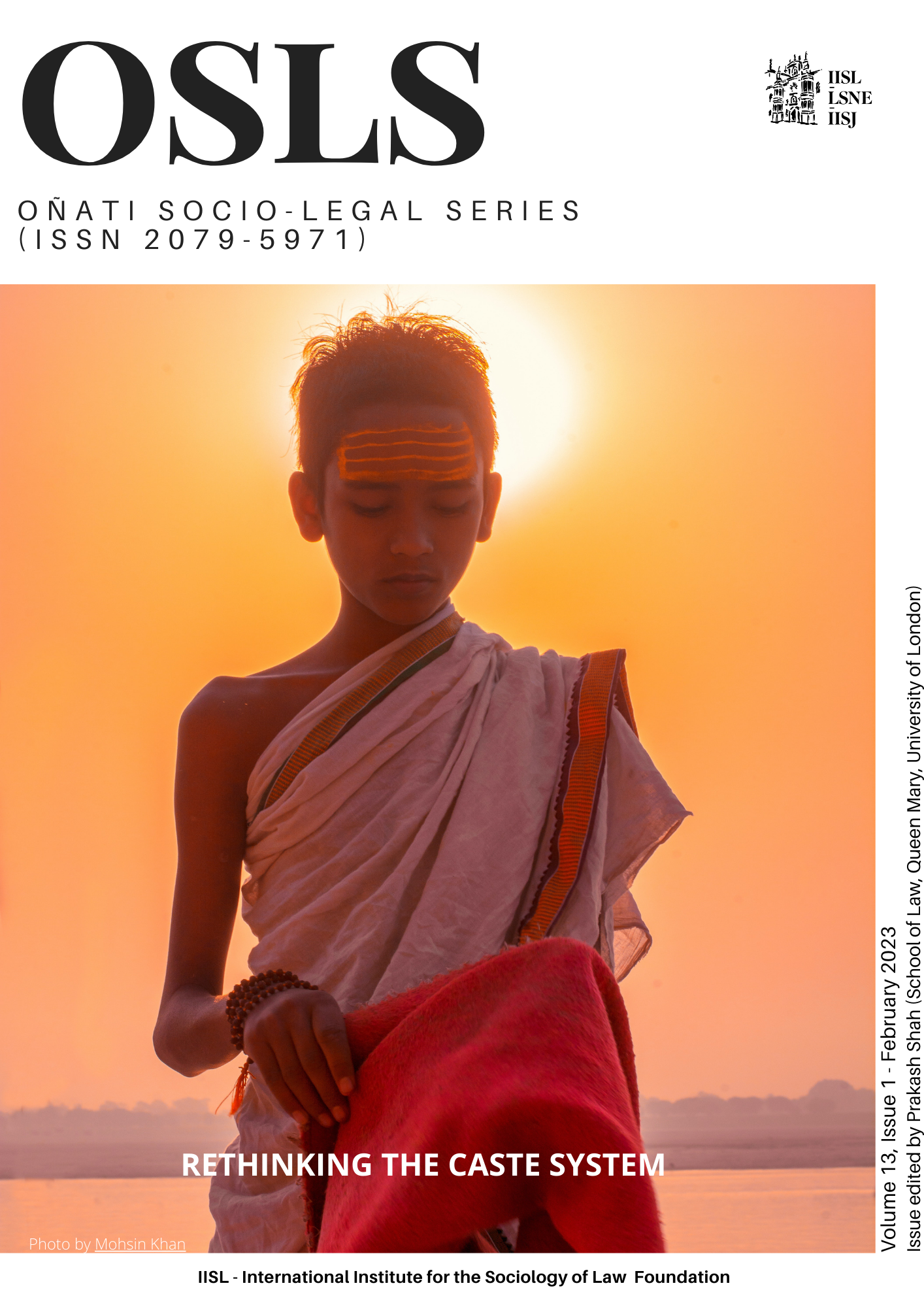 Downloads
Published
09-12-2022 — Updated on 01-02-2023
How to Cite
Sashittal, N. (2023) "The enigma of caste atrocities: Do scheduled castes and scheduled tribes face excessive violence in India?", Oñati Socio-Legal Series, 13(1), pp. 89–126. Available at: https://opo.iisj.net/index.php/osls/article/view/1484 (Accessed: 27 March 2023).
Section
Thematic Articles
License
Copyright (c) 2022 Nihar Sashittal
This work is licensed under a Creative Commons Attribution-NonCommercial-NoDerivatives 4.0 International License.
OSLS strictly respects intellectual property rights and it is our policy that the author retains copyright, and articles are made available under a Creative Commons licence. The Creative Commons Non-Commercial Attribution No-Derivatives licence is our default licence, further details available at https://creativecommons.org/licenses/by-nc-nd/4.0 If this is not acceptable to you, please contact us.
The non-exclusive permission you grant to us includes the rights to disseminate the bibliographic details of the article, including the abstract supplied by you, and to authorise others, including bibliographic databases, indexing and contents alerting services, to copy and communicate these details.
For information on how to share and store your own article at each stage of production from submission to final publication, please read our Self-Archiving and Sharing policy.
The Copyright Notice showing the author and co-authors, and the Creative Commons license will be displayed on the article, and you must agree to this as part of the submission process. Please ensure that all co-authors are properly attributed and that they understand and accept these terms.