Adecuaciones de la política educativa durante la emergencia sanitaria en México
(Adjustments of the educational policy during the health emergency in Mexico)
Keywords:
Pandemia COVID-19, sistema educativo, México, reforma educativa
Abstract
La declaración de pandemia mundial de la COVID-19 sorprendió a México a la víspera de numerosos cambios de política pública, entre ellos una reforma educativa cuyas leyes reglamentarias (una nueva Ley General de Educación, La Ley General del Sistema para la Carrera de las Maestras y los Maestros y la Ley para la Mejora Continua de la Educación) se aprobaron hacia el último trimestre de 2019. En el presente texto se sistematizan las medidas de contingencia adoptadas en la esfera educativa. Al respecto, en primer lugar, se valora su adecuación a ciertas recomendaciones internacionales, pero también a las condiciones concretas del contexto nacional. En segundo lugar, se resumen las principales evidencias existentes a la fecha sobre los efectos de la pandemia sobre diversos procesos educativos. Sobre esta base, se pondera cuánto ha afectado la circunstancia pandémica al desarrollo de algunos de los principales cambios previstos con la reforma educativa.
The announcement of a global pandemic of COVID-19 surprised Mexico on a context of numerous changes in public policy, including a recent educational reform with several new laws (a new General Law of Education, The General Law of the System for the Career of Teachers and the Teachers and the Law for the Continuous Improvement of Education) which were approved towards the last quarter of 2019). In this text, we analyze the contingency measures adopted in the educational sphere. First of all, we discuss if these interventions considered certain international recommendations, but also to the specific conditions of the national context. Second, the main existing evidence on the effects of the pandemic on various educational processes is summarized. On this basis, it is evaluated how much the pandemic circumstance has affected the development of some of the main changes defined by the educational reform.
Available from: https://doi.org/10.35295/osls.iisl/0000-0000-0000-1340
Metrics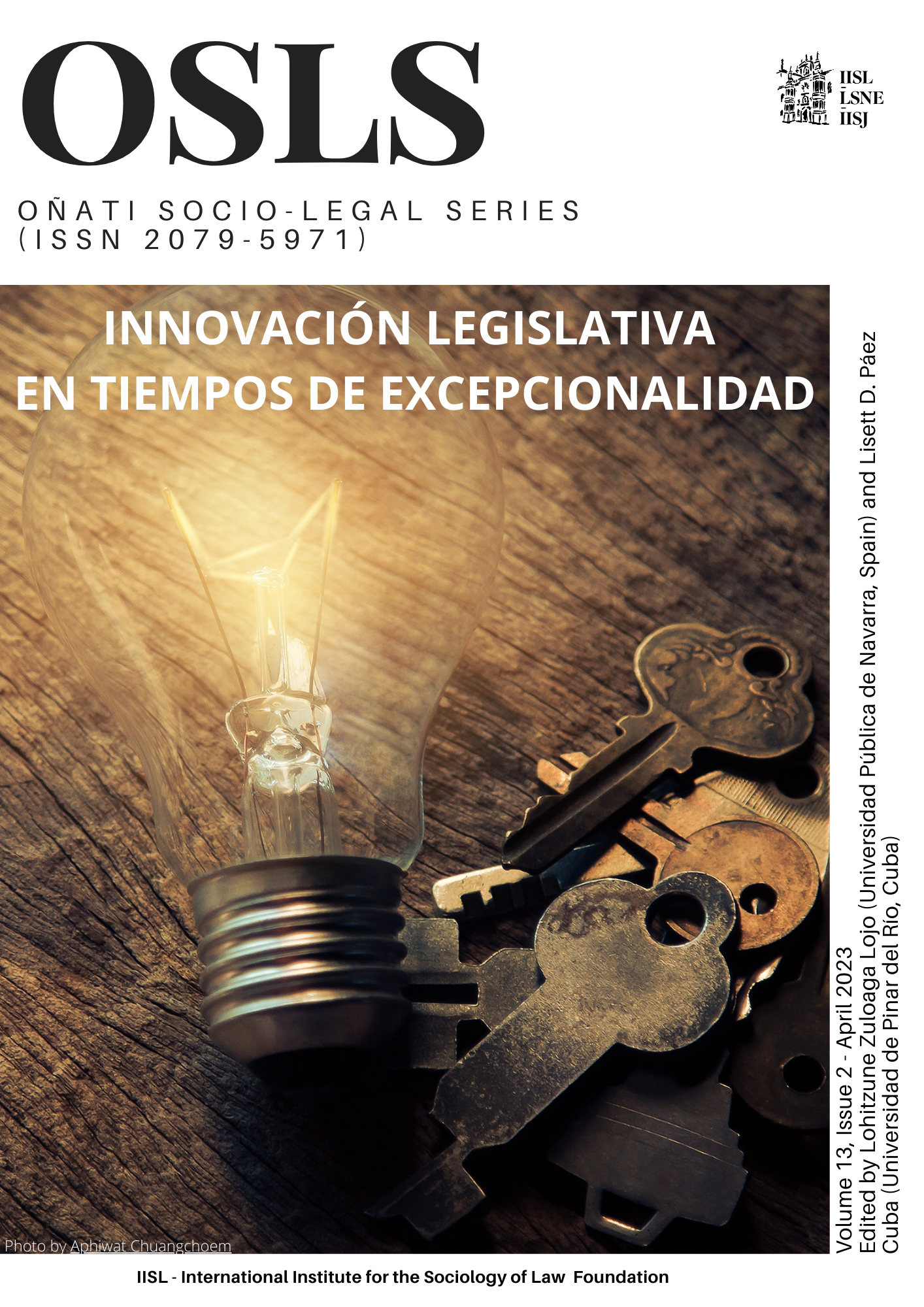 Published
06-02-2023 — Updated on 01-04-2023
How to Cite
García Chediak, R. (2023) "Adecuaciones de la política educativa durante la emergencia sanitaria en México: (Adjustments of the educational policy during the health emergency in Mexico)", Oñati Socio-Legal Series, 13(2), pp. 349–380. doi: 10.35295/osls.iisl/0000-0000-0000-1340.
Section
2ª parte - Contexto latinoamericano
License
Copyright (c) 2023 Rosa García Chediak
This work is licensed under a Creative Commons Attribution-NonCommercial-NoDerivatives 4.0 International License.
OSLS strictly respects intellectual property rights and it is our policy that the author retains copyright, and articles are made available under a Creative Commons licence. The Creative Commons Non-Commercial Attribution No-Derivatives licence is our default licence, further details available at https://creativecommons.org/licenses/by-nc-nd/4.0 If this is not acceptable to you, please contact us.
The non-exclusive permission you grant to us includes the rights to disseminate the bibliographic details of the article, including the abstract supplied by you, and to authorise others, including bibliographic databases, indexing and contents alerting services, to copy and communicate these details.
For information on how to share and store your own article at each stage of production from submission to final publication, please read our Self-Archiving and Sharing policy.
The Copyright Notice showing the author and co-authors, and the Creative Commons license will be displayed on the article, and you must agree to this as part of the submission process. Please ensure that all co-authors are properly attributed and that they understand and accept these terms.