Desinformación y derecho de autodeterminación: la población catalana en la diana
(Misinformation and right to self-determination: the Catalan population in the spotlight)
Keywords:
Desinformación, autodeterminación, Cataluña, misinformation, self-determination, Catalonia
Abstract
El verdadero significado y alcance de las leyes es desconocido para la mayoría de la población, como evidencian diversos estudios sobre cultura jurídica en el mundo. Por ello, cuando se difunde información falsa o inexacta sobre cuestiones legales, el impacto en la opinión pública puede ser enorme. Este estudio evidencia que esto ha sucedido, en el llamado conflicto catalán, con el derecho de autodeterminación. Así, mientras los expertos en derecho niegan que Cataluña pueda invocar el "derecho de libre determinación de los pueblos" para obtener su independencia, asociaciones civiles, medios de comunicación y, sobre todo, responsables políticos, aseguran lo contrario, o bien realizan afirmaciones inexactas que, queriendo negar este derecho, aumentan la confusión popular. Como resultado, el discurso polarizado actual en torno a la autodeterminación de Cataluña se construye, al menos en parte, sobre el conocimiento jurídico erróneo de tres cuartas partes de los ciudadanos.
The true meaning and scope of laws is unknown to most of the population, as evidenced by various studies on legal culture around the world. Therefore, whenever false or inaccurate information about legal issues is disseminated, the impact on public opinion can be enormous. This study shows that this has happened, in the so-called Catalan conflict, with respect to the right to self-determination. Thus, while legal experts deny that Catalonia is entitled to invoke the "right to self-determination of peoples" to obtain its independence, some civil associations, the media and, above all, political leaders, claim the opposite or make inaccurate statements which, in an attempt to deny this right, increase popular confusion. As a result, the current polarized discourse around the self-determination of Catalonia is built, at least in part, on the erroneous legal knowledge of three quarters of citizens.
Available from: https://doi.org/10.35295/osls.iisl/0000-0000-0000-1302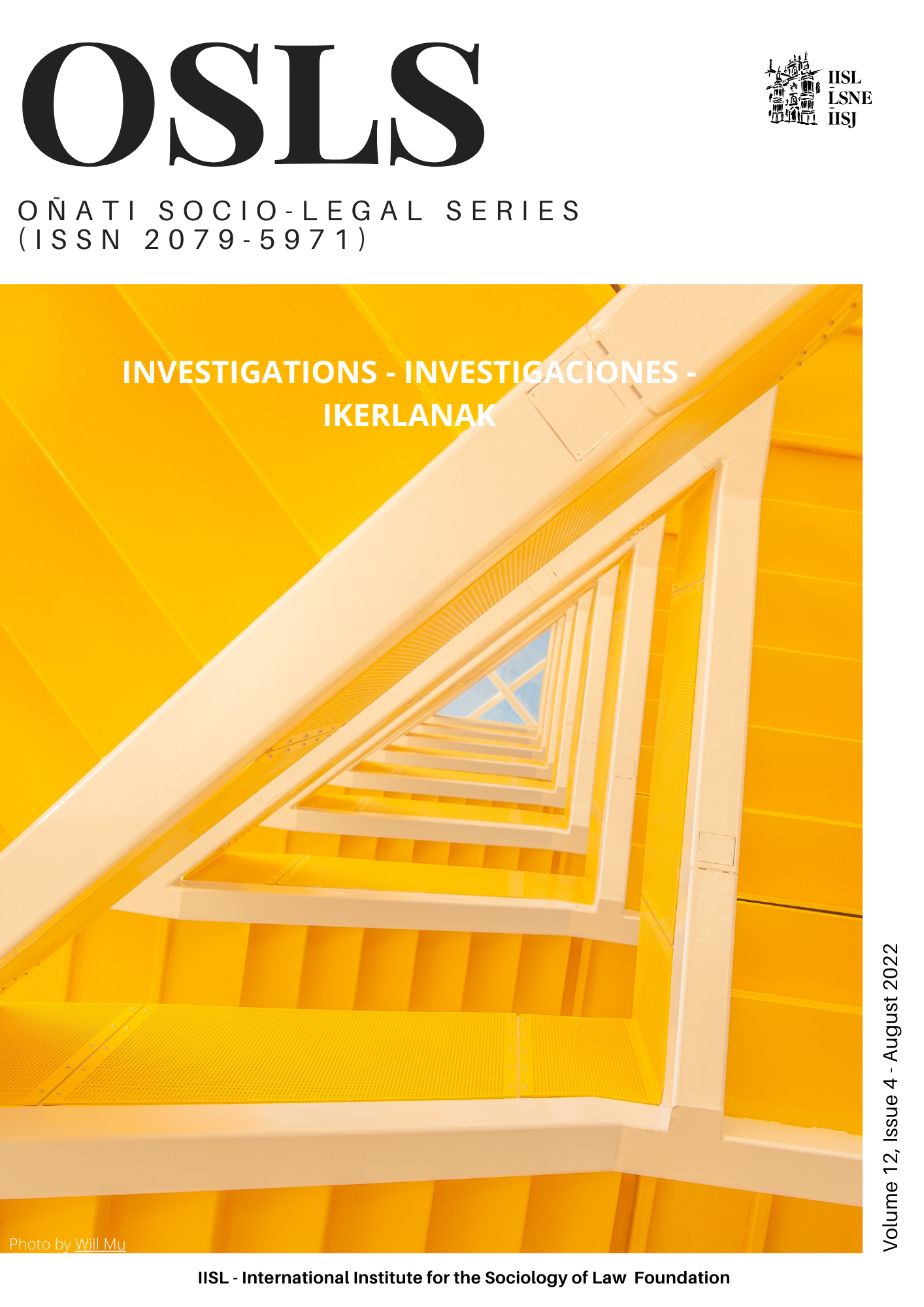 Published
30-03-2022 — Updated on 01-08-2022
How to Cite
Llorca-Asensi, E., Fabregat, M. E. and Ruiz-Callado, R. (2022) "Desinformación y derecho de autodeterminación: la población catalana en la diana: (Misinformation and right to self-determination: the Catalan population in the spotlight)", Oñati Socio-Legal Series, 12(4), pp. 873–907. Available at: https://opo.iisj.net/index.php/osls/article/view/1476 (Accessed: 19 August 2022).
Section
Individual Articles
License
Copyright (c) 2022 Elena Llorca-Asensi, María Elena Fabregat, Raúl Ruiz-Callado
This work is licensed under a Creative Commons Attribution-NonCommercial-NoDerivatives 4.0 International License.
OSLS strictly respects intellectual property rights and it is our policy that the author retains copyright, and articles are made available under a Creative Commons licence. The Creative Commons Non-Commercial Attribution No-Derivatives licence is our default licence, further details available at https://creativecommons.org/licenses/by-nc-nd/4.0 If this is not acceptable to you, please contact us.
The non-exclusive permission you grant to us includes the rights to disseminate the bibliographic details of the article, including the abstract supplied by you, and to authorise others, including bibliographic databases, indexing and contents alerting services, to copy and communicate these details.
For information on how to share and store your own article at each stage of production from submission to final publication, please read our Self-Archiving and Sharing policy.
The Copyright Notice showing the author and co-authors, and the Creative Commons license will be displayed on the article, and you must agree to this as part of the submission process. Please ensure that all co-authors are properly attributed and that they understand and accept these terms.