Instrumentos excepcionales en contextos normalizados: el caso de la justicia postransicional en la Comunidad Autónoma Vasca
(Exceptional instruments in normalized contexts: The case of post-transitional justice in the Basque Autonomous Community)
Keywords:
justicia transicional, excepcionalidad, Comunidad Autónoma Vasca, España, transitional justice, exceptionality, Basque Autonomous Community, Spain
Abstract
La justicia transicional propone instrumentos excepcionales para gestionar periodos no ordinarios, como las transiciones hacia la democracia o las transiciones hacia la paz. Estos instrumentos, de los cuales las llamadas «Comisiones de la Verdad» las más conocidas, gozan de un éxito considerable a nivel mundial, pero tienen en la Comunidad Autónoma Vasca un eco específico que la sitúan en la encrucijada entre excepcionalidad y normalidad. Este articulo aborda la especificidad de este territorio, donde la complejidad de los procesos de transición hacia la democracia y hacia la paz contribuye a la construcción un panorama victimario inédito. Este contexto único da luz a la aplicación progresiva, pragmática y gradual de instrumentos excepcionales de justicia transicional, en un contexto normalizado de democracia arraigada, e implica a la vez una innovación legislativa y jurídica, adaptados a retos específicos.
Transitional justice proposes exceptional tools so as to deal with non-ordinary periods, such as transitions to democracy and transitions to peace. These instruments, among which Truth and Reconciliation Commissions are the best known, are booming, and have a specific echo in the Basque Autonomous Community, at the crossroads between exceptionality and normality. This article aims at underlining the specificity of this territory, where the complexity of the transitions to democracy and peace builds a unique panorama of victims. This contexts gives birth to a progressive and pragmatic aplication of the exceptional instruments of transitional justice in a normalized and democratized context, and implies legal innovations, adapted to specific challenges.
Available from: https://doi.org/10.35295/osls.iisl/0000-0000-0000-1274
Metrics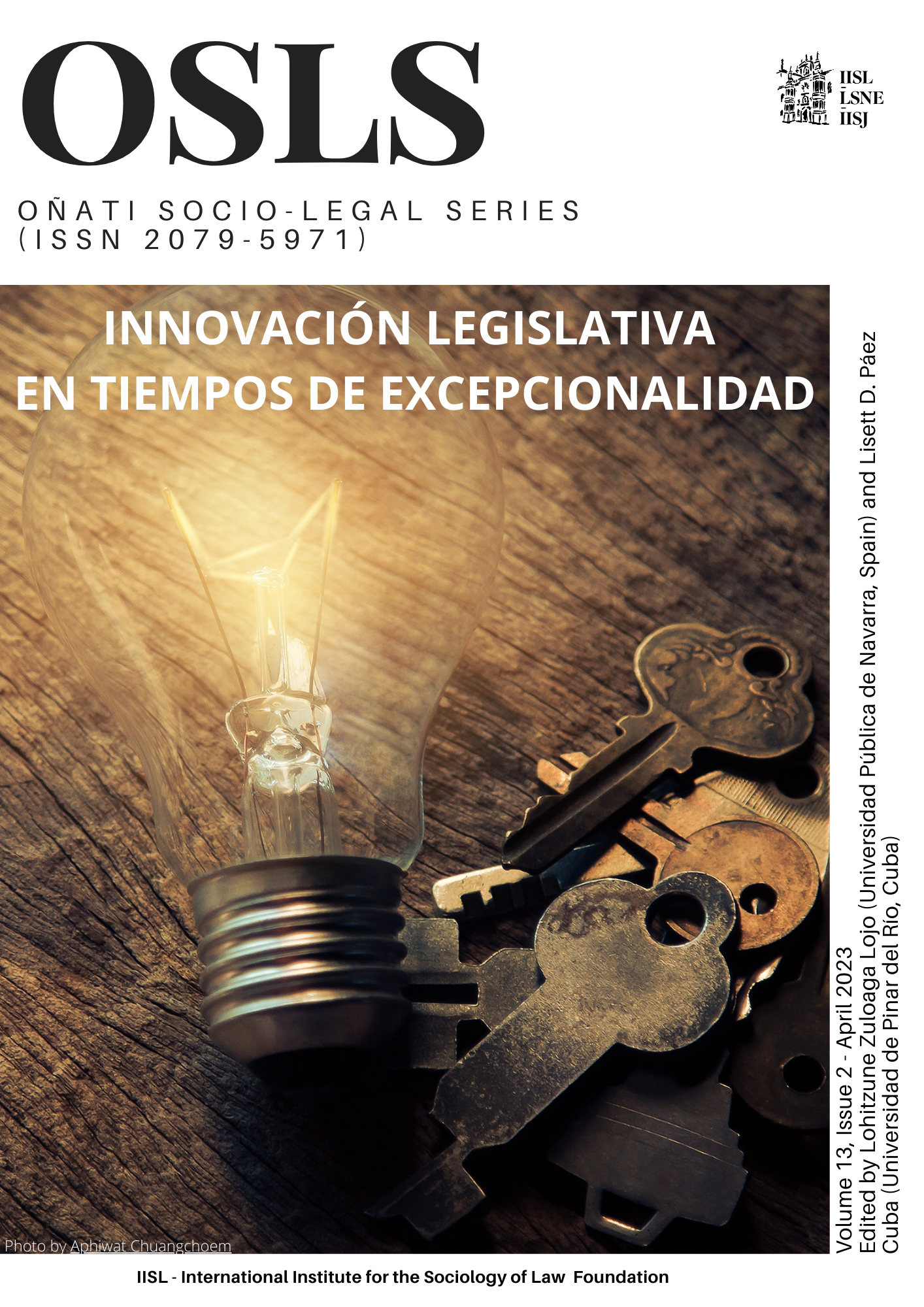 Downloads
Published
30-03-2022 — Updated on 01-04-2023
How to Cite
Maya, A. (2023) "Instrumentos excepcionales en contextos normalizados: el caso de la justicia postransicional en la Comunidad Autónoma Vasca: (Exceptional instruments in normalized contexts: The case of post-transitional justice in the Basque Autonomous Community)", Oñati Socio-Legal Series, 13(2), pp. 198–217. doi: 10.35295/osls.iisl/0000-0000-0000-1274.
Section
1ª parte - Contexto local vasco-navarro
License
Copyright (c) 2022 Antton Maya
This work is licensed under a Creative Commons Attribution-NonCommercial-NoDerivatives 4.0 International License.
OSLS strictly respects intellectual property rights and it is our policy that the author retains copyright, and articles are made available under a Creative Commons licence. The Creative Commons Non-Commercial Attribution No-Derivatives licence is our default licence, further details available at https://creativecommons.org/licenses/by-nc-nd/4.0 If this is not acceptable to you, please contact us.
The non-exclusive permission you grant to us includes the rights to disseminate the bibliographic details of the article, including the abstract supplied by you, and to authorise others, including bibliographic databases, indexing and contents alerting services, to copy and communicate these details.
For information on how to share and store your own article at each stage of production from submission to final publication, please read our Self-Archiving and Sharing policy.
The Copyright Notice showing the author and co-authors, and the Creative Commons license will be displayed on the article, and you must agree to this as part of the submission process. Please ensure that all co-authors are properly attributed and that they understand and accept these terms.