De la excepción a la regla: la excepcionalidad como forma de gobierno en Colombia (1961–2022)
(From the exception to the rule: Exceptionality as a way of governing Colombia, 1961–2022)
Keywords:
estados de excepción, estados de emergencia, emergencia sanitaria, hiperpresidencialismo, Colombia, COVID-19, state of exception, state of emergency, health emergency, hyperpresidentialism
Abstract
En Colombia, el estado de excepción es un mecanismo jurídico-político con el que el ejecutivo amplía sus facultades de manera transitoria bajo el pretexto de conjurar una grave confrontación al orden constitucional. Sin embargo, pese a su carácter excepcional, la realidad es que, dentro de la cultura jurídica y política nacional, el uso de esta figura es más bien normal. Es así como el presente artículo pretende valorar, a partir de una revisión histórica del periodo comprendido entre 1961 y 2022, la forma en que la excepcionalidad se ha vuelto recurrente, a través de los estados de excepción y otras figuras que permiten un margen de maniobra al poder ejecutivo extraordinario y fuera del radar de los controles constitucionales. En esa medida, el texto se ocupa de analizar cómo se ha aprovechado la noción de excepcionalidad como una forma propia de gobierno, prolongando de manera sutil los periodos de excepción para eludir los controles constitucionales que se les imponen. Para ello el artículo profundiza el ejemplo de lo que recientemente ha ocurrido con la emergencia sanitaria ocasionada por la COVID-19 en el país. Se emplean herramientas de análisis histórico, del contexto y de la comparación.
In Colombia, the state of exception is a legal and political mechanism in which the head of the executive branch extends its powers temporarily under the pretext of averting a serious confrontation to the constitutional order. However, despite its exceptional nature, the reality is that within the national legal and political culture, the use of this figure is rather normal. Thus, this article aims to assess the way in which exceptionality has become recurrent, through states of exception and other figures that allow a margin of maneuver to the extraordinary executive power and outside the radar of constitutional controls. Likewise, the text examines how the governments have taken advantage of the notion of exceptionality as a form of government, subtly prolonging the periods of exception to circumvent the constitutional controls imposed on them. To this end, the article focuses in particular on what has recently happened with the health emergency caused by COVID-19 in the country. For this purpose, historical, contextual and comparative analysis tools were used.
Available from: https://doi.org/10.35295/osls.iisl/0000-0000-0000-1343
Metrics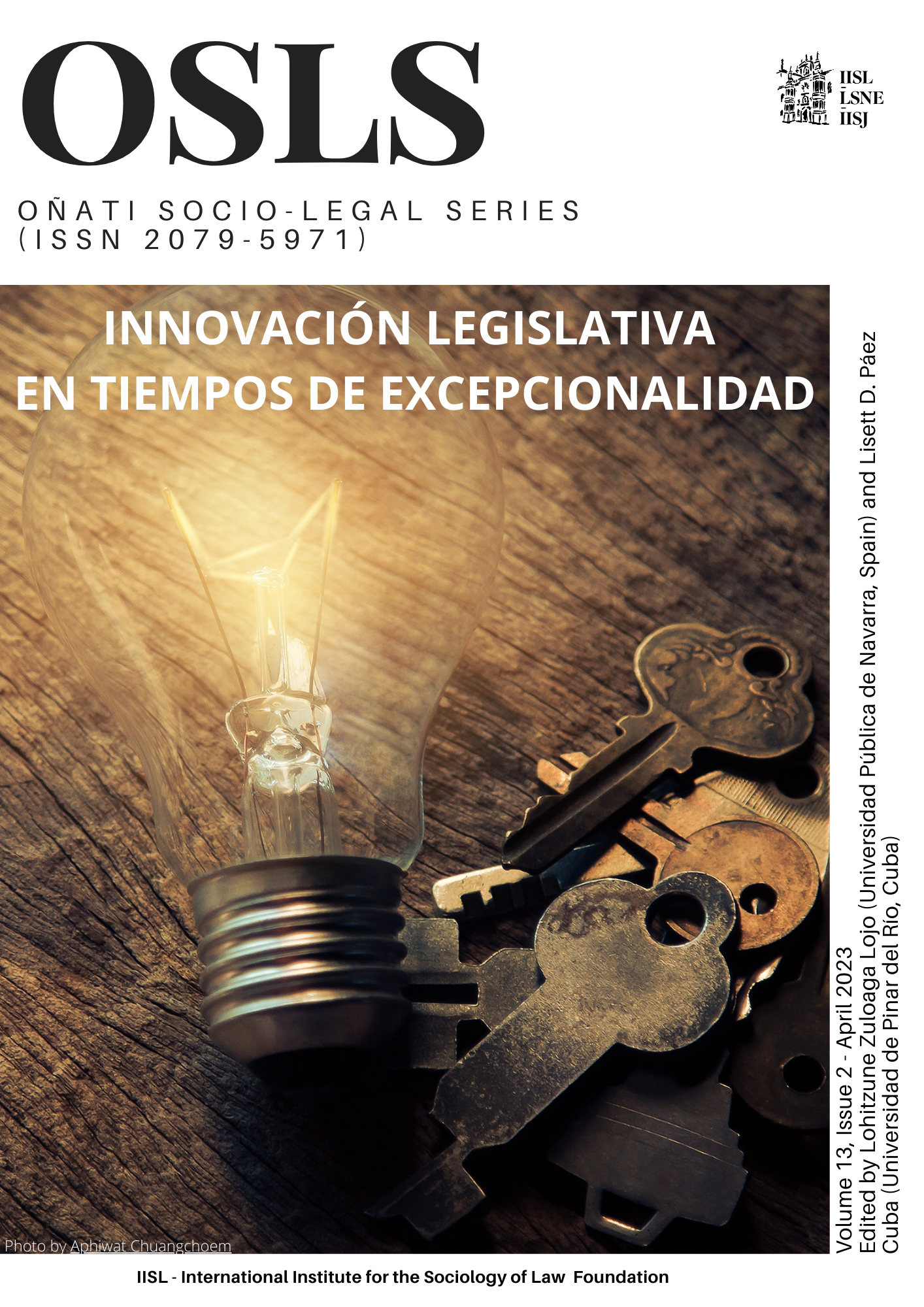 Published
06-02-2023 — Updated on 01-04-2023
How to Cite
Umaña Hernández, C. E. and Rivas-Ramírez, D. (2023) "De la excepción a la regla: la excepcionalidad como forma de gobierno en Colombia (1961–2022): (From the exception to the rule: Exceptionality as a way of governing Colombia, 1961–2022)", Oñati Socio-Legal Series, 13(2), pp. 309–348. doi: 10.35295/osls.iisl/0000-0000-0000-1343.
Section
2ª parte - Contexto latinoamericano
License
Copyright (c) 2023 Camilo Eduardo Umaña Hernández, Daniel Rivas-Ramírez
This work is licensed under a Creative Commons Attribution-NonCommercial-NoDerivatives 4.0 International License.
OSLS strictly respects intellectual property rights and it is our policy that the author retains copyright, and articles are made available under a Creative Commons licence. The Creative Commons Non-Commercial Attribution No-Derivatives licence is our default licence, further details available at https://creativecommons.org/licenses/by-nc-nd/4.0 If this is not acceptable to you, please contact us.
The non-exclusive permission you grant to us includes the rights to disseminate the bibliographic details of the article, including the abstract supplied by you, and to authorise others, including bibliographic databases, indexing and contents alerting services, to copy and communicate these details.
For information on how to share and store your own article at each stage of production from submission to final publication, please read our Self-Archiving and Sharing policy.
The Copyright Notice showing the author and co-authors, and the Creative Commons license will be displayed on the article, and you must agree to this as part of the submission process. Please ensure that all co-authors are properly attributed and that they understand and accept these terms.