La situación excepcional de las víctimas de trata con fines de explotación sexual durante el estado de alarma en el Estado español: especial atención en la Comunidad Autónoma del País Vasco (CAPV)
(The exceptional situation of victims of trafficking for the purpose of sexual exploitation during the state of alarm in the Spanish State: special attention to the Autonomous Community of the Basque Country)
Keywords:
trata con fines de explotación sexual, víctimas, situación excepcional, pandemia, COVID-19, trafficking for sexual exploitation, victims, exceptional situation, pandemic
Abstract
La legislación y los instrumentos (planes, guías y protocolos) implementados en materia de trata de personas, a nivel global y local, tenían antes de la pandemia el objetivo de garantizar los derechos de las víctimas con el fin de asistirlas y protegerlas en su situación de especial vulnerabilidad. Sin embargo, la crisis sanitaria provocada por la COVID-19 y la declaración del Estado de alarma en España han generado un empeoramiento de su situación personal y, en consecuencia, se han adoptado otras normas y medidas sociales para proteger y paliar los perjuicios sufridos en esta situación excepcional. Por ello, el presente artículo analiza, desde una perspectiva de género, los efectos que han tenido tanto las reformas legales como las medidas asistenciales adoptadas por el Ministerio de Igualdad y las organizaciones sociales para mujeres víctimas de trata con fines de explotación sexual durante la pandemia de la COVID-19, haciendo mención especial al contexto vasco.
Before the pandemic, the legislation and instruments (plans, guidelines and protocols) implemented in the field of human trafficking, at global and local level, had the objective of guaranteeing the rights of the victims in order to assist and protect them in their situation of special vulnerability. However, the health crisis caused by COVID-19 and the declaration of the State of Alarm in Spain have generated a worsening of their personal situation and, consequently, other social norms and measures have been adopted to protect and palliate the damages suffered in this exceptional situation. For this reason, this article analyzes, from a gender perspective, the effects of both the legal reforms and the assistance measures adopted by the Ministry of Equality and social organizations for women victims of trafficking for sexual exploitation during the COVID-19 pandemic, making special mention of the Basque context.
Available from: https://doi.org/10.35295/osls.iisl/0000-0000-0000-1339
Metrics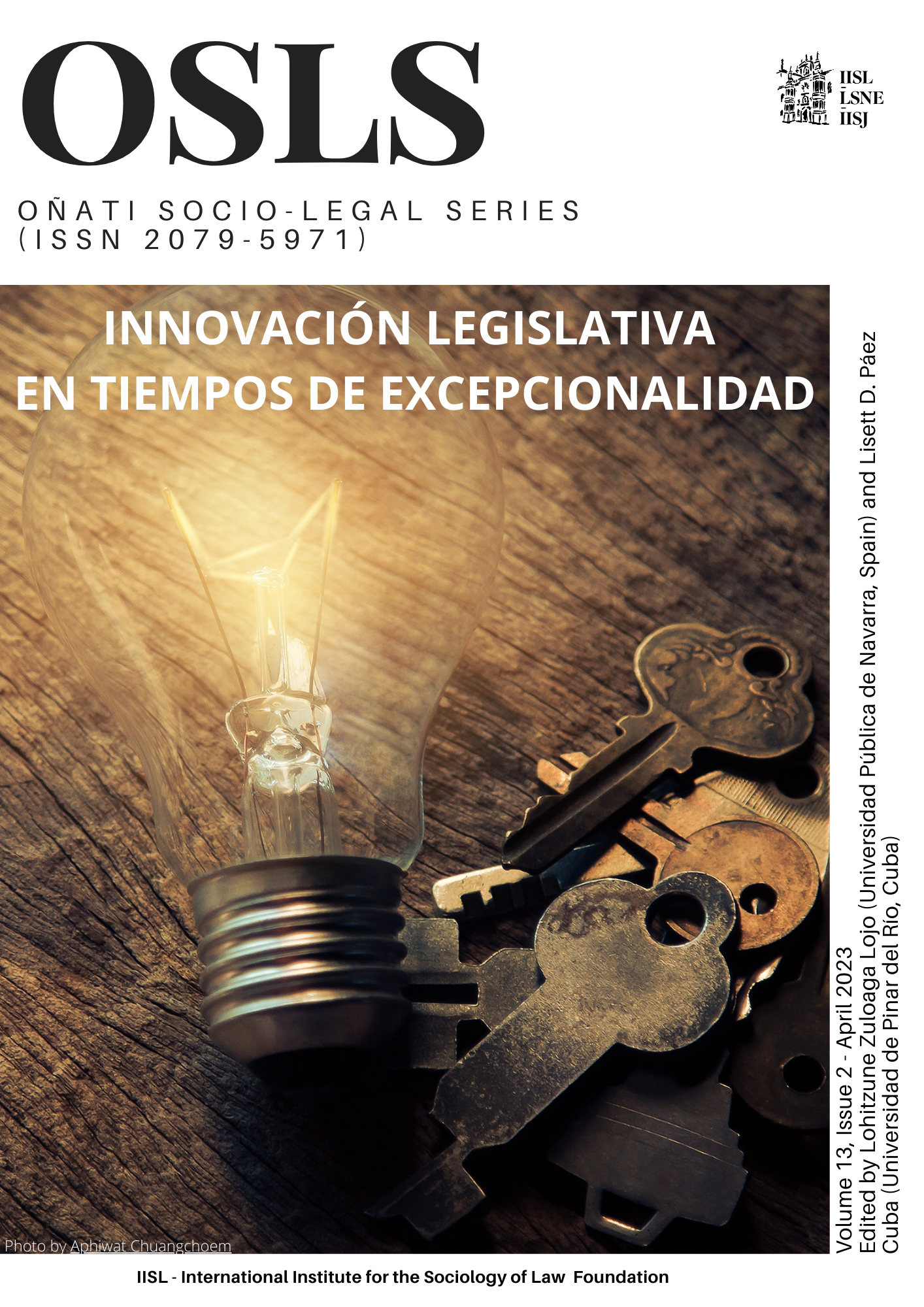 Downloads
Published
09-12-2022 — Updated on 01-04-2023
How to Cite
Orbegozo, I. (2023) "La situación excepcional de las víctimas de trata con fines de explotación sexual durante el estado de alarma en el Estado español: especial atención en la Comunidad Autónoma del País Vasco (CAPV): (The exceptional situation of victims of trafficking for the purpose of sexual exploitation during the state of alarm in the Spanish State: special attention to the Autonomous Community of the Basque Country)", Oñati Socio-Legal Series, 13(2), pp. 277–308. doi: 10.35295/osls.iisl/0000-0000-0000-1339.
Section
1ª parte - Contexto local vasco-navarro
License
Copyright (c) 2022 Izaskun Orbegozo
This work is licensed under a Creative Commons Attribution-NonCommercial-NoDerivatives 4.0 International License.
OSLS strictly respects intellectual property rights and it is our policy that the author retains copyright, and articles are made available under a Creative Commons licence. The Creative Commons Non-Commercial Attribution No-Derivatives licence is our default licence, further details available at https://creativecommons.org/licenses/by-nc-nd/4.0 If this is not acceptable to you, please contact us.
The non-exclusive permission you grant to us includes the rights to disseminate the bibliographic details of the article, including the abstract supplied by you, and to authorise others, including bibliographic databases, indexing and contents alerting services, to copy and communicate these details.
For information on how to share and store your own article at each stage of production from submission to final publication, please read our Self-Archiving and Sharing policy.
The Copyright Notice showing the author and co-authors, and the Creative Commons license will be displayed on the article, and you must agree to this as part of the submission process. Please ensure that all co-authors are properly attributed and that they understand and accept these terms.