Normalising death in the time of a pandemic
Keywords:
COVID-19, death, registration, normal, excess, muerte, registro, exceso
Abstract
This paper examines a tension in the time of a pandemic between governmental representations of death as an anomaly and techniques for normalising death as an inevitable outcome of life. It contends that the technology of registering a death during the COVID-19 pandemic is conditioned upon differentiating between the normal and the pathological, standards and variations, and average and excess. Indeed, death registration depends on the creation of a new universal nomenclature for ascertaining death causation, which excludes various circumstances of a person's life in order to stabilise SARS-CoV-2 as a normative category for classification. The paper thus reveals how during a pandemic, registration can been utilised to pathologise specific kinds of death, while unproblematically reifying the concept of a normal death. It argues that what the COVID-19 pandemic exposes, particularly though the productive tension between the rhetoric of death as both an anomaly and inevitable, is that normalising technologies are inextricable from how a panoply of institutions determine what deaths should be counted at all.
Este artículo examina la tensión que se produjo en el primer año de pandemia de la COVID-19 entre discursos sobre la muerte como anomalía y las técnicas para normalizar la muerte como resultado inevitable de la vida. Afirma que la tecnología de registro de muertes en el norte global en 2020 estaba condicionada por diferenciar entre lo normal y lo patológico, lo normal y la variación, y la media y el exceso. De hecho, el registro de un fallecimiento dependía de la creación de una nueva nomenclatura universal para comprobar la causa, lo cual excluía diversas circunstancias de la vida de una persona a fin de estabilizar el SARS-CoV-2 como una categoría normativa de clasificación. Por tanto, el artículo revela como, en época de pandemia, la tecnología de registro se puede usar para patologizar determinados tipos de muertes. Se argumenta que la fase inicial de la COVID-19 deja al descubierto, sobre todo a través de la tensión productiva entre discursos de la muerte como anomalía e inevitabilidad, que las tecnologías normalizadoras son inextricables de la forma en que un entramado de instituciones deciden qué muertes se deben contabilizar.
Available from: https://doi.org/10.35295/osls.iisl/0000-0000-0000-1232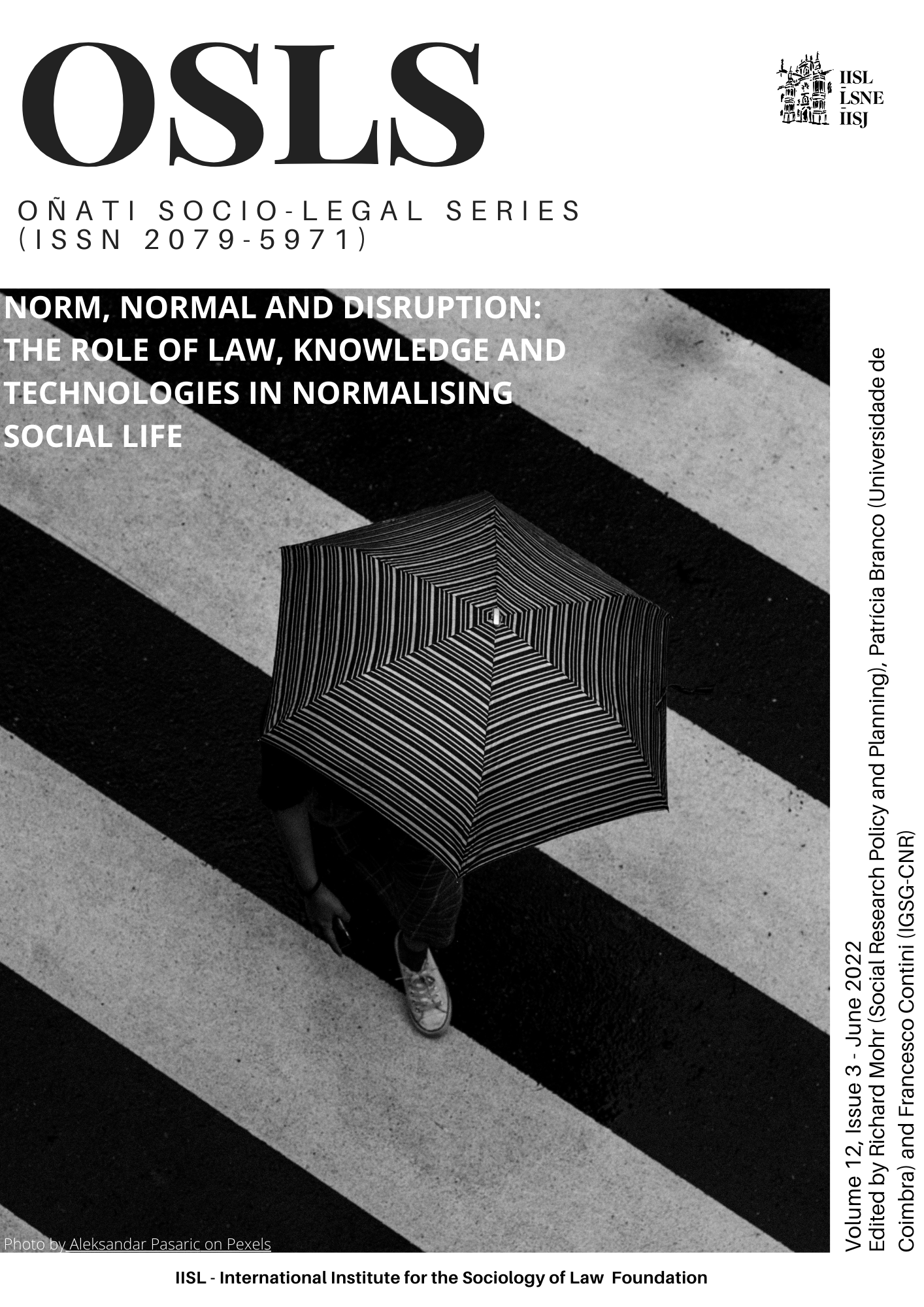 Downloads
Published
30-11-2021 — Updated on 01-06-2022
How to Cite
Trabsky, M. (2022) "Normalising death in the time of a pandemic", Oñati Socio-Legal Series, 12(3), pp. 540–555. Available at: https://opo.iisj.net/index.php/osls/article/view/1367 (Accessed: 30 September 2023).
License
Copyright (c) 2021 Dr Marc Trabsky
This work is licensed under a Creative Commons Attribution-NonCommercial-NoDerivatives 4.0 International License.
OSLS strictly respects intellectual property rights and it is our policy that the author retains copyright, and articles are made available under a Creative Commons licence. The Creative Commons Non-Commercial Attribution No-Derivatives licence is our default licence, further details available at https://creativecommons.org/licenses/by-nc-nd/4.0 If this is not acceptable to you, please contact us.
The non-exclusive permission you grant to us includes the rights to disseminate the bibliographic details of the article, including the abstract supplied by you, and to authorise others, including bibliographic databases, indexing and contents alerting services, to copy and communicate these details.
For information on how to share and store your own article at each stage of production from submission to final publication, please read our Self-Archiving and Sharing policy.
The Copyright Notice showing the author and co-authors, and the Creative Commons license will be displayed on the article, and you must agree to this as part of the submission process. Please ensure that all co-authors are properly attributed and that they understand and accept these terms.