Cross-border dispute resolution in Europe: looking for a new "normal"
Keywords:
Cross-border dispute resolution, alternative dispute resolution, online alternative dispute resolution, e-Justice, e-CODEX, Platformisation, Crowd Justice, Canguilhem, click farms, Resolución de conflictos transfronterizos, resolución de conflictos alternativa, resolución de conflictos alternativa online, plataformización, justicia popular
Abstract
We live in an increasingly digitally mediated, platform-based environment characterised by remote working, schooling, shopping, and socialising, where national borders blur and geographical location importance decreases. One of the main effects of this transformation is the growing relevance of cross-border (actual and potential) disputes and, therefore, the need for adequate means to address and resolve them. Geographically bounded forms of dispute resolution based on national justice systems, courts, and independent judges have shown their limits to face the new challenge. Building on Canguilhem's work on the norm, normal and pathological concepts, the paper explores the European Union's attempt to provide adequate cross-border dispute resolution mechanisms through traditional justice means, showing achieved results and limits. The paper then explores the increasing role of dispute resolution mechanisms integrated into platforms, such as Amazon, eBay and Booking, that bring together service-and-goods providers and buyers/users. These platforms 1) act as third parties in the adjudication of controversies and 2) deploy crowd-based adjudication and enforcement instruments.
Vivimos en un entorno cada vez más mediatizado digitalmente y basado en plataformas, caracterizado por el trabajo, la escolarización, las compras y la socialización a distancia, donde las fronteras nacionales se difuminan y la importancia de la ubicación geográfica disminuye. Uno de los principales efectos de esta transformación es la creciente relevancia de los litigios transfronterizos (reales y potenciales) y, por tanto, la necesidad de contar con medios adecuados para abordarlos y resolverlos. Las formas de resolución de litigios delimitadas geográficamente y basadas en los sistemas de justicia nacionales, los tribunales y los jueces independientes han demostrado sus límites para afrontar el nuevo reto. Basándose en el trabajo de Canguilhem sobre los conceptos de norma, normalidad y patología, el documento explora el intento de la Unión Europea de proporcionar mecanismos adecuados de resolución de conflictos transfronterizos a través de los medios de justicia tradicionales, mostrando los resultados obtenidos y sus límites. A continuación, el documento explora el papel cada vez más importante de los mecanismos de resolución de conflictos integrados en plataformas, como Amazon, eBay y Booking, que ponen en contacto a los proveedores de servicios y bienes con los compradores/usuarios. Estas plataformas 1) actúan como terceros en la adjudicación de controversias y 2) despliegan instrumentos de adjudicación y ejecución basados en la multitud.
Available from: https://doi.org/10.35295/osls.iisl/0000-0000-0000-1303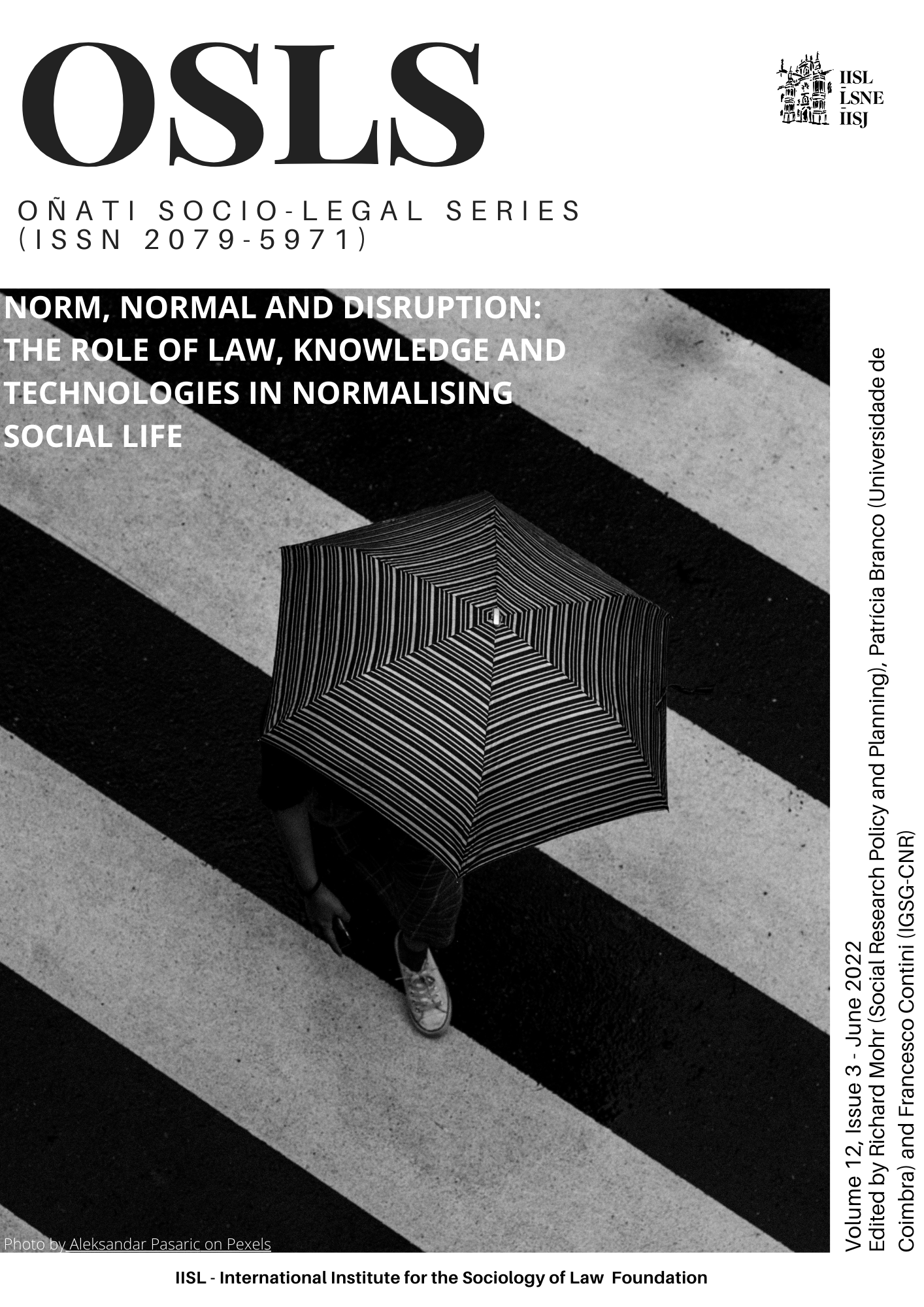 How to Cite
Velicogna, M. (2022) "Cross-border dispute resolution in Europe: looking for a new 'normal'", Oñati Socio-Legal Series, 12(3), pp. 556–581. Available at: https://opo.iisj.net/index.php/osls/article/view/1365 (Accessed: 26 June 2022).
License
Copyright (c) 2022 Marco Velicogna
This work is licensed under a Creative Commons Attribution-NonCommercial-NoDerivatives 4.0 International License.
OSLS strictly respects intellectual property rights and it is our policy that the author retains copyright, and articles are made available under a Creative Commons licence. The Creative Commons Non-Commercial Attribution No-Derivatives licence is our default licence, further details available at https://creativecommons.org/licenses/by-nc-nd/4.0 If this is not acceptable to you, please contact us.
The non-exclusive permission you grant to us includes the rights to disseminate the bibliographic details of the article, including the abstract supplied by you, and to authorise others, including bibliographic databases, indexing and contents alerting services, to copy and communicate these details.
For information on how to share and store your own article at each stage of production from submission to final publication, please read our Self-Archiving and Sharing policy.
The Copyright Notice showing the author and co-authors, and the Creative Commons license will be displayed on the article, and you must agree to this as part of the submission process. Please ensure that all co-authors are properly attributed and that they understand and accept these terms.